Getting closer
Sony Ericsson XPERIA X10 preview: Getting closer

This article is outdated. We have already published a full review.
Custom UI everywhere, Android 1.6 lurking beneath
The Sony Ericsson XPERIA X10 runs on the Android 1.6 OS Donut. You probably knew that right from the start, but we can't hide our disappointment that it doesn't come with the latest Android 2.0. Currently, Sony Ericsson has not announced any plans for an official upgrade to the latest version some time in the future.
Another unwelcomed surprise is that the XPERIA X10 Android implementation won't be making use of multi-touch gestures such as pinch zooming in the web browser and gallery.
That being said, we still gotta give Sony Ericsson the credit they deserve for coming up with their nice custom UI. Yeah, it still needs some polishing around the edges, but it's got that magic mojo. And with the help of the 1GHz Snapdragon core inside, you can be sure the final result would be amazing.
All the homescreens, lockscreen, menus, submenus, notifications areas and internal buttons have been redesign completely by Sony Ericsson. As a result, X10 brings a completely new underwater-like blue interface and looks completely different from it Android siblings.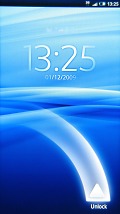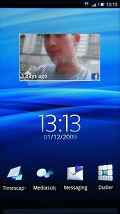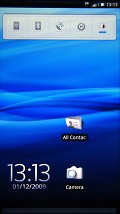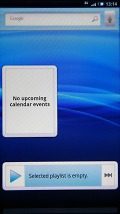 The lockscreen and the three customizable homescreens
Still the Android structure is almost intact and you won't get lost digging into the menus and settings. All the usual suspects are here - the three homescreens, and the single menu that holds all your stuff, the slide-down notification area at the top and the contextual menu at the bottom.
As you see from the shots, the customized Android 1.6 is eye-catching and gives the OS a slightly new feel.
Surprisingly good camera
Sony Ericsson XPERIA X10 sports an 8 megapixel camera with LED flash capable of taking photos at a maximum resolution of 3264 x 2448 pixels.
Sonu Ericsson have designed their own camera interface from scratch.
At the left column bar you will find only five options - capturing mode, resolution, scenes, focus mode and camcorder switcher. On the opposite you can change the exposure compensation and go to the camera album.
There are four capturing modes - normal, scene recognition, smile detection and touch capture. Choosing the scene recognition will set all settings to auto and the X10 will estimate on what setting to shoot.
On the other hand there are five focus modes available - single or multi autofocus for focusing on more than one spot, macro mode, face detection and infinity for capturing landscapes.
Finally, there is one really handy addition - the recent shot tray. It appears at the bottom left corner and shows the last pictures taken as small thumbnails.
Sony Ericsson XPERIA X10 takes pretty good photos with excellent detail and colors even at this early pre-production stage. There are no visible problems with the lens or processing algorithm. There are some things here and there that need polishing, but we are more than satisfied with the results.













Sony Ericsson XPERIA X10 camera samples
The X10 is capable of capturing videos up to WVGA (800x480)@30fps. Touch focus is even available in the video recording mode.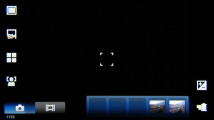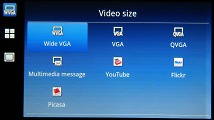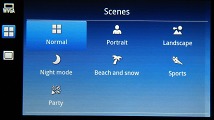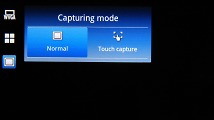 Picture bar • camcorder options
Videos look well and despite some frame rate and compression problems, we are happy with them. But you can bet we woouldn't have been be so forgiving if this was a retail version.