Eclairs for dinner
Sony Ericsson XPERIA X10 (Android 2.1) review: Eclairs for dinner

User interface
This is how we started the software part of our first review of the Sony Ericsson XPERIA X10: "The Sony Ericsson XPERIA X10 runs version 1.6 of the Android OS which seems a bit outdated now that version 2.1 is already available on several handsets."
Seven months later Sony Ericsson finally arrived at the 2.1 Eclair stop. Unfortunately, Android is all about Froyo these days and their X10 flagship is still not providing users with the latest available Google platform.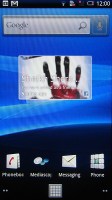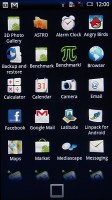 The Eclair update brought a nice performance upgrade and some cool new features
Yet the upgrade from 2.1 to 2.2 is mostly a performance upgrade, while Eclair also brought a lot of new features so we won't be deducting so many points this time. Plus Sony Ericsson offers its own Timescape and Mediascape UI as a compensation so it's not too bad really – it's just prioritizing different things.
The changes brought by the X10 update from Donut to Eclair start with the lockscreen. The arc slider we appreciated so much is now gone to be replaced with an iPhone-style horizontal slider.
A lot of the users were complaining about that lockscreen, saying that they were unable to complete the pattern required for unlocking the devices easily, which explains why Sony Ericsson got rid of it. We however are rather sorry about that as we found the arc pattern the most natural and comfortable unlocking move. Still it's nothing that a lockscreen customization app won't fix.
Next we come to the homescreen that now has been extended to five panes, rather than three. There's also support for live wallpapers, which we really find very attractive – no matter how power-hungry and unpractical they may be.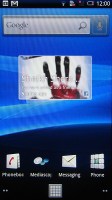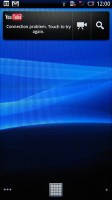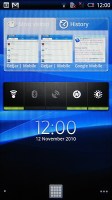 The homescreen estate has been increased to 5 panes
Unfortunately the notification area remained untouched and our hopes for Sony Ericsson to add some radio controls there remained unanswered. Well at least there's still the power widget but you will have to go to the homescreen each time you want to use it.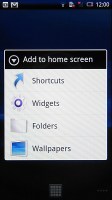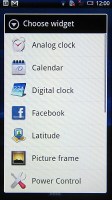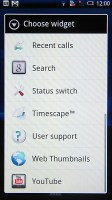 The preinstalled homescreen widgets
Probably the most notable improvement of the general user interface of the Sony Ericsson XPERIA X10 is its performance. Indeed as the benchmarks below show the X10 is much snappier now (though you probably won't feel it as three times snappier), making better use of the Snapdragon CPU that's inside it.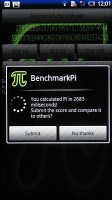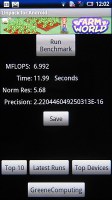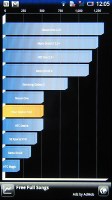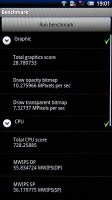 Sony Ericsson XPERIA X10 benchmarks (Android 2.1 Eclair)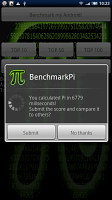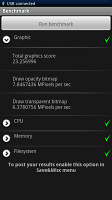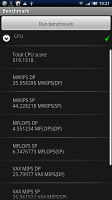 Sony Ericsson XPERIA X10 benchmarks(Android 1.6 Donut)
Backup and restore
Sony Ericsson added a cool new app, called Backup and restore, to the XPERIA X10 with the update. It doesn't take a genius to figure out what it does but it takes a personal try to see how quickly it works. Indeed it's certainly the quickest way to backup your applications, contacts, messages, settings, bookmarks etc. on the X10 and is probably among the more functional too.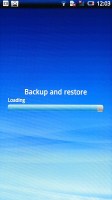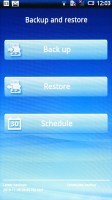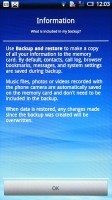 Backup and restore is a useful app that Sony Ericsson preinstalled on the X10 with the update
Not only does it allow you to select what kind of content should go into the backup (you can create as many files as you want, each with different stuff inside), but it also allows scheduling automatic backups that will start at a pre-set time.
This way you can make your phone backup your information each night when you aren't using the phone so it doesn't take you some of the quality time you spend with the handset during the day.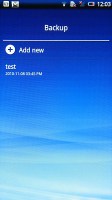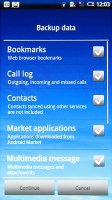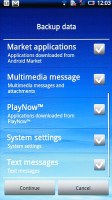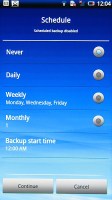 You can select what data goes in the backups and schedule automatic backups