Eclairs for dinner
Sony Ericsson XPERIA X10 (Android 2.1) review: Eclairs for dinner

Timescape UI
It wouldn't be too long of a shot to suggest that it was Timescape and Mediascape that were responsible for the delayed X10 update. Sony Ericsson has made it clear on numerous occasions that those apps are rather important for the smartphone experience so they had to make their Eclair port that works flawlessly before they release the update.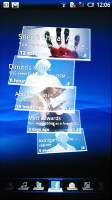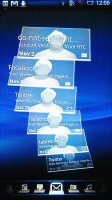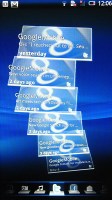 Timescape is still here and is as functional as ever
They finally did and social network fans will certainly appreciate the effort. There isn't much new functionality added but the current one is probably more than sufficient anyway.
With Timescape giving you an aggregated view of all your social network updates along with your recent correspondence (SMS, MMS, email and call log) you can stay in touch as easy as it has ever been.
You get eight tabs, which you can alternate by horizontal sweeps, by scrolling the icons on the bottom or by simply pressing any of those icons. In addition to you Facebook and Twitter updates and recent messages and calls Timescape also shows your freshly captured photos and tracks you have listened to as of late. It's almost like an automatic diary.
And you can update your status straight from here, or go to the email/message client with a single click to reply to something you have received.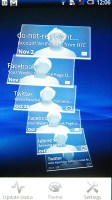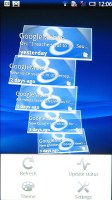 Updating your status is a couple of clicks away
This time the option to make Timescape your homescreen is nowhere in sight so you have to rely on the widget to enter the app. We actually prefer it this way as we also like keeping other widgets around so it's not too great of a loss.
Mediascape brings all your media together
Mediascape is to your multimedia files, what Timescape is to your social activities. You get three different categories – Music, Video and Photo, each showing your recently added, recently viewed/played files and your favorites in small rows of thumbnail images at the top of the screen.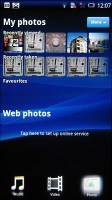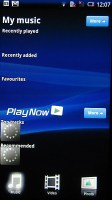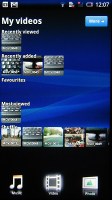 Mediascape merges your music and video players with the gallery
All the three tabs feature a More button, which will lead you to the full-featured galleries. Choosing more in the Music tab will lead you to the typical music player sorting – recently added, recently played, favorites, albums, tracks, genres, etc.
A really cool feature of the photos tab allows you to link your X10 to a Facebook or Picasa account you will be able to access your web images straight from you handset. Most other Eclair devices do that for Picasa only.
The music and video player have pretty much identical interfaces with neat styling and straightforward controls. Equalizers though are still a no-go on the X10.
The Timescape gallery is originally meant to work in portrait mode only. The gallery contents can be filtered by Recently Viewed, Favorites, Albums and Friends.
Images in each category are then displayed on a separate screen. Even if you choose to view all the pictures stored on the handset unfiltered, you will still be looking at a single vertically scrollable screen of thumbnails.
Only when you select a single image, the accelerometer comes into play allowing you to auto-rotate it.
The video tab has no online access here but you get all your videos in a plain and easy to use thumbnail view. Like most of its Android siblings, the XPERIA X10 lacks support for DivX and XviD videos and those files (if there are any stored in your memory card) don't even get listed.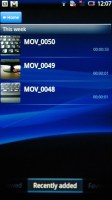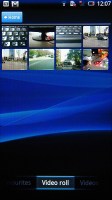 Browsing your videos is easy, but codec support is limited
The new update gets rid of the lag when browsing images. Zooming is also rather fast so the performance is great generally. However, there's no multi-touch, so you will count on double tapping or the dedicated on-screen controls for zooming.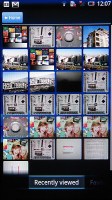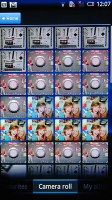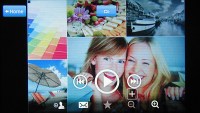 Gallery performance has been greatly improved
Items in the galleries (albums and tracks in the music library, images in the gallery) all have an added Infinite button, which has been often praised in Sony Ericsson marketing materials.
Touching the button, will list all the related content – both local and online.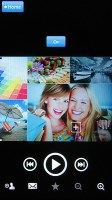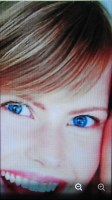 Zooming is rather clumsy though
For instance, you can view all the other tracks in the same music album, all the images taken on the same day, related content in the PlayNow media store or even related videos on YouTube. You can even start a relevant Google search.