First look
Sony Ericsson XPERIA X10 mini preview: First look

This article is outdated. We have already published a full review.
Web browser needs a higher-res screen and Flash support
The XPERIA X10 mini is an Android phone and an excellent web browser is an important part of that description. With the exception of Flash, the browser performs pretty decently.
The user interface is rather minimalist – all you get on the screen are the zoom controls. The address bar is hidden by default to save some space as the low resolution doesn't allow too much content to fit on the screen anyway.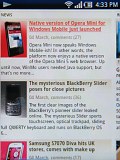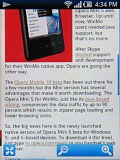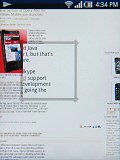 The low-res screen doesn't do the browser justice
Unfortunately, the Android browser on the X10 mini supports only a single zoom method – the dedicated onscreen buttons. There is no double tap or one-finger zooming.
On the positive side, the browser supports text reflow – as soon as you zoom, columns of text adjust to fit the screen width.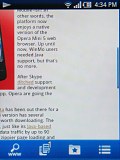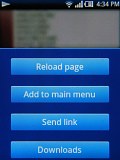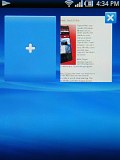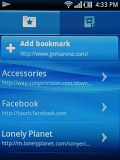 Checking out the available options
The minimalist UI is still quite powerful – hit the menu key and four keys pop up. You can open/switch tabs, refresh the page, go forward, open bookmarks.
Flash support is the other letdown of the X10 mini browser browser. There is of course a YouTube application onboard but Flash content doesn't start nor end with YouTube.
Final words
When you're experimenting you want to make sure you minimize mistakes. Well, the first thing about the Sony Ericsson XPERIA X10 mini is it just can't be a big mistake. In fact, the only way for it to go wrong would be the price. The pint-sized package may be taken to imply half price. Let's be clear though: it may be a dwarf droid but it still is a full-featured smartphone.
So, this experiment could well be a success. They tried to create a mini handset without sacrificing performance and they simply nailed it.
The touch-optimized interface makes great use of the limited screen estate and the performance is excellent. As snappy as they get, the Sony Ericsson XPERIA X10 mini only has a few things missing on its specs sheet.
That's why it's a particularly easy handset to recommend - if you are happy with the specs, you might as well go ahead and buy it - the phone will deliver. There won't be any nasty surprises and the handset even has a trick or two up its sleeve.
To make it even simpler - the XPERIA X10 mini is not burdened with the kind of responsibility the original X10 will have to deal with. Instead it brings all the smartphone basics, garnished with a snappy CPU and served in a body that every pocket can take.
It may be that Sony Ericsson have found an empty niche in this busy market. The XPERIA X10 could be too unusual to catch on, too small to get noticed but certainly not afraid to make a stand.