Mini Me... ssenger
Sony Ericsson XPERIA X10 mini pro review: Mini Me... ssenger

Introduction
Sony Ericsson XPERIA X10 mini pro will have to stand on its toes to be seen but it doesn't have to yell to be heard. Small and boxy, this certainly is not just another mobile phone. The X10 mini pro will impress many with the degree of miniaturization.
And it's not just a likeable chubby – the X10 has the element of surprise on its side. It hides a capable keyboard behind its back and you wouldn't guess it's a full-featured smartphone from a first glance.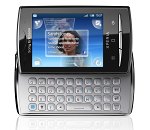 Sony Ericsson XPERIA X10 mini pro official photos
Even though there are so many Minis around – and no less Pros – the Sony Ericsson XPERIA X10 mini pro doesn't risk getting lost in the crowd. Ironically, it's the diminutive size that makes it prominent enough. A fact's a fact: full-QWERTY smartphones just don't get any smaller than that. By the way, did you notice that boxy and squarish messengers are on the rise lately? You can't help it – market trends call the shots.
Four of a kind is not bad at all for Sony Ericsson and their Android operation. They have a funny thing going on though. They just keep zooming out on the XPERIA X10. So is the next thing we're likely to expect from them an X10 wristwatch?
Key features
Ultra compact body
Physical slide-out QWERTY keyboard
Quad-band GSM/GPRS/EDGE support, 3G with HSPA
Customized Android OS v1.6 with Timescape UI
2.55" capacitive touchscreen of QVGA resolution
Qualcomm MSM7227 600 MHz CPU
5 megapixel autofocus camera with LED flash and VGA video recording
Wi-Fi 802.11 b/g
Built-in GPS receiver and digital compass
Accelerometer sensor for auto-rotate and turn-to-mute
Standard miniUSB port for charging and data
Stereo Bluetooth
microSD card slot with support for up to 8GB (a 2GB card included)
3.5mm-compatible audio jack
Android market
User-replaceable battery (as opposed to the X10 mini)
Main disadvantages
QVGA resolution doesn't do Android graphics justice and limits the number of compatible apps
Dated OS version
Limited Android homescreen functionality
No alternative battery covers bundled
No smart dialing
No Bluetooth file transfers from the gallery
No Flash support for the web browser
Basic camera interface and features
Web browser lacks intuitive zooming methods
The XPERIA X10 mini had to be as compact as possible and Sony Ericsson do deserve credit for keeping most of the functionality intact. A valuable feature was inevitably sacrificed though. Proper text input is all but essential in a modern smartphone and the XPERIA X10 mini pro is going to do something about it.
The X10 mini pro has grown in all directions but it's a matter of mere millimeters – a negligible price for what you get. The extra space has also allowed Sony Ericsson to make the battery user-replaceable. Not that this was a critical flaw for the X10 mini but users were right to complain. It's now been fixed in the pro.





Sony Ericsson XPERIA X10 mini pro at ours
We did like the original Sony Ericsson XPERIA X10 mini, and this was in no small part due to its cute smallness. The mini pro is perhaps even more impressive. If you've seen and held the X10 mini in your hand, the idea of a full QWERTY keyboard would've seemed less than brilliant. But Sony Ericsson did it and it looks like they did it right.
Join us as we check the the Sony Ericsson XPERIA X10 mini pro ergonomics after the break.
A
Man, I would love a phone like this today. I would just love it. Great designs like this are timeless.
?
I have it and used it 2011. Today I tried it again but Apps which Need wi fi don't work
n
How to security look open