We don't know what kind of curse has been put on Sony Ericsson but troubles at the company just don't end. The latest information that we received states that their Windows Mobile flagship X2 will be delayed until January 2010.
After the suspension of the Sony Ericsson Satio sales in the UK and the touchscreen issues that the Aino had, the XPERIA X2 was the company last hope for the Christmas shopping spree.
According to the Vodafone website however it will only be available in January, when the market is certainly not going to be as favorable. It will then be joined by the Sony Ericsson XPERIA X10 in the struggle to keep the Swedish-Japanese company on its feet but we suspect it might be a bit too late.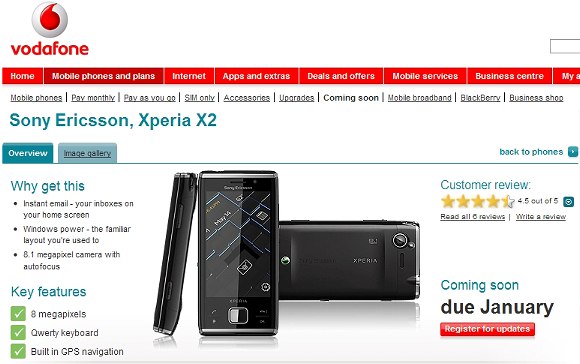 With everyone waiting for a host of new announcements at the MWC in Februrary, Q1 is certainly not the best time to try and sell your flagships. Granted, most new handsets won't come to the market until at least Q2 but in the high-end mobile phones segment sometimes users are willing to wait a little if they're promised better bang for their buck.
Sony Ericsson have obviously forgotten their lesson from the the late release of the original X1 and the Satio.
?
That is complete rubbish: - You clearly need to do some Real research lad. - Ericsson always used to make the best phones back in the days of anolouge. Ericsson is a major communications company. Sony is just a very powerful Brand name - Sony need Er...
J
Thank you for your comment but I find it hard to tag it as constructive. I do not expect you to reply on this note for you have already said your farewell, but for those whe are not happy with a product -stop whinning and just walk away. What we need...
?
That's right because as far as I Know X2 was already launched on launched Nov. 20.
ADVERTISEMENTS