XPERIA in the middle
Sony Ericsson X8 review: XPERIA in the middle

Telephony: Smart dialing is still missing
The Sony Ericsson XPERIA X8 had no issues with reception and the in-call sound was loud and clear.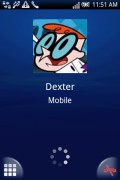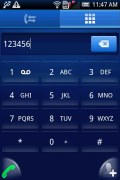 The in-call screen • No Smart dialing yet again
Unfortunately, the XPERIA X8, just like the rest of the Sony Ericsson's droid crew doesn't feature Smart dialing.
In the X8 the call log is a part of the dialer application. You can easily search the entries in it by flick scrolling.
Thanks to the proximity sensor the Sony Ericsson XPERIA X8 automatically switches off its touchscreen when you hold it next to your ear for a call. There is no chance of ever hitting an on-screen button with your cheek on this one.
We also ran our traditional loudspeaker test on the Sony Ericsson XPERIA X8. The X8 scored "Average", meaning you could miss some calls in noisier environments depending on the ringtones you use. More info on the test, as well as other results can be found here.
| | | | | |
| --- | --- | --- | --- | --- |
| Speakerphone test | Voice, dB | Pink noise/ Music, dB | Ringing phone, dB | Overal score |
| Sony Ericsson XPERIA X10 mini | 65.9 | 66.5 | 67.3 | Below average |
| Sony Ericsson XPERIA X8 | 66.6 | 66.6 | 69.1 | Average |
| Samsung I5700 Galaxy Spica | 66.6 | 62.1 | 75.7 | Average |
| Sony Ericsson XPERIA X10 mini pro | 66.6 | 66.6 | 75.1 | Good |
| Samsung S5620 Monte | 75.7 | 69.7 | 75.7 | Very good |
| HTC Desire | 75.2 | 75.7 | 85.5 | Excellent |
Virtual QWERTY-fied messaging
The SMS and MMS messaging section is quite straightforward and simple. There's the new message button on top and a list of all your messages organized into threads beneath.
When you add multimedia content to the message, it is automatically turned into an MMS.
Moving onto email, the Gmail app supports batch operations, which allow multiple emails to be archived, labeled or deleted. There is also a generic email app for all your other email accounts and it can handle multiple POP or IMAP inboxes. The standard email app doesn't do threaded email – this is enabled in Gmail only.
The default Instant Messaging app that comes with Android is Google Talk – and it's very good. The G-Talk network is compatible with a variety of popular clients like Pidgin, Kopete, iChat and Ovi Contacts.
The screen of the Sony Ericsson XPERIA X8 is not big enough to accommodate a portrait landscape keyboard comfortably, but the landscape keyboard is nice to use. The virtual keyboard won't please heavy texters perhaps but it's good enough for the occasional use.