This article is outdated. We have already published a full review.
The 5 megapixel snapper
For a pre-release unit the Sony Ericsson Yari camera did pretty nice job. Occasionally, that is, as image quality varied in each camera sample we took. Here's one that turned out nicely.

The camera interface has no changes since the W995 or the W595/W902 - easy to use as usual. Face detection, Smile shot and geotagging are all on board (without BestPic shooting mode though).
The video recording on the Yari unfortunately is still limited to QVGA@30fps. We bet Sony Ericsson have seen enough criticism over this one, so we'll just jump to the next chapter. Some things never change we guess.
Web browsing and location services on the go
As the Sony Ericsson Yari is equipped with a GPS receiver and the usual Location services set is pre-installed. You will find both Google Maps and Wayfinder Navigator on board. Other applications such as Tracker make good use of the GPS receiver.
The web browser preinstalled on the Yari is latest NetFront 3.5 web browser. It offers a much smoother experience and renders web pages more quickly. Almost every time it nails the zoom level for comfortable reading.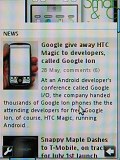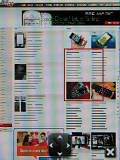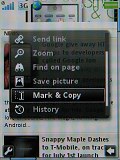 The new NetFront 3.5 web browser
Equipped with the well-known mouse pointer, the new NetFront 3.5 web browser always operates in fullscreen view mode and the four most important features are easily accessible on a toolbar - mini-map, enter an address, favorites and downloads. Additionally we spotted some other new features as well such as mark-and-copy, which allows you to copy text off web pages and the added Flash support (which unfortunately doens't really relate to Flash video watching).
Camera-based motion gaming is here
Yes, we did not misplace the word "motion". If you ever played some sport games on the Nintendo Wii console you'll be in friendly terms with the gaming system of Yari.
Thanks to an optical tracker technology developed by GestureTek, the Sony Ericsson Yari can use its camera to detect your movements in the compatible games and translate them into virtual ones.
The technology has already been available to Japanese DoCoMo cellphones but it's only now that it's making its way to world-wide availability.
There are two gesture-controlled games - Tennis and Fitness. All of them are very easy to play - you put the phone on your desk (preferably upright), you take a place in front of it and imagine you have a racket in hand. Then play on!
The front camera captures almost every movement right and the games can be quite a fun - especially having in mind that it's a mobile phone you're playing on. It can even be more fun if there are people around you while you gesticulate wildly.
Speaking of people around you, Sony Ericsson promise wireless multiplayer on those gesture-based games, so we guess even more phones will be coming out with that functionality. Let's just hope that at least those new "gaming" phones will be easier to place on a desk in an upright position.
Final words
So there you have it - while the Sony Ericsson Yari isn't a revolutionary device, Sony Ericsson have just successfully revolutionized their portfolio. You've got a top-notch music player, high-res camera with Face and Smile detection, GPS receiver, a praise-worthy web browser and the latest in Sony Ericsson UI development all in one device. Not to mention the extraordinary gesture-based gaming. The newly adopted and much welcomed transition to microSD cards support is also something to cheer about.
And yes, VGA-or-better video recording is still not part of the deal. We've also hoped for a bigger screen, but for those that have thought of these same things - you are welcome to our Sony Ericsson Aino preview that's due in a little while.