User interface is nice as usual
The Sony Ericsson Zylo has the regular Sony Ericsson feature phone UI. The Flash interface is well familiar and deservedly praised for its looks, speed and multitasking ability.
The standby screen is arranged in the usual manner with status readings on top for signal strength, currently used data carrier and battery status. At the bottom of the display are the soft key labels.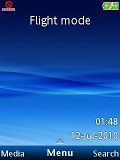 The minimalist Sony Ericsson home screen
The options for the menu layout are the standard foursome - theme-dependent, a 3 x 4 grid of icons, rotating view and single icon view. There's nothing that we haven't seen before.
The well-known Activity menu offers quick access to a user-defined list of favorite features, web, recent events and, of course, the Running Apps tab that takes care of multitasking.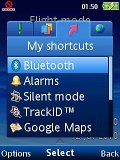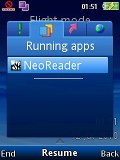 The Activity menu: a nice way of handling shortcuts and multitasking
Flight mode can only work with a SIM card in the device and requires a restart.
The interface is visually appealing and snappy. The Sony Ericsson Zylo features an inbuilt accelerometer so auto rotation is enabled, but it only works in the Media Center.
The Sony Ericsson Zylo supports Flash Lite themes, which change the color scheme and wallpaper. Our test unit has four themes preinstalled: Echo, Emersion, Flow and Trace.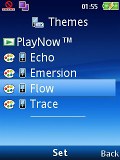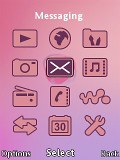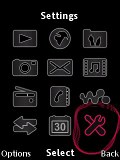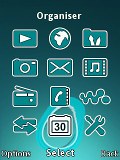 Some of the preinstalled themes
As usual, you can use an application as a background instead of an actual image and as of late Sony Ericsson feature phones have widgets on the homescreen.
There are a total of five homescreen widgets on the Zylo: Facebook, Music Genie, MySpace, Twitter and Walk Mate.
Each of the preloaded widgets takes almost the whole standby screen, so you can only have one visible at a time. But they can all be working at once and easily switched between using the D-pad.
You get to select which widgets will be active and you may choose to enable all of them. Pressing the Up key on the D-pad lets you manage the widgets and set their behavior.
Walk Mate should be familiar to Sony Ericsson users – a simple step-counter, which works in the background. It has a green twist this time around and is aptly called Walk Mate Eco – it converts your walking exercise into saved CO2 emissions, which of course only makes sense if you're walking outdoors.
As for the Music Genie widget, it is a shortcut to the Dance! Music Genie game as well as to the Message composer, Phonebook, Web browser, Calendar and the Alarm apps.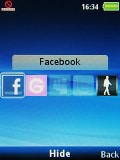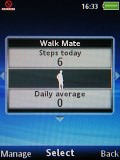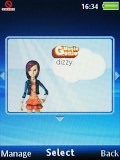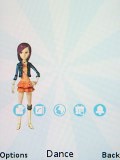 Widget list • Walk Mate Eco • Music Genie
The good old phonebook
The phonebook has space for 1000 contacts and 7000 numbers. You can choose to view contacts in the phone memory or on SIM, but not both. Either way you can set up the phone to auto save to SIM all contacts that are being saved to the phone memory. You can also back up your entire contact list on the memory card and restore it from there.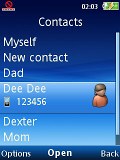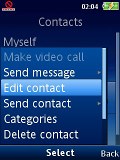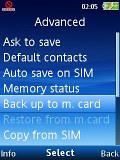 The Sony Ericsson Zylo phonebook
The name of the contact is written in only one field, but you still have the option to sort contacts by first or last name. The phone guesses which is which and it does it very well. Naturally, you can search by gradual typing.
Editing a contact employs a tabbed interface that's well known to anyone that has used a Sony Ericsson handset in the past couple of years. There are five tabs that group related contact details. The first tab is for names and numbers, next up is web addresses such as e-mails and URLs. The third tab is for storing a picture, a custom ringtone, group, message tone and voice command, the fourth is for postal details and finally the fifth has fields for a note and a birthday (which you can add to the Calendar too).
Telephony is fine
Handling of calls is excellent and we didn't experience any voice quality or reception issues with the Sony Ericsson Zylo. Call clarity is great in both the earpiece and speakerphone.
The Zylo supports video calls but since it lacks a dedicated video-call camera, you'll have to use the main one on the back.
Smart dialing or "Smart Search" as Sony Ericsson call it, is a great boost to usability. It looks up contacts whose numbers contain the digits you have typed or whose names begin with the corresponding letters.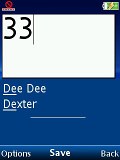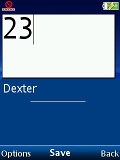 Smart dialing is great to have on a feature phone
The tabbed Call Log application should be familiar too if you've used a fairly recent Sony Ericsson handset. It consists of four tabs, including All, Answered (Received), Dialed and Missed. When there are several calls made to or from a single contact, only the most recent one gets displayed.
The Sony Ericsson Zylo scored a Good mark in our traditional loudspeaker test. You should have no problems hearing it in all but the noisiest environments. The vibration strength was OK as well. Here is how it compares to some of the other handsets we have tested. You can find information on the actual testing process, along with the full list of tested devices here.
| | | | | |
| --- | --- | --- | --- | --- |
| Loudspeaker test | Voice, dB | Pink noise/ Music, dB | Ringing phone, dB | Overall score |
| Sony Ericsson Hazel | 65.6 | 62.3 | 66.5 | Below Average |
| Sony Ericsson Elm | 65.7 | 66.2 | 66.6 | Below Average |
| Sony Ericsson C901 | 66.5 | 65.1 | 71.7 | Average |
| Sony Ericsson Zylo | 65.7 | 66.5 | 78.1 | Good |
| Nokia 6700 classic | 75.1 | 66.6 | 75.7 | Good |
| Nokia 6700 slide | 75.5 | 65.8 | 82.7 | Very Good |
| HTC Touch2 | 75.7 | 75.7 | 82.7 | Excellent |
Messaging is traditionally excellent
The Sony Ericsson Zylo handles all common types of messages, all of which - save for emails - share a common inbox. The phone also supports push email but can't handle any attached documents (such as .xls, .doc, or .pdf files for example) due to the lack of a document reader.
Much like all the recent Sony Ericsson phones, the Sony Ericsson Zylo has enhanced message sorting - the so-called Conversations mode, a.k.a. Threaded messaging. We missed a preinstalled IM client though.
Going back to Conversations mode - it is the alternative conversation-style layout and displays messages in threads. All texts to or from a certain contact are displayed in speech bubbles much like in an instant messenger program.
There is of course predictive typing. The SMS and MMS messages share an editor. SMS can be easily converted into MMS via the options menu or using the attach-stuff toolbar below the text box to insert images, animations, videos or sounds.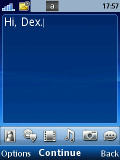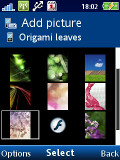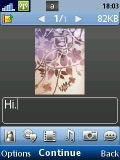 Converting an SMS into a MMS is as easy as it gets
Along with the standard messaging functionality, the Sony Ericsson Zylo also offers the proprietary Manage Messages feature. Messages can be moved to memory card or phone memory, arranged by categories, date, size, and contact. Each message can also be sorted into one of six categories - Business, Favorites, Follow Up, Fun, Holiday, Important – but you can create new categories as well.
The Email application failed to retrieve the settings for our Gmail account automatically – by now we're used to the phones doing most of that work for us. On the upside, the app supports push notifications if you've got a push-enabled email account.
For email you get the Manage Email feature, which has the same functionality as the one for text messages. Saving attachments is problem-free, even if the file type is incompatible with the phone.
Unfortunately, the Sony Ericsson Zylo (much like all other Sony Ericsson feature phones) can't preview any documents including the ones attached to emails (such as .xls, .doc, or .pdf files for example) due to the lack of any document reader.