Sony has published its forecast for the fiscal year ending March 31, 2017, revealing that it expects to ship a total of 20 million smartphones in the year, down nearly 20% from the 24.9 million figure it managed in the year prior.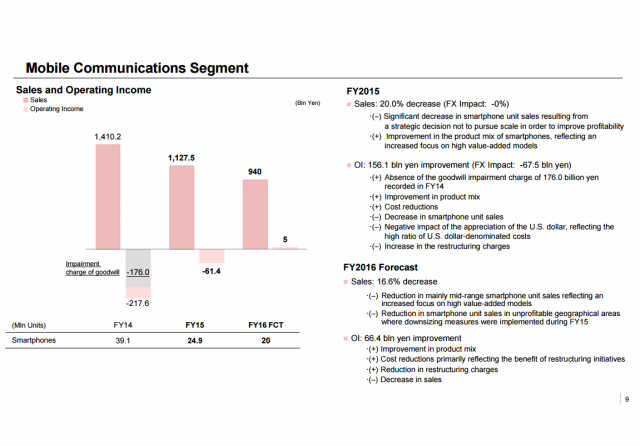 The Japanese company says that the expected drop in sales is due to "a reduction in mainly mid-range smartphone unit sales reflecting an increased focus on high value-added models, as well as a reduction in smartphone unit sales in unprofitable geographical areas where downsizing measures were implemented during the fiscal year ended March 31, 2016."
Sales are forecasted at JPY 940 billion (a 17% decrease year-on-year), but the company expects a profit of JPY 5 billion this year, up from the JPY 61.4 billion loss it recorded last year.
D
Qnovo technology is by no means a gimmick. It is a legitimate breakthrough. It has a noticable improvement in charge cycle before the battery dies out. Sony is the only (IIRC) manufacturer bringing this tech to a smartphone battery. Not even on Sams...
I want to mention the Qnovo battery, it is good and safe and durable for a seal battery, we can't find Qnovo battery use by others (Vivo Meizu Htc and etc), maybe you will say this is gimmick but this is more practical for the smartphone at the prese...
T
First, I never said it has bad build quality because it is a Chinese phone. But in reality, the Mi5 isn't as durable as it is in terms of looks. It's so fragile and easy to break that even the 6s is much durable than that, and you should've been awar...
ADVERTISEMENTS