Sony shows the Xperia 1 II camera and its Alpha-inspired features in detail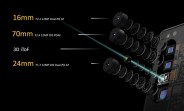 Sony has designed the Xperia 1 II to be the smartphone equivalent of its Alpha cameras. Indeed, the phone borrows many features and hardware solutions from the company's digital camera division.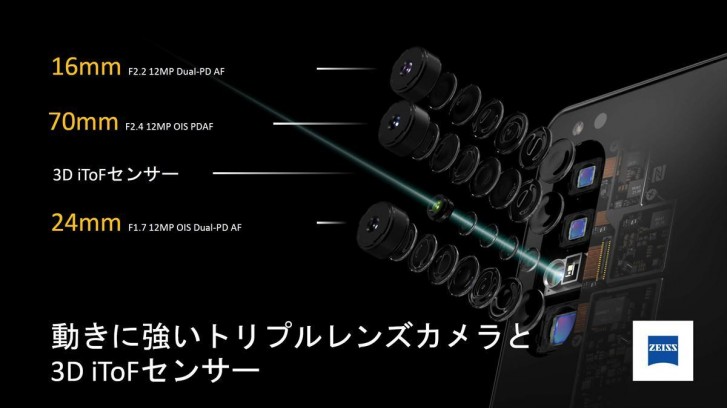 Sony is sticking with 12MP resolution this year, but the large 1/1.7" main sensor has 1.8µm pixels and boasts 50% higher sensitivity than the 12MP sensor on the Xperia 1. This will improve low-light performance, says Sony and offers these down-scaled camera samples comparing the Xperia 1 II to its predecessor.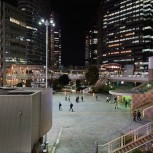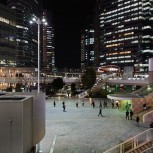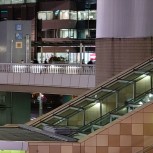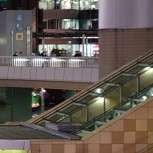 Low-light samples: Xperia 1 II and Xperia 1
Data from the whole sensor can be read out in just 10ms, while a 108MP sensor will need 32ms for 12MP output and a whopping 100ms for a full resolution output.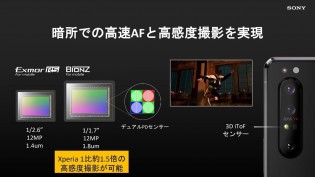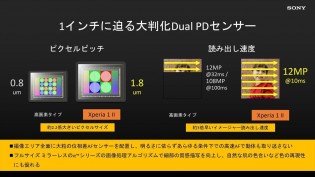 Larger pixels and increased sensitivity • Fast sensor readout
This speed helps to enable 20fps continuous shooting with AE and AF active. The sensors' Dual Pixel autofocus and the 3D ToF sensor help keep track of the subject while the BIONZ X hardware does 60 AE/AF calculations per second.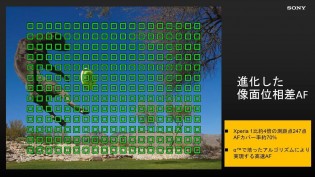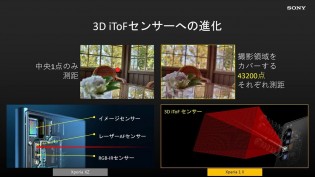 Dual Pixel autofocus and the 3D ToF sensor feed the BIONZ X, which does 60 calculations a second
Eye AF is back, but on the Sony Xperia 1 II it can lock onto animal eyes as well as human eyes (the original Xperia 1 did human eyes only). Eyes aside, the phone uses 247 phase detection points on the image sensor and 43,200 points from the ToF sensor to do its autofocus calculations.
The ultrawide and telephoto lenses can also do continuous shooting with AE/AF enabled, though they capture 10 photos a second with calculations running 30 times per second.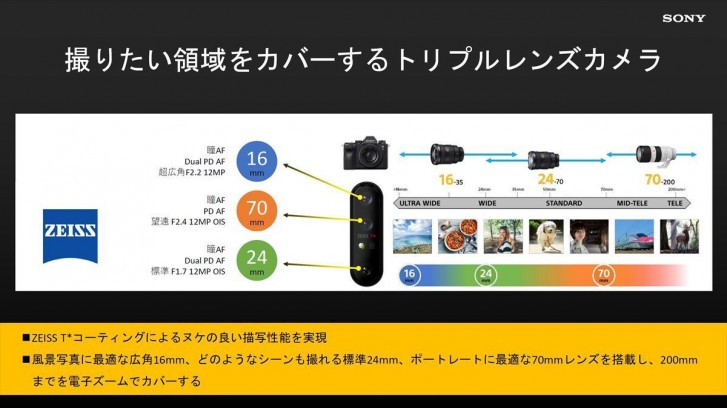 Speaking of different focal lengths, Sony makes an analogy to changing the lenses on a digital camera when talking about the Xperia 1 II's triple cam. With digital zoom, the 24mm main lens can be used as a 24-70mm lens, the 16mm ultra wide goes from 16 to 35mm and the telephoto starts at its native 70mm and goes up to 200mm. This covers the range of focal lengths you would need if you wanted to be prepared for everything.
To handle all the advanced photography tasks, Sony will ship the phone with the Photography Pro app, the still shot counterpart to the Cinema Pro app from the first Xperia 1. Photography Pro will offer Shutter and Aperture priority modes as well as various manual controls inspired by mirrorless cameras.
This is the company's first phone with a ZEISS lens. The German lens maker is featured heavily on Alpha and high-end Cybershot cameras and while this isn't the first phone to have ZEISS glass, it is the first to use T* anti-reflective coating, which reduces glare and ghosting.
Now all that's left is for Sony to actually release the phone - according to the latest report that might happen as soon as next week with Taiwan being its debut market.
Source (in Japanese)
D
Man this is not old nokia 3310 so basicaly you cant.
D
Man thats a lie. Money money and money everywhere. They print billions each day but you cant buy a life or health. Man not every costly thing is a quality thing. I rather spend money on family and friends than buying expensive gadgets wit...
D
Man oh please. Everybody copy. Motorola were the very first brand with its very first cellphone almost 50 years ago. Since then all copy. If you were right why we cnt have just Motorola brand. Why we must have like 400 phone brands around th...
ADVERTISEMENTS