A new Sony smartphone has been spotted in a benchmark database. Listed as Sony H4233 on GFXBench, the device is powered by a Snapdragon SoC with octa-core, 2.2GHz processor, and sports a 6-inch display with 1920 x 1080 pixel resolution.
Sony has a new 6inch monster coming: Sony H4233 showing up on Gfxbench with FHD screen, SD630, 4/64GB, 21/16MP cams: https://t.co/3PRY6u15tb

— Roland Quandt (@rquandt) September 12, 2017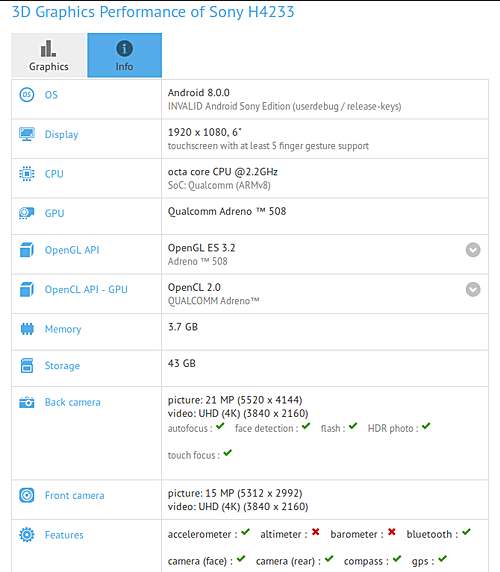 RAM is 4GB, while internal memory should be 64GB. The handset features a 21MP rear camera and a 15MP front shooter. It runs the latest Android OS - Oreo, version 8.0. There's currently no information on what the retail name of the device will be or when it might be announced.
Looks like a mid-range spec, but the Oreo must be better than Nougat.
Check your facts before answering to me. Smartphones are my job.
TheGoldMellifluousXZ
yMad
You're absolutely wrong. Last year, they made JPY 10.2 billion ($94 million) profit from their financial reports of 2016 fiscal year. Just find that news on GSMArena post 5 months ago. Proof : http://www.gsmarena.com/sony_publishes_financial­_report...