The Sony Honami, going by the alias C6903, has appeared on GFXbench database, confirming its rumored Snapdragon 800 chipset with four Krait 400 cores, a FullHD display (with on-screen buttons) and the latest Adreno 330 on board.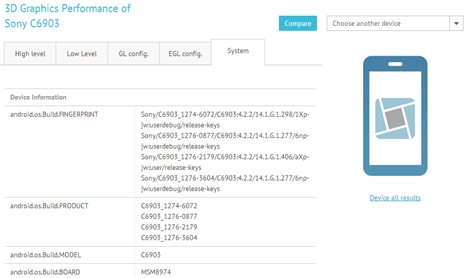 The scores posted by the potent GPU were pretty impressive, wiping the floor with the devices we have tested so far.
GLBenchmark 2.5 Egypt (1080p off-screen)
Higher is better
Sony Honami
58.5
Samsung Galaxy S4 (Octa)
43
Samsung Galaxy S4 (S600)
41
HTC One
37
Samsung Galaxy S4 GPE
33
HTC One GPE
41
Google Nexus 4
32
Sony Xperia Z
31
Sony Xperia ZL
31
Sony Xperia SP
31
Apple iPhone 5
30
LG Optimus G Pro
30
LG Optimus G
21
Samsung Galaxy Note II
17
HTC One X
11
GLBenchmark 2.7 T-Rex (1080p off-screen)
Higher is better
Sony Honami
20.5
Samsung Galaxy S4 (S600)
17.1
Samsung Galaxy S4 (Octa)
17.1
Apple iPad 4
16.8
Samsung Galaxy S4 Active
16
Samsung Galaxy S4 GPE
15
HTC One GPE
13.9
LG Optimus G
13.9
Sony Xperia Z
13.5
Sony Xperia Tablet Z
13
Sony Xperia ZL
12.8
Samsung Galaxy Note II
4.9
The Sony Honami leaks have been all over the news lately and we're expecting to see it at this year's IFA in Berlin on September 4, rocking that spanking Snapdragon 800 chip to rival the Galaxy S4 LTE-Advanced. We'll be there to cover the unveiling live.
D
i'm disappointed because samsung cheats. at least honami is still better even though samsung cheats
a
After the split of sony ericsson, sony released some phones ,and the phones gave lots of problem to d customers , people were very unhappy abt it, as it will take some time for sony to become solid ,strong with their phones , laptops etc , again ...
a
Hey guyyyz you people are thinking wrong about the design of honomi, actually its nt like xperia z its very different from dat. Plz dont share any false rumuors before the phone is released . I bet u , u l be very happy with the honomis design
ADVERTISEMENTS