Sony at IFA 2014
IFA 2014: Sony Xperia Z3, Z3 Compact, Z3 Tablet Compact, E3, and wearables hands-on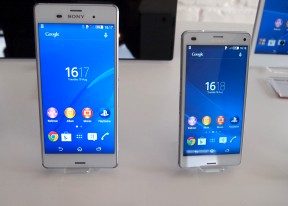 Xperia Z3 Tablet Compact
Sony has released its first midsize tablet in the Xperia Z3 Tablet Compact. The device comes with an 8-inch diagonal, but what really impresses is the ultra-slim 6.4mm waistline, as well as the weight - at just under 270g, the Z3 Tablet Compact is impressively light in-hand.
The 8-inch display is of the WUXGA variety (1920 x 1200px), with Sony again claiming that QHD displays don't offer much more sharpness than 1080p screens, but that justification wears a bit thin for a screen this size. Nevertheless, the Z3 Tablet Compact is perhaps the most suitable of the new Z3 lineup to take advantage of the exclusive PS4 integration.
The Z3 Tablet Compact has moved away from the dual-glass panel design that Sony used with the first Xperia Tablet Z. Instead, it opting for a matte rear panel that's very resistant to fingerprints, and undoubtedly helps keep the weight down compared to glass panels.
Inside, you'll find the same high-performing Snapdragon 801 chipset as on the Xperia Z3, alongside 3GB of RAM and 16GB of expandable storage. In the imaging department, there's an 8MP rear camera and a 2.2MP front-facer, while a 4,500mAh battery will power it all. The device is IP68-certified for dust and water resistance, and features the nylon corner caps of the Z3 smartphone.
The Xperia Z3 Tablet Compact is expected to be released alongside the Xperia Z3 this month.
Xperia E3
The Sony Xperia E3 is the latest member of Sony's entry-level E series, and is meant to be the company's most affordable LTE device. Targeted at emerging LTE markets, the E3 is trusted to bring Sony quality to the budget range.
The Xperia E3 will sport a 4.5-inch display of the FWVGA (854 x 480px) variety, alongside 1GB of RAM and 4GB of expandable storage. There's also a 5MP rear camera and a 2,330mAh battery to round out the specs.
The Xperia E3 will have some, but not all of the new Sony software features introduced with the latest Z3 series, as well as the same copper color variant. The bright yellow color will be exclusive to the E3.


The Sony Xperia E3 is expected to be released alongside the new Z3 series this month. There will also be a dual-SIM variant available.