Sony at IFA 2014
IFA 2014: Sony Xperia Z3, Z3 Compact, Z3 Tablet Compact, E3, and wearables hands-on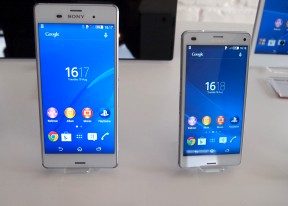 SmartWatch 3
Sony's 3rd generation smartwatch will be the first of their devices to run on Android Wear. Sony has developed the SmartWatch 3 closely with Google, and the wearable has the added benefit of being able to exclusively integrate with select Sony apps like Walkman.
While the SmartWatch 3 will need to be synced to a smartphone to have full functionality, it will also have the ability to perform away from the device as well. For example, you can load music onto the 4GB internal memory and go for a run, and the internal GPS will track your data and sync it with Sony's Lifelog app when you get back in range.
The 1.6" Transflective TFT LCD is of 320 x 320px resolution, while inside you'll find a 1.2GHz quad-core processor and 512MB RAM. The 420mAh battery is rated for up to 2 days of usage.
Moving away from the protruding square design of the previous Xperia SmartWatches, the SmartWatch 3 is set to come with a variety of straps designed to go around the device. These can range from colorful sports bands made out of silicone to the more formal leather bands.




There are also variants of the SmartWatch 3 which will feature the ability to remotely control TVs, including changing channels or viewing upcoming program details through a feature called TV SideView.
The Sony SmartWatch 3 is expected to get released alongside the new Z3 series this autumn at €229. Additional bands will be able to be purchased for €25.
SmartBand Talk
Sony has updated its SmartBand fitness accessory to now include call handling and voice commands, aptly naming it the SmartBand Talk. The Talk also features a 1.4" e-ink display, and is built around Sony's Lifelog app. It can track from a wide range of activities, including an altimeter to detect vertical movement via stairs or elevators.
Like with the SmartWatch 3, there's a wide variety of silicone bands available, and the device itself is not much larger than a thumb drive.
One major feature that Sony made a point of enabling was automatic sleep detection, as well as the ability to answer calls and play music by simply snapping your fingers. Speaking of answering calls, you can do so by talking directly into your wrist - if you don't mind a few funny looks you're most likely to get.
Like the SmartWatch 3, both bands are IP68 water and dust resistant, and the SmartBand Talk will have a 70mAh battery that's rated for up to three days of uptime. The Talk will come this autumn alongside the new Z3 series for €159.