Sony is apparently about to send out its IFA 2014 invitations and one slipped to the world wide web revealing some snapshots of what Sony is aiming to show off.
We see the side of what's hopefully the Xperia Z3, which is heavily rumored to make its appearance on the expo. We may see the Xperia Z3 Compact as well - some sources suggest both to make it to store shelves in September.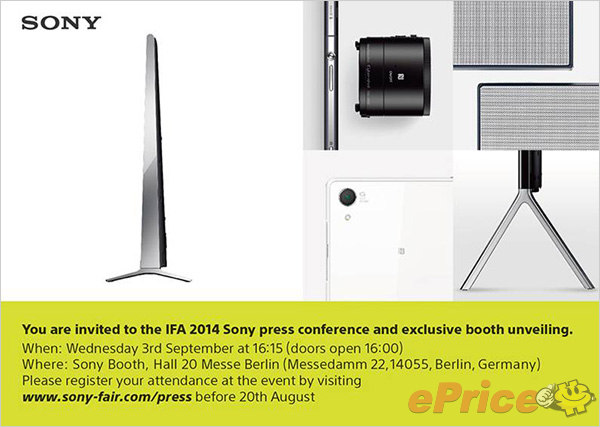 There could also be an Xperia Tablet Z3 as well.
The invitation (if the real deal) also hints at a new lens camera, similar to the QX10 and QX100 - devices with a built-in sensor (a 1/2.3" for the QX10 and the 1" sensor from the RX100 Mark II point and shoot for the QX100).
Finally there's an all-in-one PC or monitor there for good measure. While there's close to a month left to wait we're sure there will be enough leaks to help paint a bigger picture in that time.
?
sadly, that's the old Sony. I bought a sony laptop last year and frankly, I am disappointed. I still have hope for the Xperia Z3 though.
?
Wouldn't mind something like the original xperia that had both a sliding keyboard and a stylus.
?
Yet my mother and sister both had a Sony laptop that had a lot of problems (screen, battery, touchpad, random reboots even after servicing several times, etc...) I do agree that my Sony video camera is still working fine after years though. ...