Sony just unveiled its latest mobile IMX230 EXMOR RS camera sensor, which might very well be the star on the back of the future Xperia Z4. The sensor shoots at 21MP resolution, just like the IMX135 it replaces, and uses stacked design. Sony says this makes the CMOS imaging sensor smaller and outputs higher image quality and improved functionality.
The size of the IMX230 image sensor is 1/2.4" and the pixel size is 1.12μm. The sensor will be joined later by a 16MP stacked CMOS image sensor. In the photo below, you can see how the new IMX230 sensor fares against its predecessor in HDR shooting.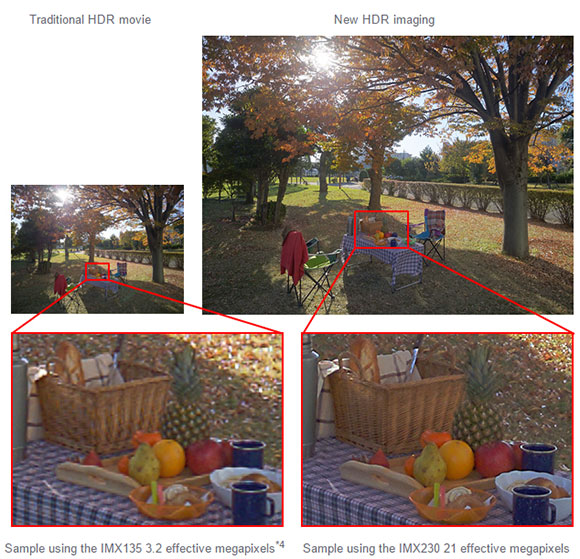 The sensor is the first CMOS one to feature an onboard image plane phase detection AF signal processing function. This helps it achieve superior focus tracking of fast-moving objects, compared to the old generation image sensor. In fact, the IMX230 sports 192-point autofocus, which is impressive considering its predecessor packs 172 AF points. On top, the HDR capabilities now support higher resolution still images and 4K video recording.
The Sony IMX230 will start shipping to the company's partners in April 2015 with a listed price of $18 (CNY 2,100). We have very little doubt that the Xperia Z4 will be packing this sensor in its camera, but the phone is far away from launch to make any conclusions so early on.
a
41 divided by 1/3 in Nokia 1020 comes to worse. SONY sensors are used in every high end cameras including Hasselblad.
?
not the hardware has the problem with the xperia lines. its their software side
Yeah yeah. nice marketing job Sony. But no matter what you'll do, you just CAN'T put a proper camera sensor on your flagships. You still use tiny sensors that are not able to handle that many pixels. And not only you use the same sensor again and...