Sony just recently held an investor day in Tokyo, which might be a little dull and overwhelming, considering the amount of business strategy and analysis discussed to cover the various aspects of the giant international corporation. However, such events can also be an valuable source of information on future business plans.
In this case, Sony Mobile has shared a few interesting observations on its regional sales performance and forecasts all leading up to a decision to "defocus" on certain markets, including India, USA, China and Brazil. This is mostly due to the fact that Sony expects FY15-17 CAGR smartphone growth in India, China, Brazil and Indonesia to be just 0.3%, compared to last year's estimate of +8.1%.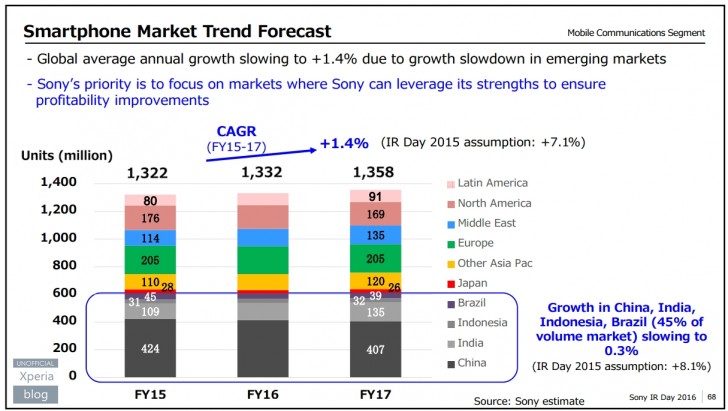 Now, this doesn't necessarily mean that Sony handsets will disappear from said markets, but does entail a reduction in marketing efforts and tailored offers. Mostly the same measures will also be taken in Latin America and some Pacific regions, where Sony doesn't see a promising sales future either and will be looking to simply "preserve" its market share.
The company's focus will most-likely be shifted towards East Asia (including Japan), the Middle East and Europe. All in the hopes of strengthening the mobile division as a whole. Another interesting analysis that Sony provided on its current state in the mobile realm makes it clear that the company will be gunning for a more premium segment, at least price wise, past the $250 mark.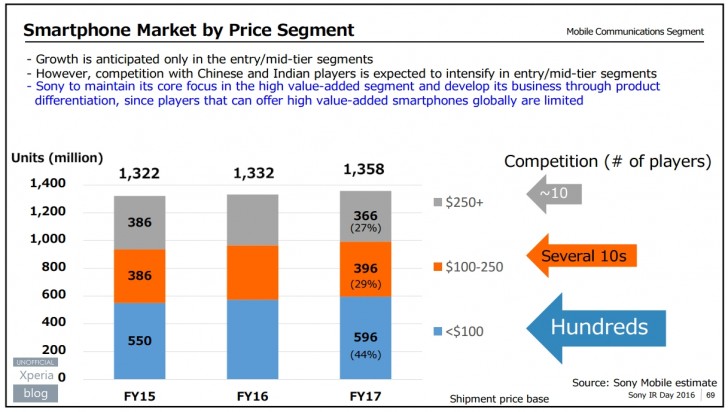 Sony's reasoning behind this seems to be that only about 10 major players have offers in this segment, compared to many time more in the mid and lower-end segments. However, this will also necessitate some extra effort to deliver better price to performance ratios, for future Sony handsets to stand a fighting chance.
D
Came across this article of understanding more about Redmi Note 4 on Telecoms Supermarket India. Quiet interesting and keen to see this phone.
D
they do know how to play, they are Sony they certainly do. But for some reason they don't play their cards right, and the smartphone table is a tough game.
S
Heartbroken!!! Really gonna miss them!! But anyhow it's all about competition, Hearttouching phones!! Miss u sony!!