Sony at MWC 2015
MWC 2015: Sony Z4 Tablet, Xperia M4 Aqua, E4g hands-on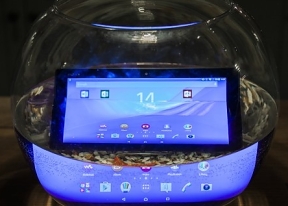 Sony Xperia E4g hands-on
Sony Xperia E4g was introduced shortly before the MWC expo as an upgraded version of the original Xperia E4. It comes with a smaller 4.7" IPS screen of qHD resolution, better MediaTek MT6732 chip and LTE connectivity.
The Xperia E4g went official just two weeks after the Xperia E4 announcement. While it cuts off some screen estate, the E4g model brings a more powerful MediaTek MT6732 chipset with a quad-core 1.5GHz Cortex-A53 processor, better Mali-T760MP2 GPU and 1GB of RAM. The highlight of the new Sony Xperia E4g was, of course, the support for 4G LTE connectivity on both the single and dual SIM versions.
Sony Xperia E4g comes with 8GB expandable storage and 5MP rear shooter capable of 1080p video recording.
The Sony Xperia E4g was showcased at Sony's MWC booth and we've managed to grab a few shots with it. The compact fella may not be as interesting as the newly unveiled Xperia M4 Aqua and the Xperia Z4 Tablet, but it still looks like a quite a reasonable offer.
So, the Xperia E4g isn't the ordinary Xperia smartphones we are used to see. Instead, Sony decided to experiment a bit and change a few bits here and there to make it stand out. The result is a bit of a mixed-bag - you can surely recognize the Xperia E4g among other phones, it isn't because of its beauty and seamless design.
Sony Xperia E4g's screen is budging a few millimeters above the rear cover and somewhat compromises the handling. The phone indeed looks unique because of the much bigger rear cover the actual screen glass, but we are not sure this will be everyone's cup of tea. The all-black model definitely looks better than the white cover/black screen glass flavor.
The rear panel is made out of two parts glued together and it is pretty obvious on the white cover, so this is yet another reason to opt for the pure black Sony Xperia E4g.
The 4.7" IPS display offers above average image quality with nice colors and contrast, but not so hot viewing angles.
The 64-bit quad-core processor handles really nice and the Android KitKat OS and the Xperia E4g offers buttery-smooth performance. The hardware upgrade will surely make for a nice difference over its predecessor.
The Sony Xperia E4g is going to cost about €130, which means you can easily forgive the awkward design and the poor rear cover stitching in case you opt for the white paintjob.