Sony at MWC 2016
Sony Xperia X, X Performance and XA: Sony at MWC 2016
Sony Xperia XA hands-on
This is the lower midrange offering of the X family. It's got a 5" 720p screen (not 1080p like the other two) and MediaTek supplying the chipset instead of Qualcom. There's less RAM too, 2GB instead of 3GB.
We didn't notice the UI running any slower, though, but we didn't really get a chance to stress-test it.
Also, the screen looked pretty good despite the resolution downgrade. Contrast and viewing angles were almost as good as on the more premium X phones too.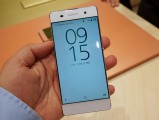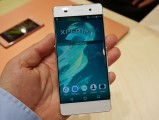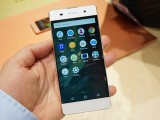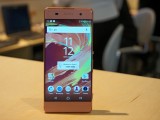 The 5" 720p screen is still very good
The exterior of the Xperia XA isn't as fancy, though, it's all plastic and it felt like one. Felt being the operative word, the XA looks almost identical to the other two (admirable, considering the lower price point and more run of the mill trim).
We went back for a second look and we have to say the Xperia XA is growing on us. The bezels are actually thinner than on the other two. Also, the XA has an almost gapless construction, as opposed to the Xperia X (we guess those can be removed in retail version).
No stereo speakers though (despite appearances).