Sony officially unveils its new Xperia XZ2 and XZ2 Compact flagships
Sony took the wrapper off its latest flagship pair at the Barcelona venue today, turning quite a few heads in the process. The Xperia XZ2 and XZ2 Compact represent a brand new look for Sony's mobile line and a pretty bold one at that.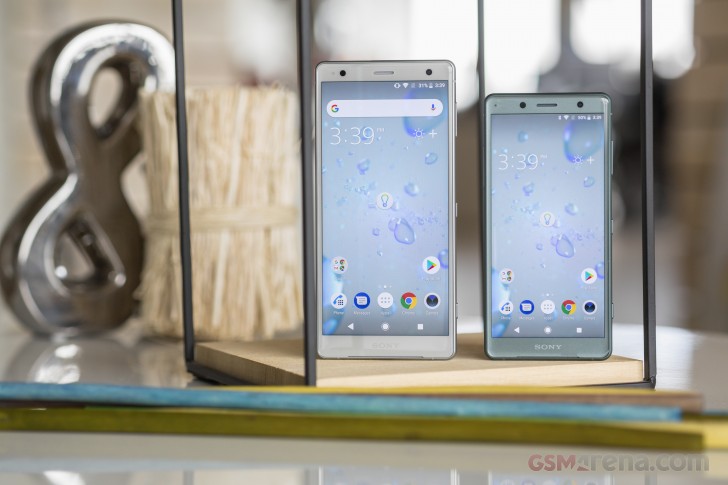 Curved sides, arching backs and 2.5D Gorilla Glass 5 fronts are at the core of what Sony is calling its "Ambient Flow" design. Symmetry is still a central part of it all, but gone are the sharper corners and edgy forms of the past, replaced by what the Japanese giant believes to be a naturally fitting shape for the human hand. The fingerprint reader is now mounted on the back and comes with the promise of no more legal issues in the US.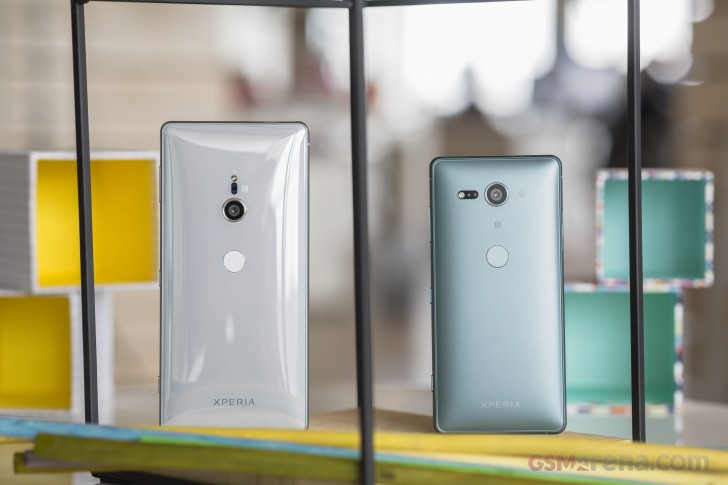 Both the XZ2 and XZ2 Compact feature a Gorilla Glass 5 front, an anti-twist metal frame and bezel underneath and IP65/68 rating. The back on the bigger one is also Gorilla Glass 5, making for an interesting reflective, but quite slippery and fingerprint-friendly surface. The Compact substitutes that for a polycarbonate blend, with a mat and significantly easier to clean surface.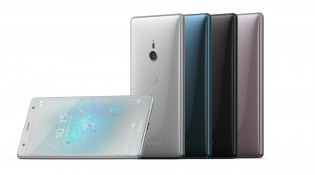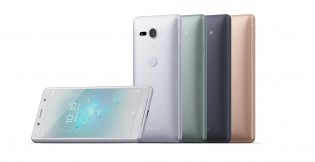 Sony Xperia XZ2 • Sony Xperia XZ2 Compact
And the potentially polarizing changes don't stop there. Both the XZ2 and XZ2 Compact come with trendy new, extra-tall, 18:9 displays - 5.7-inch and 5.0-inch diagonals, respectively. Both pushing pixels at a native FullHD+ resolution, which represents a step up for the Compact, over its XZ1 Compact predecessor. Sony's new panels are also HDR certified and support the BT.2020 standard, which their cameras can now record in as well.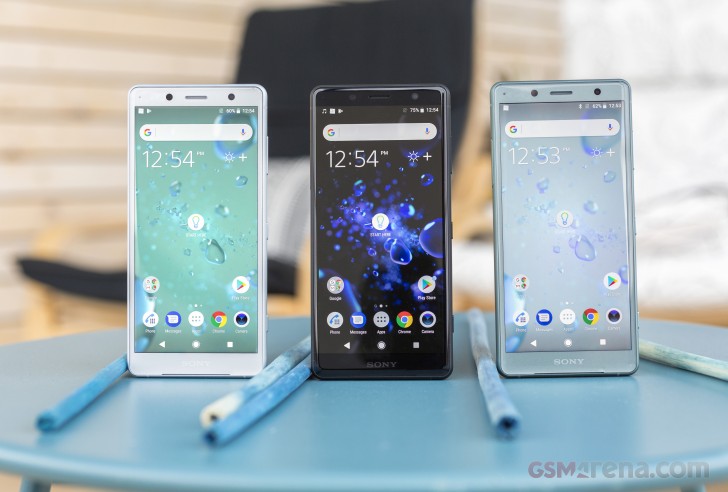 That camera in question is the same 19MP, Motion Eye, 1/2.3" Sony IMX400, f/2.0 unit from the Xperia XZ1 generation, complete with all the familiar added features, like 5-axis stabilization, predictive hybrid laser/phase detection/contrast AF, burst AF, IR sensor for white balance, LED flash, dedicated hardware shutter key. However, through a collaboration with Qualcomm on the Snapdragon 845 ISP and the software to go with it, the XZ2 and XZ2 Compact offer a new generation BIONZ image processing algorithm/architecture. It is said to help with overall color rendition, as well as detail reproduction and noise handling in low-light environments.
As for new camera features, both phones can record 4K HDR video - potentially a world first on the smatphone scene. It uses the same BT.2020 color standard, in a HEVC 10-bit container - ideal for watching on Sony's new HDR panels. Slow-motion video has seen a bump up in resolution as well and can now be recorded in 1080p@960fps, as well. The only caveat being that the size of Sony's custom ISP RAM buffer hasn't grown, so you can only record 1080p slow-mo for half the duration of 720p.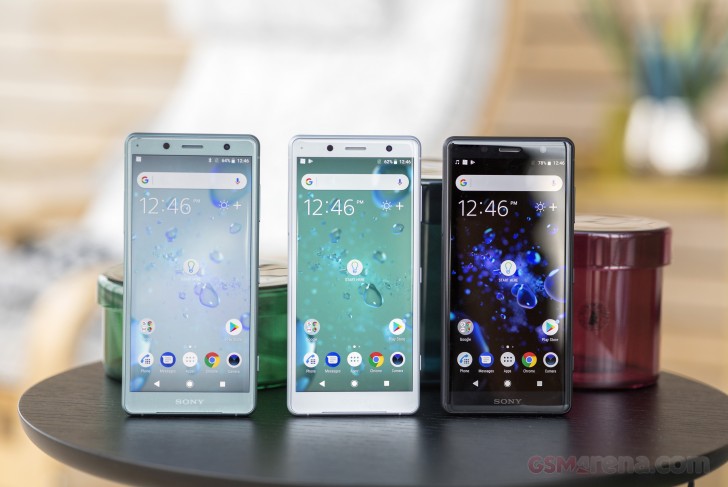 There are some notable changes in the audio department as well. First up, sadly, there is no 3.5mm audio jack on either phone. Quite the letdown, considering the beefy profile that comes with the new design (153 x 72 x 11.1mm for the XZ2 and 135 x 65 x 12.1mm for the Compact). Stereo speakers, however, are still present and even 20% louder compared to the XZ1. The bigger Xperia XZ2 also has a new Dynamic Vibration system. It leverages an advanced, wide-frequency vibration motor to simulate bass in music and enhance notification vibrations. The presence and intensity of the vibration can be controlled on a per-app basis.
Sadly, the XZ2 Compact lacks the Dynamic Vibration system - one of its very few hardware differences, compared to the regular XZ2. Another one being the lack of QI Wireless charging, which is present on its sibling. The only other major difference is LTE connectivity. The regular XZ2 is rated for Cat.18 speeds, while the smaller one has to live with Cat.15.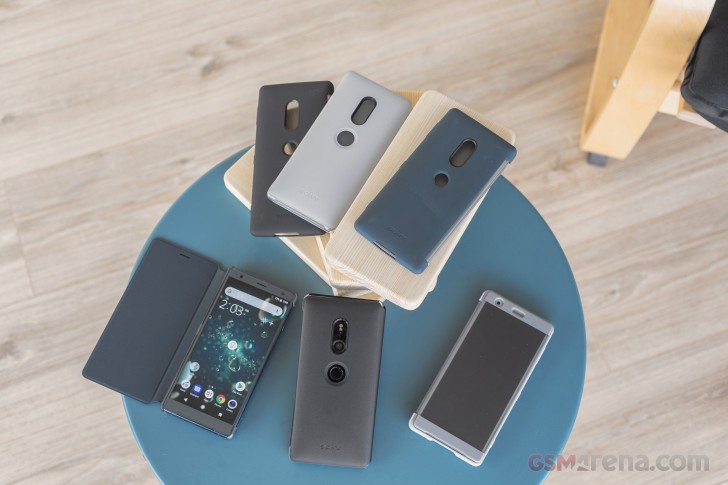 Other than that, the pair are identical in hardware prowess and are based around the new Snapdragon 845 beastly chipset, coupled with 4GB of RAM and 64GB of UFS storage, expandable through microSD. The latter is on a hybrid tray, so you do have to choose between two SIM cards, or extra storage. Other shared specs include Wi-Fi ac, NFC, Bluetooth 5.0,GPS and GLONASS and USB 3.1 Type-C. The smaller size of the Compact did slash the battery capacity a bit, bringing it down to 2870mAh, compared to 3180mAh on the regular XZ2.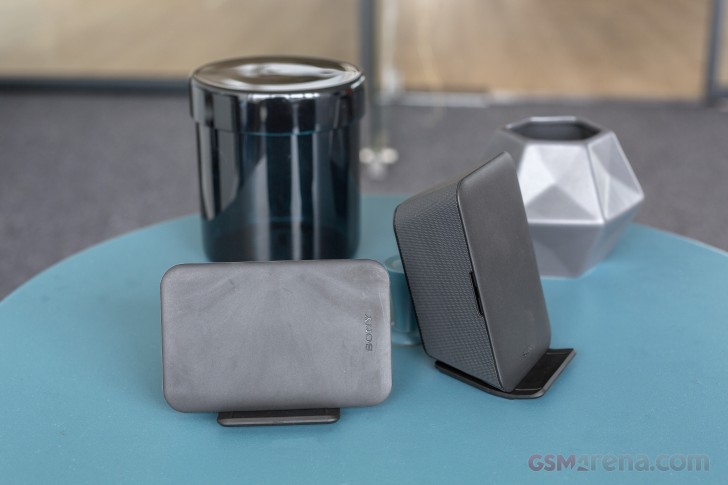 The Xperia XZ2 is available in Liquid Black, Liquid Silver, Deep Green (Petroleum Blue) and Ash Pink colors, while the XZ2 Compact has Black, White Silver, Moss Green and Coral Pink dyes. Both are expected to hit shelves some time in late March or early April, with no world on pricing yet.
Joining them at the announcement event were two types of official covers - the Style Cover Touch and Style Cover Stand in a plethora of colors. Also, a new Y-style Type-C adapter for simultaneous charging and audio out, which will be bundled with every XZ2 and XZ2 Compact unit. Other announcements include a pair of headphones- the wired/wireless SBH90C and the STH40D. Also, a WCH20 wireless QI charging dock, with a detachable stand and both horizontal and vertical modes of operation.
Whether the screen is make from any type or any other brand, Sony don't punch a hole on it. You can watch the video you can see a hole on your screen, you won't yelling, because your beautiful screen has a hole black off your mind, blind off some of ...
?
Broke screen?. Well.. xperia's screen is made by samsung and lg. The latest xperia is even use samsung's camera sensor. LMAO. If u love xperia, it means you also love Samsung. LMAO. You are a Samsung Fan too Hahahaaah.
You totally wrong, I have taste don't like you. Please spend your time on your broke screen, the notch/pill/waterdrop/punchole is your dream and your demands NOT mine!
ADVERTISEMENT