Sony partners with 5 directors, who produce awesome videos on the Xperia Z5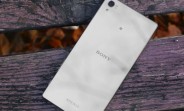 Sony has decided to promote the Xperia Z5's video prowess by partnering with five directors, each creating a movie about an European city by only using the phone's camera.
All videos are shot in 4K and are quite tastefully made. Each tells the story of the corresponding town in a quirky and interesting way. As a reminder, the Sony Xperia Z5 features a 23MP camera with a 1/2.3" sensor.
Check out the videos below.
Paris
Milan
London
Berlin
Barcelona
D
Absolutely no. You can see S7 as a fine example on maintain great screen to body ratio & improving battery capacity at the same time.
D
People like you always become HISTORY. Can't you understand a simple fact that whatever is stagnant, will rot. Sony can't even produce images better than the companies who uses it's sensor! And you love that 3 yr. old design. Good luck to you budd...
J
Cant wait to see if x series beats z5 and s7..