Sony posted its 2012 financial results report, and it appears shareholders have finally caught a break. The company enters 2013, having made a profit of $458 million in its previous fiscal year (43 billion yen). That's the first time the company is on the profitable side at the end of a fiscal year since 2008.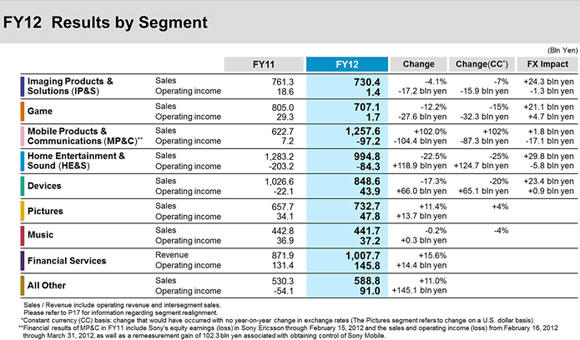 Sony highlighted that the boost in profits came from selling key assets such as office buildings, one of which is its headquarters in New York. Additionally, Sony has let go of some of its shares and notes that due to the current weakness in the Japanese currency, its products are cheaper to buy outside the country.
Sony's Mobile Products & Communications division got a boost in sales and for 2012 they add up to $13.3 million. That's a huge 102% jump compared to the division's result in the 2011 fiscal year. Even so it recorded a loss of $1.03 billion due to obtaining control of Sony Mobile (from Ericsoon) and unfavorable impact of foreign exchange rates.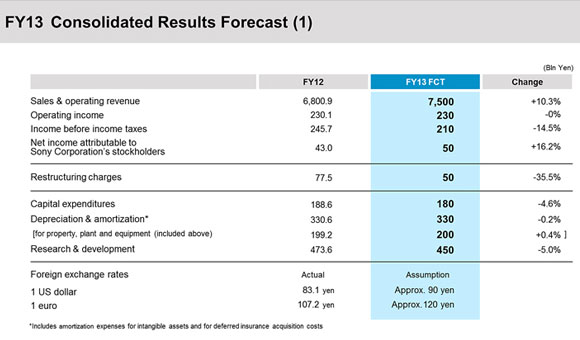 The Sony Pictures department was one of the most profitable for the company posting an operating income of $509 million and sales and operating revenue of $7.79 billion.
Sony's estimates for the 2013 fiscal year (which ends March 31, 2014) are moderately positive and see no raise in operating income. However, sales are expected to increase significantly as its Pictures, Music and Financial Services segments are expected to keep on generating stable profits.
The Japanese tech giant also expects its smartphones to sell better next year and foresees to ship 42 million units, up from 33 million in FY2013. With users expecting Sony's next-gen PlayStation 4 game platform to hit shelves, the current-gen PlayStation 3 is to slow down in sales to 10 million units from 16.5 million.
l
These figures are not consistent with the 2012 FS. Sony are going down!
D
with all thanks to android ;)
R
with sony in super smart phone clan ! and PS4 inbound I'm pretty sure in 2013 sony will rise !
ADVERTISEMENTS