Sony publishes financial report for 2016 fiscal year, mobile division in the black
Sony Corporation has published its financial report for the 2016 fiscal year ending on March 31. Net income is listed at JPY 73.3 billion ($676 million) - practically halved year on year. However, Q4 figures are a marked success compared to last year's numbers for the same period - with a JPY 27.7 billion ($244 million) net income, Sony is now in the black, while in Q4 2015 the company reported a JPY 88.3 billion ($765 million) loss.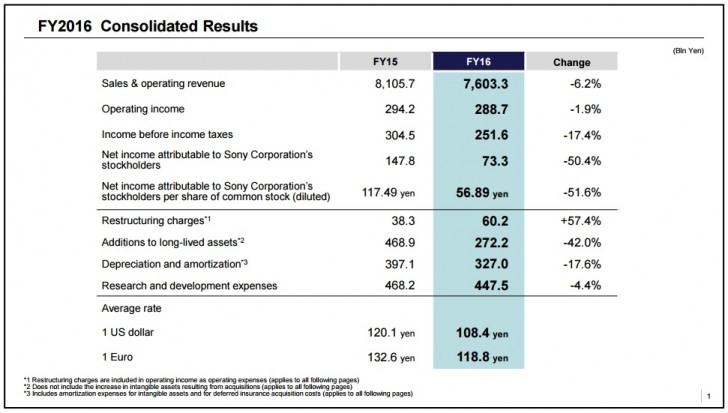 The corporation's Mobile communications division reports a JPY 10.2 billion ($94 million) profit as opposed to a JPY 61.4 billion loss last year. A cautious JPY 5 billion profit is predicted for the 2017 fiscal year.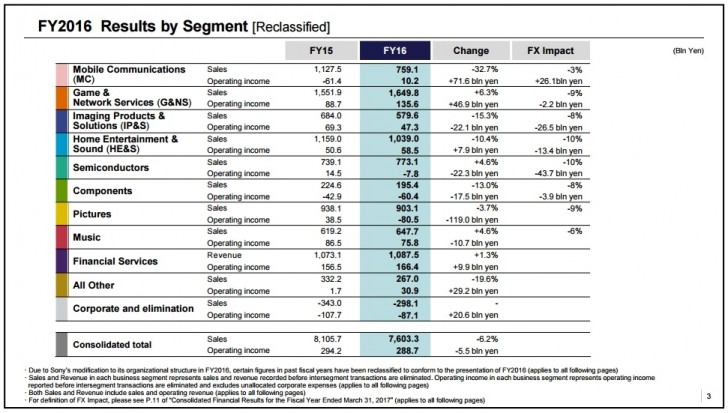 Sony's gaming division reports a 53% increase in profit to JPY 135.6 billion, driven by healthy sales of PS4 units (20 million total for FY2016). Q4 2016 alone sees profit more than quadrupled year on year. The semiconductor division is also JPY 12.8 billion in the black in Q4 2016, while things looked much worse in Q4 2015 (JPY 73.6 billion loss).
Meanwhile, the financial impact of the Kumamoto earthquake that shut down Sony semiconductor manufacturing facilities is estimated at JPY 52.8 billion ($487 million).
?
You really are awesome troll aren't you. Even Sony made water resistant phones long before Xperia z. The first water resistant phone was collaboration between Casio and lg. Next were Sony and Nokia. The first water resistant Android was Motorola defy...
?
http://www.hoista.net/post/42353282830/the-evolution-of-the-first-waterproof-phones Next time I'll be coming with spoon to feed information to you guys
?
Every waterproof phone are tested in the lab to get the IP certificate, the OEM already giving the facts, because a lot of waterproof-phone's user is very creative, just like me I wash my Z2 with mild soap to clean it up. I know the acid is not free,...