Sony releases a video showing off its Nougat update for Xperia phones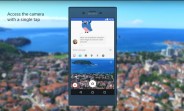 The Nougat update has begun rolling out for at least a couple of models in Sony's Xperia lineup. The most recent rollout taking off just yesterday for the Xperia XZ and the other day for the Xperia X Performance. Sony released a video after the XZ's update kicked off detailing the new features of the Android Nougat update for Xperia devices.
The video shows some of the new features that Xperia devices can perform on the new update. There's a new search function on the homescreen, and the launcher now displays Google now to the left of the default homescreen. New SMS features have been added, but most of them are already in Google Messenger.
There's now Split-screen which also includes the fast-switcher when you double-tap the multitask key, as well as improved stamina mode with doze and new camera UI features. These aren't the only changes, there are many small improvements and additions that improve the Android experience.
Thanks for the tip! Will
freedom of 6gb of ram crushing aps here and there.. way to go. Only htc, Sony and Google know how to make 3gb of ram enough to do everything. Others need 4 and 6gb of ram, and the apps on the background still crush!
An obvious answer to you, it's android. You can customise it and make it exactly as you want it. unlike windows and ios. Before complaining about it, make sure you know a few facts about android 1st.
?
Sony Rocks with N update.
ADVERTISEMENTS