Along with the global Xperia S and the AT&T-bound Xperia ion, Sony revealed two more Android smartphones tailored for the Japanese market. The phones in question are Sony Xperia NX SO-02D and Xperia acro HD SO-03D.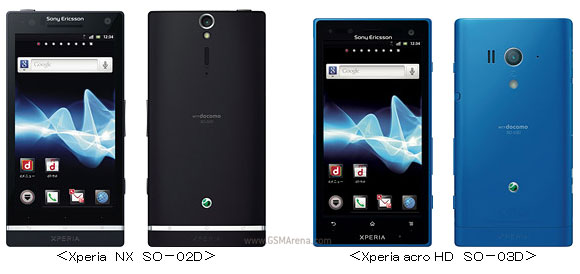 The Xperia NX and the acro HD are based on the Xperia S, with the NX even borrowing the design. Still, they have their additional features specially added for the Japanese people.
The Xperia acro HD, is an NFC-enabled Android 2.3 Gingerbread-running smartphone with an infrared port and a TV tuner thrown. The two phones share a 1.5GHz dual-core processor, HD resolution display (1280x720 pixels) and a 12.1MP camera with Sony's Exmor R sensor. The
Other specs for the Xperia acro HD and Xperia NX include a microHDMI port, 16GB memory and a 1840mAh battery.
The acro HD will come in bunch of different colors like Aqua Blue, Black, Sakura Pink and Ceramich White, while the Xperia NX will be available in plain black and white colors. Expect the Xperia NX to pop up on NTT DoCoMo's network in February and the Xperia acro HD in March of this year.
s
when nx will come in india and it prise
s
The only pathetic copier is you! You just copy what everybody says but did you even try to check'em for yourself? Apple is one big thief in stealing ideas and Steve Jobs admitted by himself that he was coping from Xerox (Check Youtube) An...
a
will it be available in India????
ADVERTISEMENTS