Sony's mobile division started off well - it was making more per phone than any other Android maker. But the company will not reach its 20 million phones shipped forecast - it already cut it once by a million and now by two more.
In total, Sony's forecast is that it will ship 17 million Xperia phones. The blame has been put on Europe.
On the positive side, the forecast for operating income for the year remains unchanged as Sony transitions into higher value phones (its mid-range phones are underperforming). The mobile division even scored a small profit ($37 million) for the quarter, compared to a loss the year before, and aims to end the fiscal year in the black.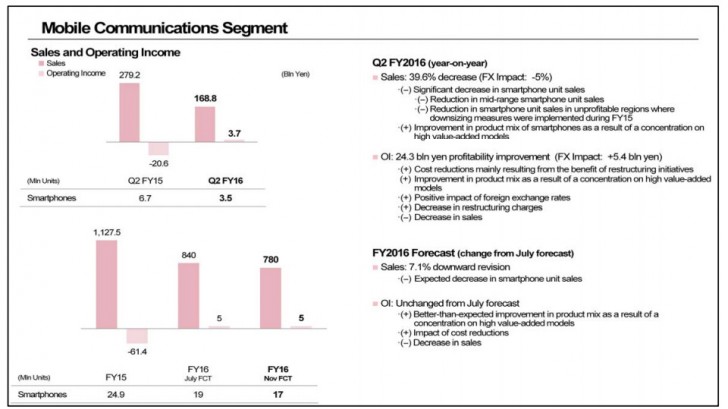 However, sales for the full year have been revised down. Just this last financial quarter the sales slumped 39.6% year on year to $1.67 billion.
The camera launch is fast at 0.06 seconds, but why you still complaining? The camera quality is much more improved and the color is natural not like Samsung "painted effects", why should you still complaining? Your complain is more than your experien...
A
I'm a Sony user, not a Samsung user but my friends are Samsung users and I know the differences between both phones very well because I have occasionally used my friend's devices before. Sony has everything right, almost everything. They just need to...
I don't trust an experiences from a Samsung user, because they only show you the bad but hiding the good, they even don't have the real experience with the Xperia XZ but they will complain it without know the quality. You ask Sony should price XZ pho...
ADVERTISEMENTS