Sony shipped 5.1 million Xperia phones last quarter, a 33% drop year-on-year
Sony has announced its Q4 2016 financial results, and things aren't looking good as far the Japanese company's phone division is concerned.
The results reveal the company shipped a total of 5.1 million Xperia phones in the quarter, which is down by around 33% when compared to the number of units the firm shipped in the same quarter of 2015.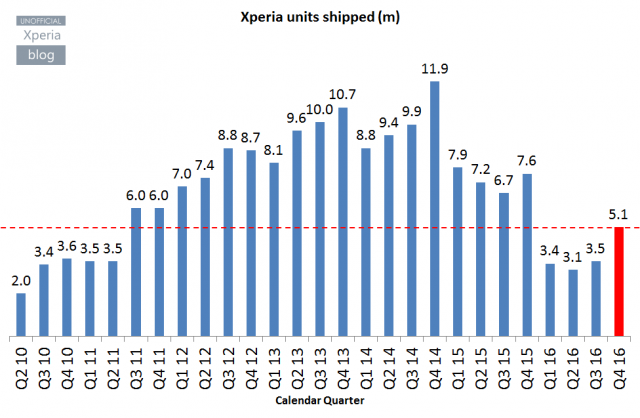 The firm's mobile revenue for the quarter stood at JPY 249 billion, which translates into a decrease of 35%. Lower than expected sales in Europe is being blamed for the overall decrease in revenue.
The company has also again lowered its forecast for the fiscal year (which ends in March), this time from 17 million units to 15 million units. Forecast revisions in Latin America and Middle East is said to be the main reason behind this.
c
Please read my comment carefully before reply and start talking nonsense. I am comparing each handset profit , for j3 (2016) and xperia xa . In my country xa sales at 999 and j3 only sells at 599 which both handset is almost the same spec. Thus profi...
e
Sony is bad on customer service. Sales show this. Plus their ringtones are too soft and spoils what should be the primary function.... Receive Calls...
o
to many variants - x, x performance - last not even launched in all markets. selling mediatek phone for high prices - no good idea! i bought a xa and after 2 months i am starting to think that it might made a wrong decision. where are your mar...