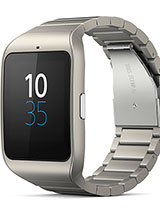 D
Hi guys thanks for your efforts. Just a question. I use sony z3 compact which is connected with my sony watch 3. Recently i started using an iPhone 5s as my second phone. Will it be possible to connect that too with my sw3?
I mean both phones connected to my sw3.
Btw i have upgraded all my devices to latest versions.
Thanks again for replying.
V
A brief correction in response to a few mistakes in the given specs here:

1) This watch has NO loudspeakers but could be paired with a Bluetooth handsfree for listening music via Google Play Music, which has to be certainly installed on your cellphone.

2) The provided GPS, supports GLONASS and BEIDOU as well. As a proof, you may install any relevant wear GPS tracking software to see. However, the GPS signal reception is so weak and sluggish in this watch that you'd just forget about it.

3) Battery usage actually wont last for no more than one single day, even in the case of a very regular usage even with NO GPS utilization, at all. Maximally up to 30 hours and so, not more. (Using android wear 5.1.1 and entirely updated)

4) In the SENSORS list, the ambient light sensor has been missed. It does insit in the unit, though doesn't really much performing (ver. 5.1.1, so far)

6) Only 2.6GB out of 4GB of the watch storage is available to use. While the local OS and softwares also occupy this 2.6 amount, which is around 300MB net usage of the OS affairs. Additional watch surface and installing programs would consume more and more of this remained space. So this is common for your entire data. OS and programs.

There are also two optional straps available in pure white and sport pure pink. The mentioned "yellow" color (by Sony official website) is actually lime green (with a fluorescent touch) and not pure yellow.

SMS/Mail fans need to remember that the ENTIRE communication abilities of this watch is depending on voice. Naturally, it doesn't support keyboard for typing. Allegedly, there are complimentary software to cover this need.
A
Does it have a LOUDSPEAKER? Really?
i have the watch ...but it uses a Bluetooth speaker or headset, if i am not wrong?
A
Samboy, 28 Oct 2015Style of the watch is good but I am not sure about the features.Features are good , even the looks are great but the way it is displayed is not so good
but after you wear it on your wrist it looks pretty good.

Total of 87 user reviews and opinions for Sony SmartWatch 3 SWR50.