Sony's new quarterly financial report is out and it shows improving performance. The company's Mobile Products and Communications division responsible for Sony's Xperia and Vaio devices reports improving smartphone sales, but was dragged down by the stale PC business. If you haven't heard already, Sony is selling its PC business.
The Xperia line, however, moved 10.7 million smartphones during the quarter, up from 10 million units the quarter before. The Average Selling Price (ASP) of Xperia smartphones also went up, which along with favorable exchange rates resulted in 44.8% increase in sales for the division to $4.396 billion, but a net loss of $120 million, including $78 million impairment charges for the PC business.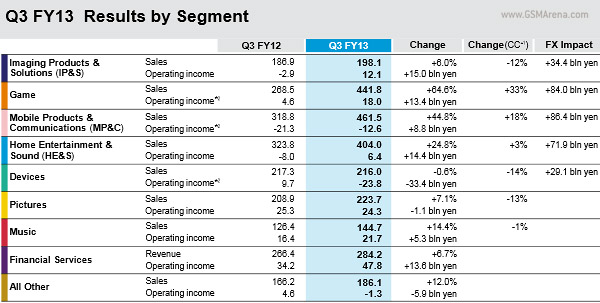 Sony did cut its forecast for number of smartphones sold to 40 million units from 42 million. Considering it has already sold 30.3 million, this implies Sony expects to sell under 10 million units in the first three months of 2014.

Along with the smartphone and tablet business, Sony's Game division is responsible for the improved revenue. Following the launch of the PlayStation 4, the division raked in $4.207 billion in revenue and made an operating income of $172 million.
The imaging business isn't doing too hot and sales increased just 6% year on year to $1.886 billion, but the division posted an operating profit of $115 million compared to a loss the same quarter in 2012.
LCD TV sales bounced back, which along with reduced cost pushed Home Entertainment & Sound to 24.8% bigger revenue of $3.848 billion and $61 million operating income.
The consolidated revenue for Sony (including a strong Financial Services division) was $22.979 billion (up 23.9% year on year) and the operating income stood at $860 million.
?
be patient . you will get it. they are not simply sitting there. :)
D
Well I guess they are learning from the late Steve Jobs - Focus on a few things and do them well. Brave decision by SONY. Though I would lose the TV's instead and integrate photography 100% into Android.
?
GSMArena, you've forgotten about Sony also splitting up their poor and loosing money TV division. Only 40 millions that still doesn't make Sony one of the Top 5 phone maker in the world. It's a Sony. It's a Suck.