Sony announced the Xperia M5 back in the August, 2015, but it's yet to bring it to Europe. Things are about to change, as the company has expressed its plans to launch its latest midranger there next month.
The Xperia M5 product page is live on Sony Poland and Sony Netherlands websites. Furthermore, T-Mobile Netherlands is offering the device on-preorder for €439.95 SIM-free. Shipping will start on February 2.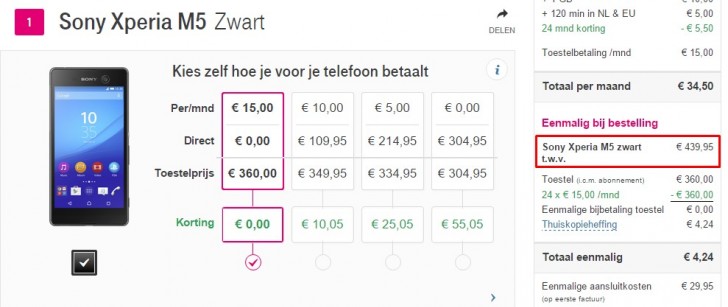 For the price you get a 5" 1080p IPS display, a MediaTek Helio X10 chipset with a 2GHz octa-core CPU, 3GB of RAM, 16GB of internal storage and a 2,600mAh battery. At the back, there's a 21.5MP camera with an Exmor RS sensor boasting 0.25-second Hybrid Autofocus.
Expect more information on pricing and availability in due time as the Xperia M5 becomes widely available.
e
M5 has been available in Baltic states since October, and last time I checked, Baltics were in Europe. I own an M5, it had software issues at first (shutdown problem), but lately been OK, and now with the 5.1 update is faster and smoother.
These are great news! I remember falling in love with it's appearance and wanted to see it with my own eyes. I worry about it's price though, being a super mid ranger and all. Z5 now costs around 520e here in greece so it wouldn't be wise to put a...
D
I'm not really gaming on my phone, so I don't really care about the GPU. What matters most to me is multi-threaded performance to be able to decode 10-bit h264 - and Helio X10 only chokes on the really high Mbps videos, so that's all right for me. Al...
ADVERTISEMENT