Sony takes dig at Apple, asks Siri about battery life of new iPhones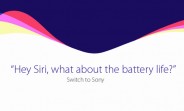 Ya'll just babies! in the business world of today, every bodys doing what is necessary to keep head above waters, so to say. So if anybodys pulling u down, do just what is right. Sony is taking a big risk making this 2Day battery life move which is ...
Yeah, because keeping your woman locked in a basement is what a real man does, seeing as how locked iOS.
Right or wrong, don't know, but they sure speaking the truth!