Sony is looking to ship more phones in 2013, according to DigiTimes, going from a projected 35 million to 50 million. To get the job done, the company plans to outsource some of the manufacturing to big ODMs.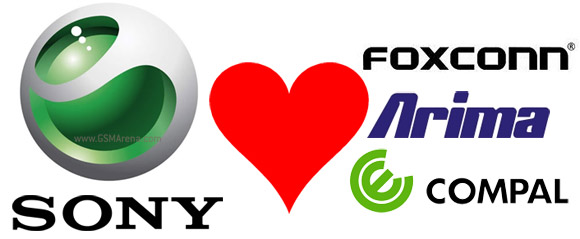 Foxconn has been manufacturing low-end Sony phones since Q3 of this year. According to sources, Sony will add Arima and Compal to the list of makers early next year. Together, the three companies are expected to get orders for around 30-40% of the Xperia phones to be made in 2013.
As for what those ODMs might be making next year - the low-end Sony Xperia E and E Duos leaked recently. There's also the Xperia Odin and Xperia Yuga to look forward to, but it's unclear if Sony will outsource the manufacturing of its high-end models as well.
?
Sony outsource most of xperia range from three taiwanese companies big news in 2014 -2015 i read on pda.net low-end xperia made by Arima communication and some by compal electronics And Foxconn.
s
what ever way sony make the product...once it goes there is no support available...my sony phone stoped working immediatly after purchase....sony shops nor replace or repair the product....Why to risk your mony with sony
d
The manufacturing psrt is easy its the R&D (research and design) that makes or breaks products. Sony or who ever that outsources products will have reference design specifying whats chips materials are to be used all the contractor has to do is ...
ADVERTISEMENTS