A report from LetsGoDigital sees a filing made by Sony Mobile with the EU Intellectual Property Office. Sony trademarks the name "CinemaWide" and is classified as 'Class 9' which is a general class that covers tablets, smartphones, displays, apps for phones, among other things. Despite the general classification, we have a pretty good idea what this trademark could be for.
The filing was made on February 4 so it is likely that Sony is going to market its 21:9 ultra wide display for smartphones as CinemaWide. Previous rumors have claimed that the upcoming Sony Xperia XZ4 will have this taller ratio display with a resolution of 3360 x 1440 px and a diagonal screen size of 6.5-inches.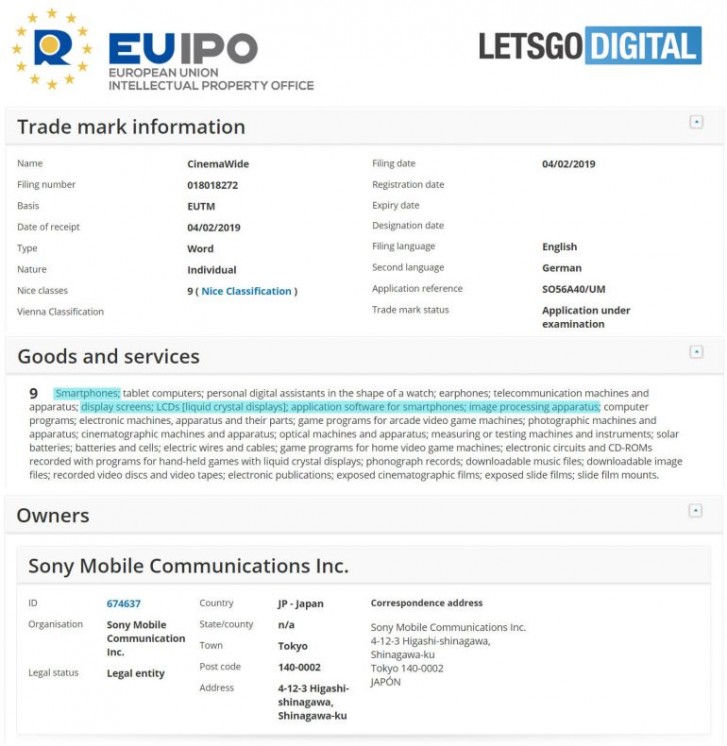 The Sony Xperia XZ4 might be announced during the MWC at a February 25 event, taking place later this month in Barcelona, Spain. The phone is said to feature a triple camera system with a 52MP image sensor using an f/1.6 lens with a 16MP telephoto camera and a 0.3MP ToF sensor.
The Xperia XZ4 might have 6GB of RAM and 128GB of onboard storage. Meanwhile, there's a 4,400 mAh battery inside as well as the newest Qualcomm Snapdragon 855 CPU. If Sony should announce it at MWC, rumors point to a much later release sometime later this summer.
?
Not feeling thus posting nonsense favoring C brands. Hehehe
M
Incorrect. A traditional 5.5" with huge bezels on top and bottom has roughly the same footprint as a phone with 5.99" screen in 18:9 and slimmer bezels, as well as a phone with 6,39" screen in 19.5:9 - roughly. Each step from 16:9 to 18:9 and f...
Sony is the first to implent Qnovo battery charging technology, that time Samsung build in a bigger battery and recall all the Note 7. Follow by the China build in bigger trends and LG adopt Qnovo. Conclusion Sony is the first to whole-hearted care a...
ADVERTISEMENTS