Sony continues its assault on the alphabet with the filing for a trademark for the Xperia TL name with the US Patents and Trademarks Office. There's already an Xperia T and an Xperia TX, so what's with the 'L'?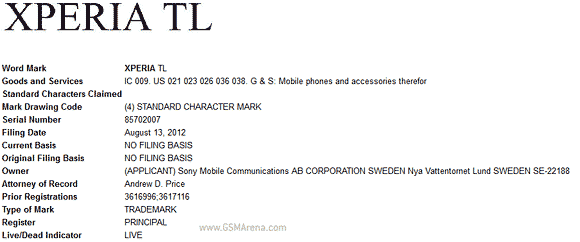 Sony just unveiled an Xperia SL device, which differs from the Xperia S only in its slightly overclocked processor. The Sony Xperia T ('Mint') is expected to pack a speedy Qualcomm Snapdragon S4 chipset with a dual-core Krait CPU clocked at 1.5GHz, so a faster processor in the Xperia TL sounds unlikely.
The 'L' could stand for LTE - the LT30at version of the phone is excepted to hit AT&T and have LTE connectivity and a metal back, unlike the HSPA+ packing global version and its plastic back.
The XperiaBlog reports they couldn't find a filing for Xperia TL in Europe, which supports the claim that the Xperia TL is US-bound.
There's a Sony press conference scheduled for this Wednesday, August 29, at IFA and hopefully some of the many Xperias in the rumor mill will graduate to official status. However, if the AT&T connection of the Xperia TL is real, then we likely won't see it on Wednesday as IFA is an European event.
D
my first thought it is the Quad Core snap dragon of the T and i believe it will
?
Dont care what code it will be, as long its sony.. ;-)
J
What's the next model number they're going to trademark? Xperia TM TM! lol, :D
ADVERTISEMENTS