The WF-1000XM3 are Sony's most popular truly wireless in-ear noise-canceling earphones. Launched in July of last year, they quickly became the most well regarded TWS noise-canceling earphones on the market. For many, it had the same combination of great active noise-canceling and good enough audio quality that the full-size WH-1000XM3 offered, but in a more discreet form.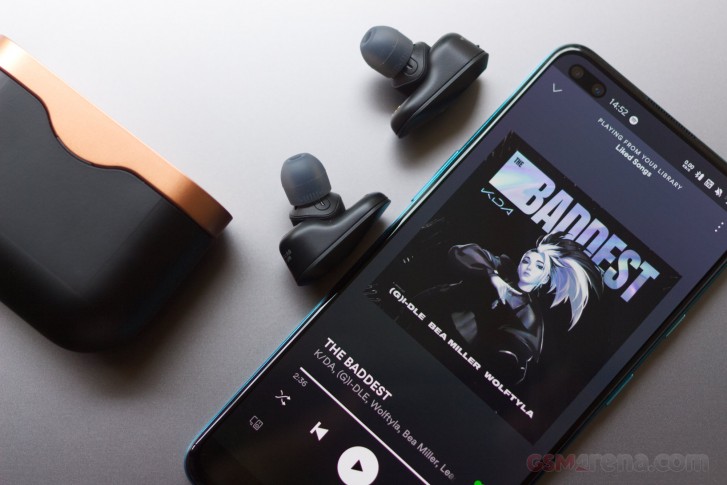 Now, over a full year later, Sony launched these earphones in the Indian market, which allowed me to do a full review on them. While I had tried them on previously after I briefly borrowed a pair from a fellow tech journalist, it wasn't nearly long enough to form a concrete opinion on them, let alone write a full review. But now that I've had them for about two weeks, I am better positioned to bring this review.
Sure, the review may be a year late from everybody else's. But it was still interesting to visit this product, especially since Sony has yet to replace them, which means they are still their flagship in-ear model, and still very much relevant in their product portfolio. And they have received a few price drops since release, which makes them better value than at launch.
So in this review, I will be discussing if the terribly named Sony WF-1000XM3 are still relevant in 2020 and if you should be buying them.
Design
Aesthetically, the WF-1000XM3 have aged well over the past year. Sony has a way of designing things that lends them an air of timelessness, and the WF-1000XM3 certainly benefit from that.
The case, however, is straight-up chunky. It was a pretty thick case last year and it remains a pretty thick case today. It's a nice design, with its two-tone finish, but it will take up more space in your pocket than competing products.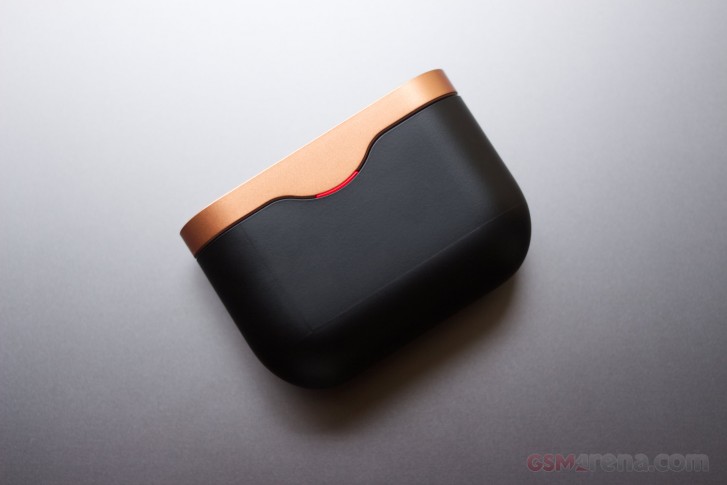 The case has an interesting design, where the bottom is curved while the lid is flat. I assume the bottom is curved so you can keep them in your pocket and it would curve gently into the pocket lining rather than stick out with pointy edges.
From the outside, you can see a small strip of red LED, which tells you the charging status of the case. Beyond the LED you also see the NFC logo, which denotes the NFC transceiver is right underneath.
The magnetically held lid opens up fairly easily but doesn't open too wide. It stays firmly in place when open and doesn't threaten to fall down on your fingers. The lid movement isn't particularly smooth or satisfying, however, if that's the sort of thing you like. It doesn't quite spring open or click shut as nicely as some other TWS cases but it's not a big deal. Just something you notice after having opened a hundred of these.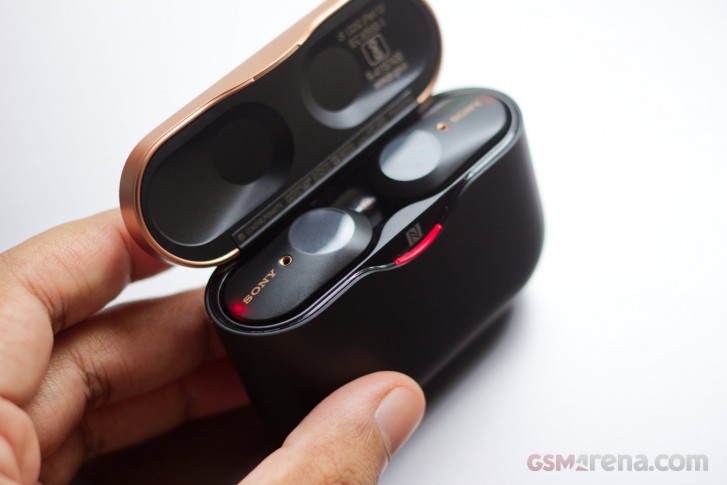 Inside, the earphones are placed sideways. They are flush with the edge of the case so you need to place your finger in the gap between the two to pull them out. They come out fairly easily but you do have to be careful with them as they are quite small and easy to drop/lose.
Going back to the outside of the case, the only noteworthy feature here is the USB-C charging port at the bottom. One major feature missing with the WF-1000XM3 charging case is the lack of wireless charging. This would have been a bummer even in 2019 and nowadays almost all premium models have it built-in. For the WF-1000XM3 case to be so big and still lack wireless charging is quite the disappointment and definitely something Sony should rectify into the next-generation model.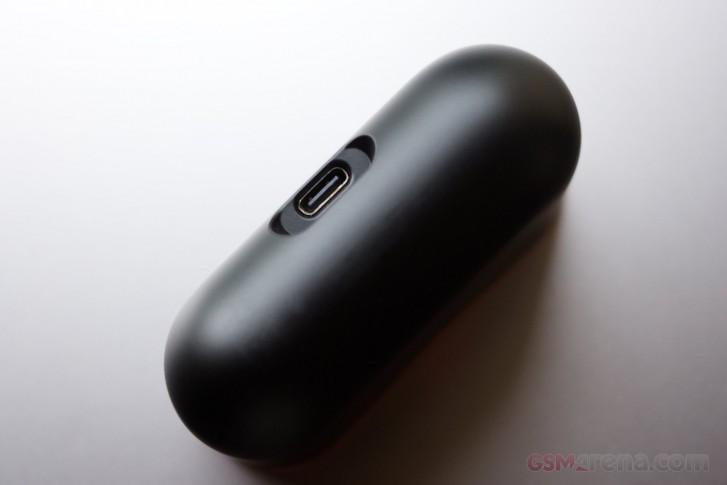 The choice of material for the case is also a bit odd. It is a soft-touch plastic that's pleasant to touch but gets covered in grease and fingerprints quickly. You can also see the seams for the plastic molding, which really should have been polished away. An odd bit of oversight for Sony.
Now for the design of the earbuds themselves, they are quite small as mentioned previously. On the side that faces the outside, we see a circular touch-sensitive surface with a microphone next to it. At the opposite end of the touch surface is a LED indicator underneath the plastic.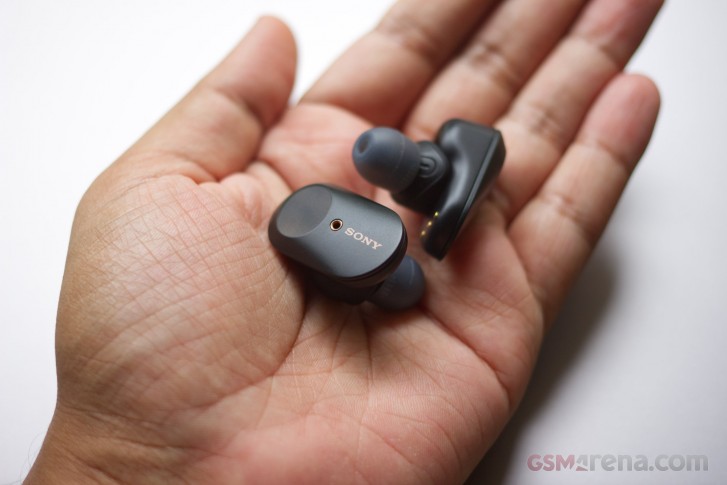 On the inner side, you see the golden contacts for the charging on one end and the proximity sensor on the other end for wear detection. In between juts out the portion that sticks inside your ear holes.
The shape of the earbuds isn't too thick, so they don't stick out too much from the side of your head. People might not even notice you are wearing anything if they see you from the front. However, they do stick out just enough that you can't lie your side in bed while wearing them.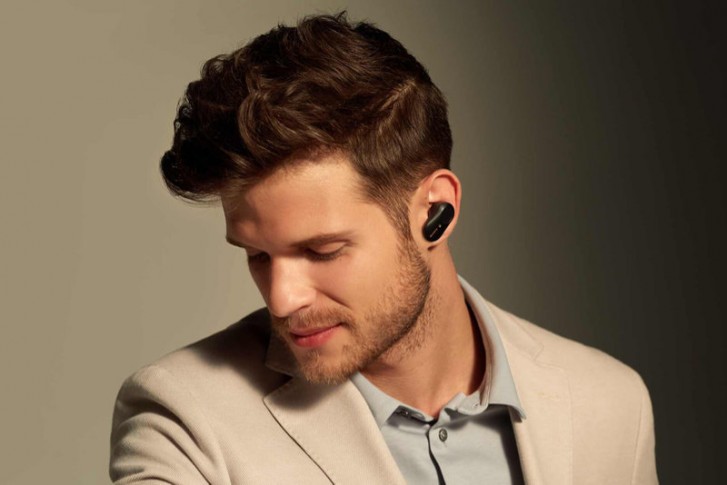 The WF-1000XM3 lack any sort of ingress protection, which means they aren't ideal for wearing around water or during sweaty workouts. One one hand, one can imagine why Sony didn't bother adding this feature, as the WF-1000XM3 are primarily meant to be noise-canceling earphones that will be used during commutes or air travel, not necessarily during workouts. They don't even have a design that facilitates being held in place securely during workouts. But, enough wireless earbuds had this feature last year when the WF-1000XM3 were launched and a lot more have added it since then, making its omission particularly glaring. It's just something we now expect all earphones to have.
Comfort
The WF-1000XM3 for me are an uncomfortable pair of earphones. I can wear them for at most an hour, usually much less before I have to remove them. The issue is with the rubberized portion below the ear tips, which is designed to anchor the earphones inside the cavum concha portion of your ears and prevent them from moving. Unfortunately, this bit is a bit too large and pushes too hard against the ridge near the opening of the ear canal.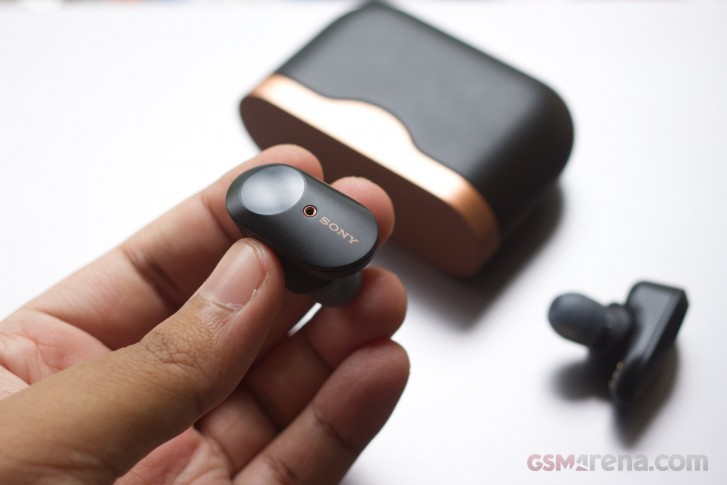 The solution for me is to not wear them the way Sony recommends it. Sony suggests inserting them in your ear so the oval body of the outside of the earphones is angled and then twist them so that the oval is parallel with the ground. This is what causes the round portion to apply pressure on the inside of your ear, which holds it securely in place but at the cost of comfort. Not twisting them and just keeping them angled helps alleviate some of this pressure but also makes them less secure in my ears and could also potentially weaken the seal of the ear tips.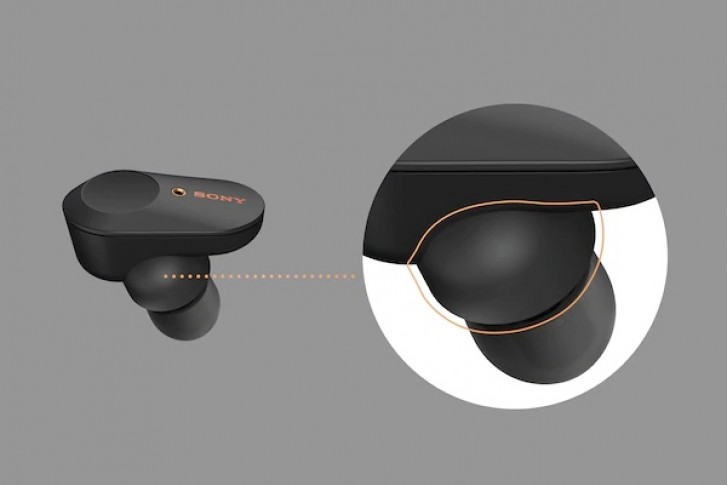 With variations in ear sizes and shapes, you could very well be able to wear these as they are meant to and not experience any discomfort. Or you could have the exact same issue as me. If that's the case, you can try wearing them at an angle and see if that helps.
Software and features
The WF-1000XM3 are compatible with the Sony Headphones Connect app, available on iOS and Android. The app lets you access most of the features of the earphones, so you'd be missing out on a lot by not having it installed.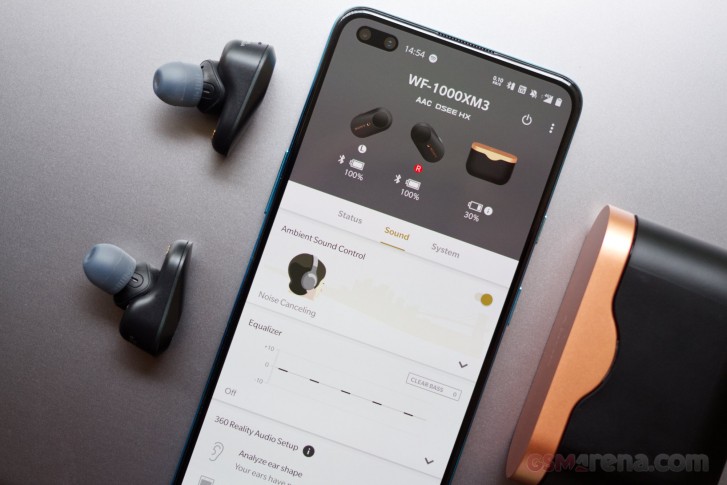 Before getting into the app, the pairing process for the earphones is pretty straightforward. Out of the box, they will go into pairing mode anyway. If you want to pair more devices, you have to press and hold on the touchpads on both earphones for a short amount of time. If you have an Android phone with NFC, you can also just tap on the case to pair. The WF-1000XM3 do support Google Fast Pair now, so if you have a device in the vicinity that supports this feature, you will get a prompt on screen to pair.
Once you pair and install the app, you get to see the revamped UI of the Headphones Connect app, which was updated recently. There are three main tabs, and the contents of these do change with the model being paired with the app. Fortunately, the WF-1000XM3 does support most of the features the app has to offer.
Starting with the first tab called Status, here you get to see the track that is currently playing with the volume bar below it. Also found here is the Adaptive Sound Control, a feature that adjusts the level of noise cancelation and how much ambient sound it lets in through the speakers based on your location or activity. You can choose from activities like sitting, walking, running, and commuting and each mode has a custom noise canceling and ambient noise profile that can be manually adjusted if required. The app uses accelerometer and gyroscope data from the phone to determine your actions and switches profiles automatically. Furthermore, it can also learn from the locations you visit frequently and you can also manually add locations on the map where you want certain profiles to kick in.
All of this may seem interesting but outside of checking if they work or not, I didn't use this feature much. It was just easier to stick the noise-canceling at maximum, turn off ambient noise and not mess with the settings ever again. I wouldn't necessarily call it a gimmick as I'm sure there are people who use it but I'm not one of them.
Moving on to the next tab is where you control most of the noise canceling and audio-related options. You can manually enable or disable noise canceling and also dial in the amount of ambient noise you want to filter in. The EQ feature lets you choose from a range of presets or just set your own values. It also works now with AAC and doesn't require you to switch back to SBC as it used to back in the day. The sound quality mode lets you switch between quality (AAC) and stability (SBC).
The app also features Sony's Digital Sound Enhancement Engine or DSEE. On the WF-1000XM3, it's available in the DSEE HX variant, although there are also other versions for other models. DSEE claims to upscale compressed audio and brings them "closer to the quality of High-Resolution Audio". You can either disable it or put it into Auto. In Auto, it automatically detects based on the sound playing whether it should kick in and you would see the DSEE HX logo in the app next to the codec if the feature is active. In my use, DSEE HX would kick in for Spotify but not for Tidal, which made sense. Unfortunately, for the life of me, I couldn't hear a damn difference with the feature on or off on Spotify. Perhaps it's only really effective on extremely compressed music but I didn't have much of that lying around anymore (and neither should you).
Perhaps the most interesting feature in this app is 360 Reality Audio. It's not interesting because of what it does but rather how it's setup. This is yet another Sony proprietary format that they are now trying to make happen. Music mastered in 360 Reality Audio tries to emulate a wider soundstage like the one you'd get with a surround sound speaker system, including having the sound come from above you. Tidal has a few albums and tracks now that are mastered in this format and I gotta be honest, they sound pretty bad. There are very few tracks that sound good in this format, most of which sound like they are demo tracks designed to show off the format. This means there is potential for it. However, most of the 360 music right now are just regular popular songs that have been remastered for the new format and sound quite weird and just not great.
But as I said, the setup for 360 Reality Sound is a lot more interesting. Now the feature works on any pair of earphones or headphones in Tidal but with select Sony products, you can have a more customized experience. This involves going into the Headphones Connect app to take pictures of your ears. Yes, you take pictures of both your ears with the app and that data is then used to generate the HRTF information for your specific ears. It's obviously not the ideal way to generate custom HRTF but it's better than to use a generic HRTF. Once the app generates this data it can then send it to one of the compatible apps. For me, it was Tidal but even Deezer and Nugs.net are onboard this tomfoolery. Tidal then processed this data and created a custom profile for me, which would be applied every time I played a 360 song with these specific earphones.
Of course, this was all quite fun but as I said, the actual songs don't sound particularly good. I find the new Dolby Atmos encoded music to be far more convincing in simulating a surround experience, even though unlike 360 Reality Audio you need a phone with native support for the Dolby Atmos codec and doesn't just work on any device.
The last tab in the app is System, where you will find settings that do things like determine whether the earphones will pause music when taken off, change the function of the touchpad, and automatically power off when removed. Some of these changes, such as what the touchpads do, remain stored on the earphone so even if you don't have the app install on a particular device your customizations will still be honored.
The app also allows you to update the software on your earphones. Sony is known to keep pushing updates that improve and add things so that's another reason to have the app around.
The implementation of touch sensors on the WF-1000XM3 is one of the better ones I've seen, especially with the customization factor. However, it's still a relatively small area you are targeting with your finger without looking at it so it takes a while to zero in on the exact position and hit it consistently.
Performance
Audio quality
The WF-1000XM3 have a single 6mm driver on each side. The earphones support SBC and AAC codec with no support for aptX and LDAC. The lack of aptX support could be down to the use of the MediaTek MT2811SP chipset, which likely does not support the Qualcomm aptX codecs.
The WF-1000XM3 are a good sounding pair of earphones. Unlike some of Sony's other models, these are not part of the Extra Bass series, which means the sound signature isn't slanted towards bass. That's not to say that these have a neutral or flat sound profile. Rather they attempt to have a somewhat balanced but also fun sound.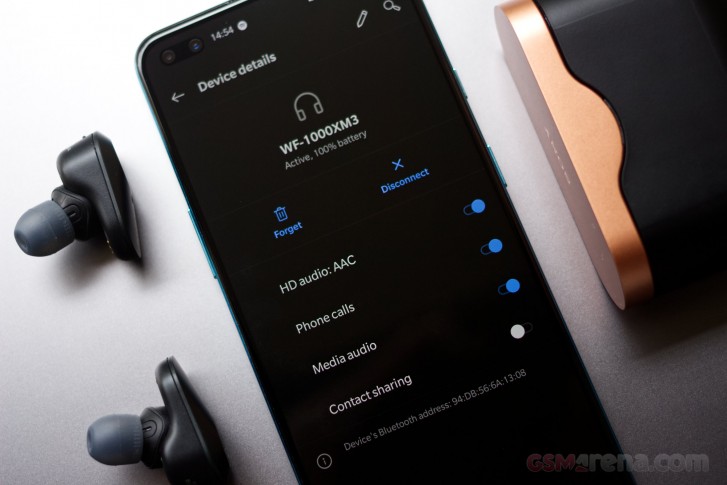 Starting with the bass, the WF-1000XM3 have a fairly robust mid-bass and upper-bass response. This gives instruments good attack and punch while also maintaining the warmth in male vocals. Unlike a lot of Sony headphones, the upper-bass region isn't exaggerated, which means the WF-1000XM3 don't have the muddy, boomy sound that Sony audio gear is often associated with these days. Instead, the bass region is quite taut and well-controlled. Unfortunately, it seems there is not much in the way of low-bass so you don't get some of that rumble in the lowest registers of the audio spectrum.
The mid-range on the WF-1000XM3 is slightly recessed. It's not aggressively suppressed as you'd find on the typically V-shaped sound headphones but audio in the mid and upper-midrange is definitely pushed to the back of the mix. A lot of the vocals, especially female vocals, live in this range and what this does is cause the voices to get a bit lost in the mix. This often instinctively makes you turn up the volume to hear the vocals more clearly but of course, this raises the entire sound range so it doesn't quite have the desired effect. A better solution would be to use the EQ in the Sony app to adjust the sound to your preference.
The treble, on the other hand, is quite elevated. This is especially the case with sounds in the low and mid-treble range, where most of the high-end lives as beyond that most recordings don't have a lot of information. The WF-1000XM3 can come in quite hot in this region, with a borderline shrill sound on some recordings.
The level of detail in the sound is adequate for a pair of in-ear wireless noise-canceling earphones. The bright treble tries to emulate a feeling of high detail or resolution in the sound but it's just a trick with the EQ. At the end of the day, a tiny 6mm driver and compressed, lossy codecs can only resolve so much detail in the sound. Still, it's good for what it is.
The imaging performance on the WF-1000XM3 is also excellent. The bright sound also does a decent job of generating a sensation of a wider soundstage and the WF-1000XM3 certainly feel less closed off than Sony's full-sized wireless headphones. Of course, you can't get open back soundstage here but they don't sound narrow or completely closed-off, either.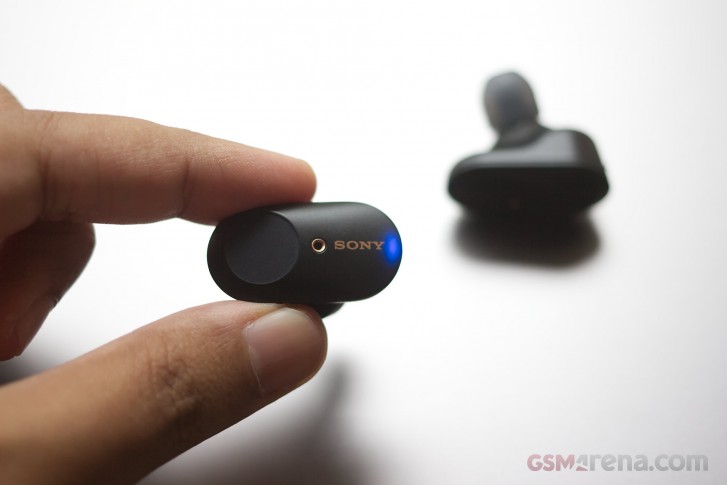 Microphone
The WF-1000XM3 have above average microphone quality. The voice itself sounds decent but there is a fairly aggressive background noise reduction, which introduces artifacts in the sound. The noise reduction is also of middling effectiveness, so it can't drown out a busy street and in the process also messes with your voice a fair bit.
Still, for voice calls in relatively quiet environments, the microphone performance is better than a lot of Bluetooth headsets out there.
Latency
The WF-1000XM3 have average latency performance. I can notice it because I know what to look for but most people should be fine with it for things like watching YouTube videos. It's also passable for playing casual games but for competitive titles and especially those that require a microphone, you should get a wired headset.
Noise-canceling
The WF-1000XM3 have really impressive noise-cancellation for a pair of in-ear earphones. Bigger headphones can physically cover your entire ear, which provides more effective sound isolation but in-ears don't have that luxury. Despite that, Sony's electronic wizardry is able to deftly make up for this shortcoming and provide better noise-cancellation that most full-sized headphones, including several of Sony's own.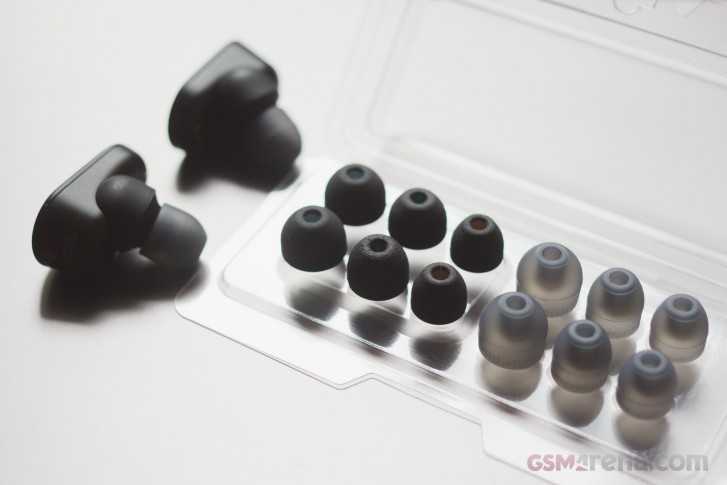 Admittedly, in the current situation, I wasn't able to test these on a flight or even a train commute. However, even for someone working from home, there are enough distractions all-round to necessitate a pair of good noise-canceling earphones (one would argue they are almost vital if you need to get anything done at home with the rest of the family around). But despite the harsh nature of this environment, the WF-1000XM3 were able to silence things like people talking in the background, the sound of the television, children playing outside, and also the drumming of the rain. I have no doubt that these would handle air travel or a train commute with ease.
An important thing to note is that in-ear noise-canceling earphones are only as good as the seal of the ear tips. The WF-1000XM3 comes with three sizes of soft, rubbery ear tips and four sizes of long hybrid silicone rubber ear tips, one of which comes pre-installed on the earphones. While testing them for fit, disable the active noise cancelation so you get a better idea of which pair of tips provide a better seal. Unlike the newer AirPods Pro, the WF-1000XM3 have no way to tell if the seal is imperfect so you have to ensure that yourself.
Stability
The stability of the wireless connection on the WF-1000XM3 was imperfect in my usage. There were times where the audio would briefly drop in either one or both speakers. There were also occasions where one speaker would just stop playing for a few seconds and then start working on its own. This was experienced across multiple smartphones so the source wasn't an issue. The issue also happened with the device sitting a couple of feet away on the desk.
I wouldn't say this is a major issue with these earphones but it's also not a non-issue. In ideal conditions where the connected device is sitting just a couple of feet away from you with a clear line of sight, the connection needs to be 100% reliable. That is not the case with these earphones, even if the drops are fairly rare.
Battery Life
The WF-1000XM3 have a rated battery life of six hours (and eight hours with noise-canceling disabled). Once empty, a quick 10-minute charge is supposed to give you 90-minutes of usage. The case provides an additional three charges, for a total of 24 hours of use.
In my testing, the WF-1000XM3 went on for seven hours on a full charge with noise-canceling enabled and ten hours with noise-canceling disabled. When testing the 10-minute charge claim, the WF-1000XM3 went on for two hours with noise-canceling enabled. So in all cases, Sony comfortably beat its own claims.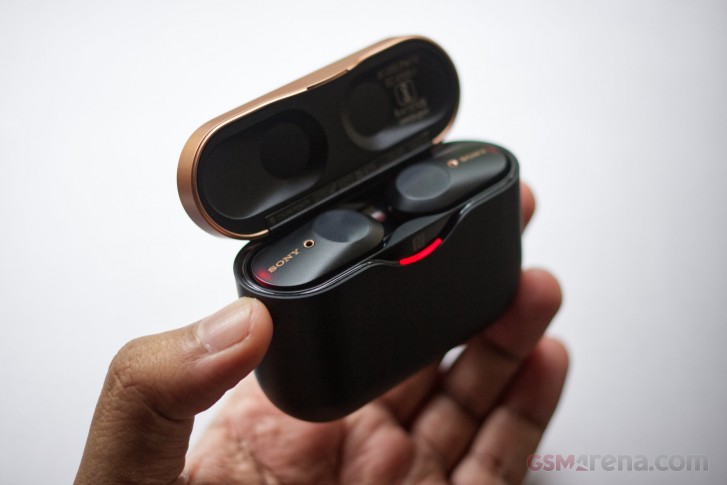 By now I'm used to Sony Bluetooth products doing this, where they almost always beat their own advertised battery life claims. It seems weird to me that they don't just advertise higher numbers as they are actually selling their products a bit short.
Considering the impressive nature of the noise-canceling on offer here, the battery life with it enabled is quite impressive. Also, with TWS products, battery life isn't as much of a concern as you can just pop them back into the case for a quick charge. The earphones take about an hour and a half to charge inside the case and the case itself takes a slightly lengthy three and a half hours to charge. Again, I'd have liked to see an option to charge wirelessly, even as an optional case.
An important note to make here is with regards to the DSEE HX feature. This significantly reduces the battery life, often for no appreciable difference in sound quality. While testing with the feature enabled, the WF-1000XM3 couldn't even last for three hours so unless you have a compelling reason to use it, it's best to keep this feature disabled.
Conclusion
Even a year after launch, the Sony WF-1000XM3 are still an extremely impressive pair of wireless earphones. The key selling feature of these is the active noise-canceling and it works really well. The sound quality, for the most parts, is also quite good and it's relatively easy to customize it with Sony's comprehensive mobile app. The battery life is also quite good with noise-canceling enabled, even beating some of its more modern rivals. The design is also discreet yet attractive so you don't risk looking goofy wearing these in public.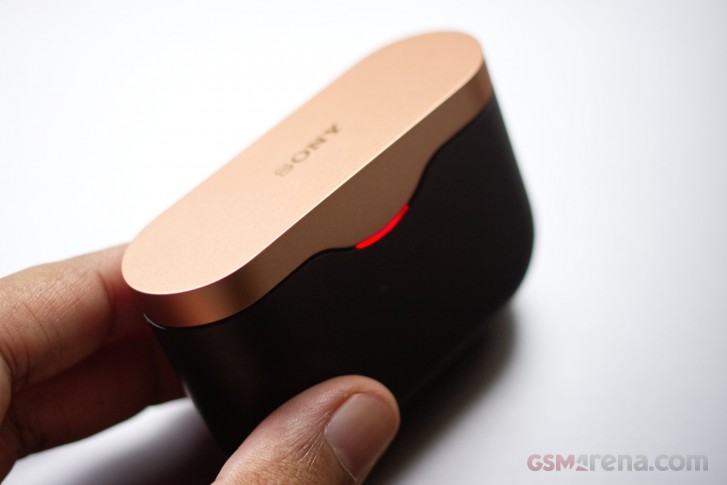 I do have a few complaints, though. I don't find these earphones comfortable, which is a shame as I do enjoy using them. The connection was also sketchy at times with occasional audio drops. And finally, lack of wireless charging and water-resistance is quite glaring, especially in 2020.
The comfort is the only major issue for me personally but otherwise, I would still strongly recommend the Sony WF-1000XM3 to buyers even in 2020.
Pros
Great active noise cancellation
Good audio quality
Good battery life
Cons
Can be uncomfortable for some
Occasional connectivity issues
No wireless charging
No water and sweat resistance
DSEE HX drains battery without appreciable improvement in sound
T
Don't buy the grey ones the case discolours really badly.
C
I bought the WF-1000XM3 and the WM-1000XM3 together. Both the same shade of colour. They are both excellent products. I can either use the WM or the WF when I am out depending on the songs I want to listen to. The WF for me is comfortable for me to w...
I
bought only january 2020 and satisfied with my twe... some suggestions to fully enjoy your experience: 1.  to get the best comfort fit better invest on comply true grip pro foam tips. 2.  for phone calls use only 1 earbud at a time. the pe...
ADVERTISEMENTS