Sony Xperia 10 (aka XA3) will cost €350, the 10 Plus will go over €400
Sony's new mid-rangers have been frequenting the rumor mill recently, but it is only now that we find out what sets the two siblings apart – screen size, obviously, but also chipsets and price.
The Sony Xperia XA3 – actually, the Xperia 10 – will have a Snapdragon 630 chipset with 3GB of RAM and 64GB storage. The dual camera on the back will have a 13MP main sensor plus a 5MP depth sensor. The phone will be powered by a 2,870mAh battery.
The Xperia 10 will cost €350 on the Old Continent.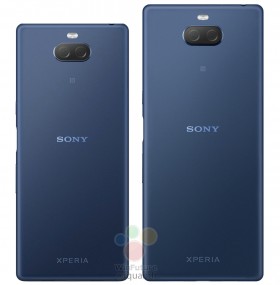 Sony Xperia XA3 and XA3 Ultra side by side
The Sony Xperia 10 Plus (formerly known as XA3 Plus or Ultra) will be the one with a Snapdragon 660 chipset paired with 4GB of RAM and 64 storage (as base, there should be a 6GB model too). Both phones will feature a microSD slot for extra memory.
The dual camera switches over to a 12MP main module and 8MP secondary, though it seems that this extra module will still be used only for bokeh rendering.
The Xperia 10 Plus will cost €430.
The two models will have 21:9 screens with 1080p+ resolution and will offer Hi-Res Audio through their 3.5mm headphone jacks.
The Xperia L3, Sony's more affordable offering, will be €200. It's not clear if it's getting a new name too or sticking to the old L-series.
?
Totally agree. This 21:9 idiotic display is out of proportions. In the survey on this website the majority of readers voted for the normal 16:9 format. Just follow John ? Progress would be a one click removable battery !
J
Tere's nothing reasonable about the price. Even if you don't look at any other brands you can get XZ2 for the same money, and it is still going to kick the living daylights out of this junker - and be supported for at least as long too, given the 2-y...