Vanilla Android Pie
The Xperia 10 Plus boots Android Pie, and it's a slightly more Google-ish variation than the one we saw on the Xperia XZ3 last year. What we mean is that now you can have the pill navigation (which Sony calls 'Swipe up on Home button') in addition to the classic nav bar. You can find the setting in the display menu, and enabling it makes the 10 Plus behave almost precisely like a Pixel phone.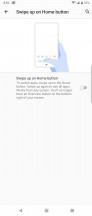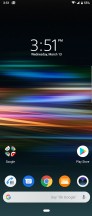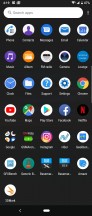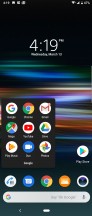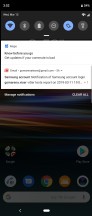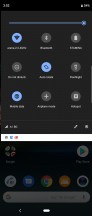 Swipe up setting • Homescreen • App drawer • Folder view • Notification shade
There are unique Xperia bits on top, however - ones that are meant to help out with the tall aspect of the display and the extreme overall height, particularly on this larger 6.5-inch model (the 6-inch Xperia 10 non-Plus is naturally easier to operate). Chief among those is one-handed mode.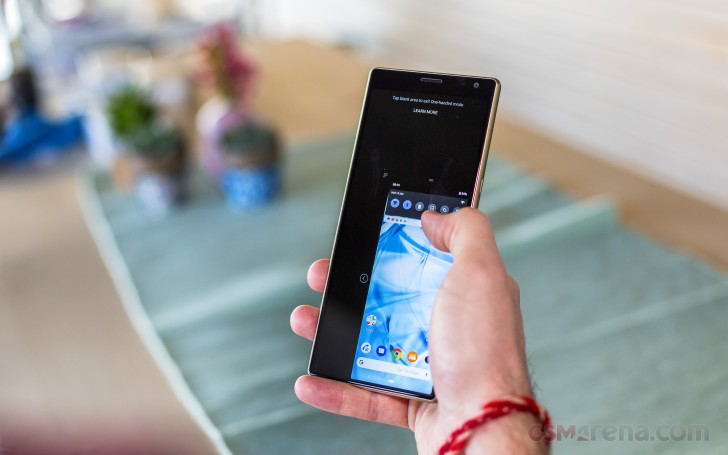 It's not a new thing, it's just that being able to shrink the UI and bring it closer gets a new meaning on a phone of the 10 Plus's proportions. A quick double tap on the Home button does just that and even makes the notification shade almost conveniently reachable with one hand - good luck with that on the full-screen UI.
Then there's Side Sense - a custom drawer-like interface that can be triggered by tapping twice on a handle located on the side of the screen. You can move the handle up and down, adjust its size, and have it on either side or both sides. The menu itself is sort of a take on the Android Pie recent apps interface, which is notably missing from its intended location as a row in the app drawer.
Side sense on the XZ3, where it debuted, was a bit more powerful and for example, you could use it to take a picture when in the camera app. This functionality is gone now, but in all fairness, it's unlikely to be missed. You can, however, disable the handle from showing up over apps on a per-app basis.
An inherent benefit of an extra long display is the ability to show more items in long lists - that includes boring stuff like the settings menu, and marginally more fun stuff like, say, Instagram.
Another good use for a 21:9 screen is showing two apps in two larger-than-average halves of the said screen - if only Google hadn't completely ruined the mechanics of going into multi-window with Pie.
There's a downside to the unusual aspect too, in that some apps may not be able to display properly in it. We ran into this with one of the benchmarks we do, but not the more common apps you're likely to use. Even so, the possibility for incompatibility is there.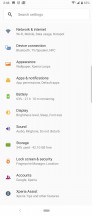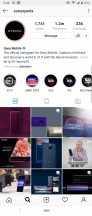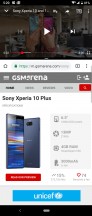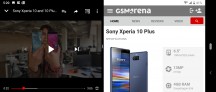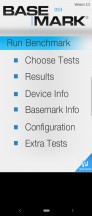 Settings (almost all of them) • Instagram (1 extra row) • Multi- window • and in landscape • Incompatible app
Sony also notably handles its own multimedia display and playback. Album features both photo and video support, can connect to the cloud and local network services and is pretty good at organizing galleries and doing the occasional light edit on a shot.
The Music app is simple and well organized, without lacking any important features. All the while, it looks very appealing with large format album art (and automatic art download) and a flat design. It also features Google cloud integration. There are also various options to tweak sound including the DSEE HX up-scaler and the Automatic optimization which work with wired headphones. Others, like aptX HD, are compatible with Bluetooth devices.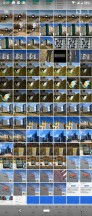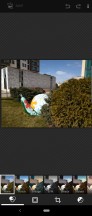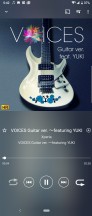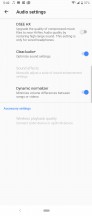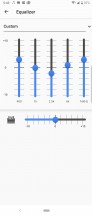 Album app • Photo Editor • Music app • Audio settings
Synthetic benchmarks
The Xperia 10 Plus gets its computing power from a Snapdragon 636 chipset - a fairly popular solution in the midrange. However, for the 'super mid-range' that Sony wants to call the 10 Plus's market position, a 660 or even a 710 would have been a much better fit. It's not that the 636 is a bad SoC, there's just not much 'super' about it. The handset is equipped with 4GB of RAM for most of the world and 6GB in China. We have a non-China 4GB version for testing.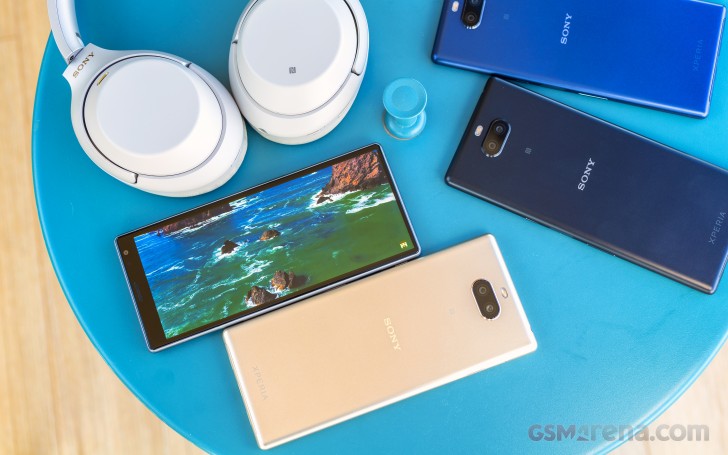 Starting out our benchmarking routing with GeekBench, we're witnessing a predictable performance from the Xperia with single-core results within single digits of competitors with the same internals. The 10 Plus is significantly more powerful under single-core loads than S630 phones (last year's XA2 Ultra and XA2 Plus) but lags behind Snapdragon 660 devices and the Kirin 710-packing Honor 8X. The Xiaomi Mi 8 SE excels in this test with its Snapdragon 710 posting a 40% higher score than the Xperia - now that's super midrange.
GeekBench 4.1 (single-core)
Higher is better
Xiaomi Mi 8 SE
1890
Xiaomi Redmi Note 7
1650
Nokia 7 plus
1634
Xiaomi Mi 8 Lite
1628
Meizu 15
1620
Honor 8X
1618
Samsung Galaxy A9 (2018)
1611
Oppo F11 Pro
1560
Oppo F9 (F9 Pro)
1497
vivo V11
1457
Nokia 7.1
1344
Xiaomi Redmi Note 6 Pro
1342
Sony Xperia 10 Plus
1340
Motorola Moto G7 Plus
1334
Motorola Moto G6 Plus
882
Nokia 6 (2018)
882
Sony Xperia XA2 Ultra
866
Sony Xperia 10
848
Sony Xperia XA2 Plus
839
A similar distribution of powers can be observed in the multi-core test only here the Oppo F11 Pro with its Mediatek Helio P70 takes the lead ahead of the S710-powered Mi 8 SE. The Xperia is again towards the lower end of the pack, though it is still a step up from last year's models, if that's the way you prefer to look at it.
GeekBench 4.1 (multi-core)
Higher is better
Oppo F11 Pro
6020
Xiaomi Mi 8 SE
5908
Xiaomi Mi 8 Lite
5894
Nokia 7 plus
5893
Meizu 15
5877
Samsung Galaxy A9 (2018)
5763
Oppo F9 (F9 Pro)
5673
Honor 8X
5651
vivo V11
5535
Xiaomi Redmi Note 7
5411
Nokia 7.1
4975
Xiaomi Redmi Note 6 Pro
4933
Motorola Moto G7 Plus
4927
Sony Xperia 10 Plus
4780
Nokia 6 (2018)
4225
Sony Xperia XA2 Ultra
4198
Motorola Moto G6 Plus
4160
Sony Xperia XA2 Plus
4144
Sony Xperia 10
3985
Over in Antutu, the Xperia 10 Plus posts one of the better scores for its chipset configuration, so that's got to count for something. It's still no match for the higher-end Snapdragons that can be found for the money.
AnTuTu 7
Higher is better
Xiaomi Mi 8 SE
170218
Oppo F11 Pro
150218
Xiaomi Mi 8 Lite
143257
Nokia 7 plus
140820
Samsung Galaxy A9 (2018)
140500
Xiaomi Redmi Note 7
139075
Honor 8X
137276
Meizu 15
125444
Sony Xperia 10 Plus
120573
Motorola Moto G7 Plus
117829
Nokia 7.1
117175
Xiaomi Redmi Note 6 Pro
115605
Nokia 6 (2018)
90918
Motorola Moto G6 Plus
90263
Sony Xperia 10
89697
Sony Xperia XA2 Ultra
89110
Sony Xperia XA2 Plus
86374
Graphics performance is another area where the Xperia shows its weakness compared to better-equipped rivals. Thanks to the more it needs to render, it's even lagging behind last year's models with the 630 chipset in onscreen benchmarks. If you're into heavy gaming, you'd be better off looking for a Snapdragon 660 or 710 powered phone.
GFX 3.1 Manhattan (1080p offscreen)
Higher is better
Xiaomi Mi 8 SE
23
Nokia 7 plus
15
Meizu 15
15
Xiaomi Mi 8 Lite
15
Samsung Galaxy A9 (2018)
15
Xiaomi Redmi Note 7
15
vivo V11
14
Honor 8X
14
Oppo F11 Pro
14
Oppo F9 (F9 Pro)
12
Nokia 7.1
10
Xiaomi Redmi Note 6 Pro
10
Motorola Moto G7 Plus
10
Sony Xperia 10 Plus
10
Nokia 6 (2018)
9.9
Motorola Moto G6 Plus
9.8
Sony Xperia XA2 Ultra
9.7
Sony Xperia 10
9.6
Sony Xperia XA2 Plus
9.5
Oppo F5
7.1
GFX 3.1 Manhattan (onscreen)
Higher is better
Xiaomi Mi 8 SE
22
Meizu 15
15
Nokia 7 plus
14
Samsung Galaxy A9 (2018)
14
Xiaomi Mi 8 Lite
13
Xiaomi Redmi Note 7
13
Honor 8X
13
vivo V11
12
Oppo F11 Pro
12
Oppo F9 (F9 Pro)
11
Sony Xperia XA2 Ultra
10
Nokia 6 (2018)
10
Nokia 7.1
9.7
Xiaomi Redmi Note 6 Pro
9.7
Motorola Moto G7 Plus
9.7
Motorola Moto G6 Plus
9.3
Sony Xperia XA2 Plus
9.1
Sony Xperia 10 Plus
8.4
Sony Xperia 10
7.8
Oppo F5
6.8
GFX 3.1 Car scene (1080p offscreen)
Higher is better
Xiaomi Mi 8 SE
13
Nokia 7 plus
9.1
Samsung Galaxy A9 (2018)
9.1
Xiaomi Mi 8 Lite
9
Xiaomi Redmi Note 7
9
Meizu 15
8.8
Oppo F11 Pro
8.5
vivo V11
8.2
Honor 8X
7.6
Oppo F9 (F9 Pro)
7.5
Nokia 7.1
6.3
Xiaomi Redmi Note 6 Pro
6.3
Motorola Moto G7 Plus
6.3
Sony Xperia 10 Plus
6.3
Motorola Moto G6 Plus
5.6
Nokia 6 (2018)
5.6
Sony Xperia XA2 Plus
5.5
Sony Xperia 10
5.4
Sony Xperia XA2 Ultra
5.4
Oppo F5
4.2
GFX 3.1 Car scene (onscreen)
Higher is better
Xiaomi Mi 8 SE
12
Meizu 15
9.2
Nokia 7 plus
8.6
Samsung Galaxy A9 (2018)
8.3
Xiaomi Mi 8 Lite
8
Xiaomi Redmi Note 7
7.7
vivo V11
7.4
Oppo F11 Pro
7.4
Honor 8X
6.7
Oppo F9 (F9 Pro)
6.5
Sony Xperia XA2 Ultra
6
Nokia 6 (2018)
6
Nokia 7.1
5.9
Xiaomi Redmi Note 6 Pro
5.9
Motorola Moto G7 Plus
5.9
Motorola Moto G6 Plus
5.2
Sony Xperia XA2 Plus
5.1
Sony Xperia 10 Plus
5
Sony Xperia 10
4.3
Oppo F5
4
On a positive note, the Xperia 10 Plus showed no signs of overheating, only slightly warming up after repeated benchmark runs. Throttling wasn't an issue either and results only varied slightly between runs. Overall, the phone is a good daily performer, but there are better options for more demanding mobile gaming.