Sony Xperia 3 may have been spotted at Geekbench with S865 chipset, 12GB of RAM
There have been some rumors about a Sony Xperia 3, an upcoming flagship for 2020. Now, it may have been spotted in Geekbench, showing a Snapdragon 865 chipset and 12GB of RAM. The chipset has been mentioned before in rumors, so it was expected in away. The RAM, however, is twice as much as the Xperia 1 has.
Geekbench 4 reports the motherboard as "Kona", the code name for the Snapdragon 865 chip. It also shows the phone running Android 10.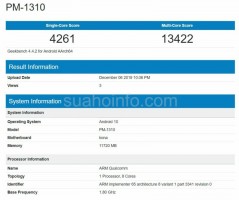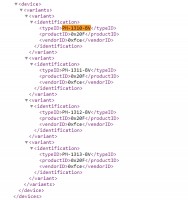 Sony Xperia 3 (PM-1310) at Geekbench • There will be at least four variants of the PM-1310
The PM-1310 part may be confusing, but this name can be seen in this list of supported devices hosted on SonyMobile.com. Note that the Xperia 1 is PM-122X, this is just an OEM ID naming scheme used by Sony.
As you can see, there are four versions of the phone, the top model will sport 5G connectivity. Sony may go back to a curved back (a classic design from the arc days). We've also heard the screen resolution as QHD, we'll see how that pans out.
Previously, alleged renders of a Snapdragon 865-powered Sony flagship showed a six camera setup. Here's that image: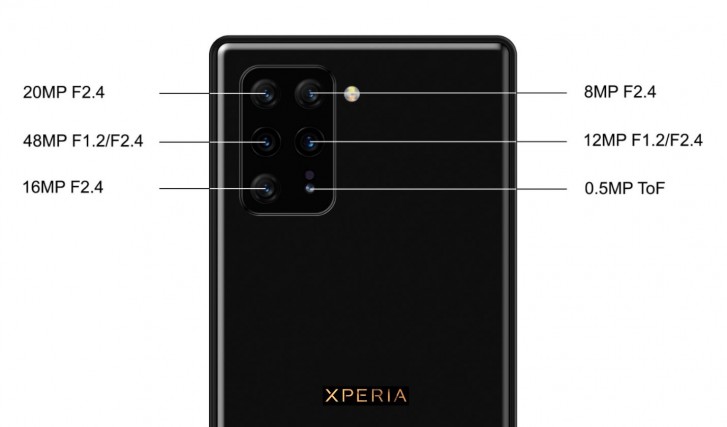 The Sony Xperia 3 (we've also heard it called "Xperia 0") is supposedly one of four flagships that Sony is preparing for 2020. A reveal at IFA is not unlikely, but rumors have been pretty sparse so far.
Source (in Japanese)
d
if sony flagship make the phone by 12gb ram and s865 cpu and 4k OLED .........I AM BY IN THE BEST OF PHONE PLEASE make the 12gb ram and 4k led
A
So basically Sony changed their outdated design language just as it came back into style...genius.
ADVERTISEMENTS