Same size, twice the refresh rate
The Xperia 5 II maintains the display size of the phone it replaces - it's got a 6.1-inch screen in a 21:9 aspect ratio with a resolution of 2520x1080px. That works out to a density of 450ppi, which is more than plenty, even if not the Xperia 1 II's crazy 643ppi on its 4K-ish panel. Just as the bigger model and the predecessor, the 5 II uses an OLED display.
Where this one does differ is in the refresh rate - the Xperia 5 II is the first Sony smartphone that goes beyond 60Hz. It's not a half-there 90Hz solution, but a full-on 120Hz. The touch sampling rate is 240Hz too for improved speed of registering your taps.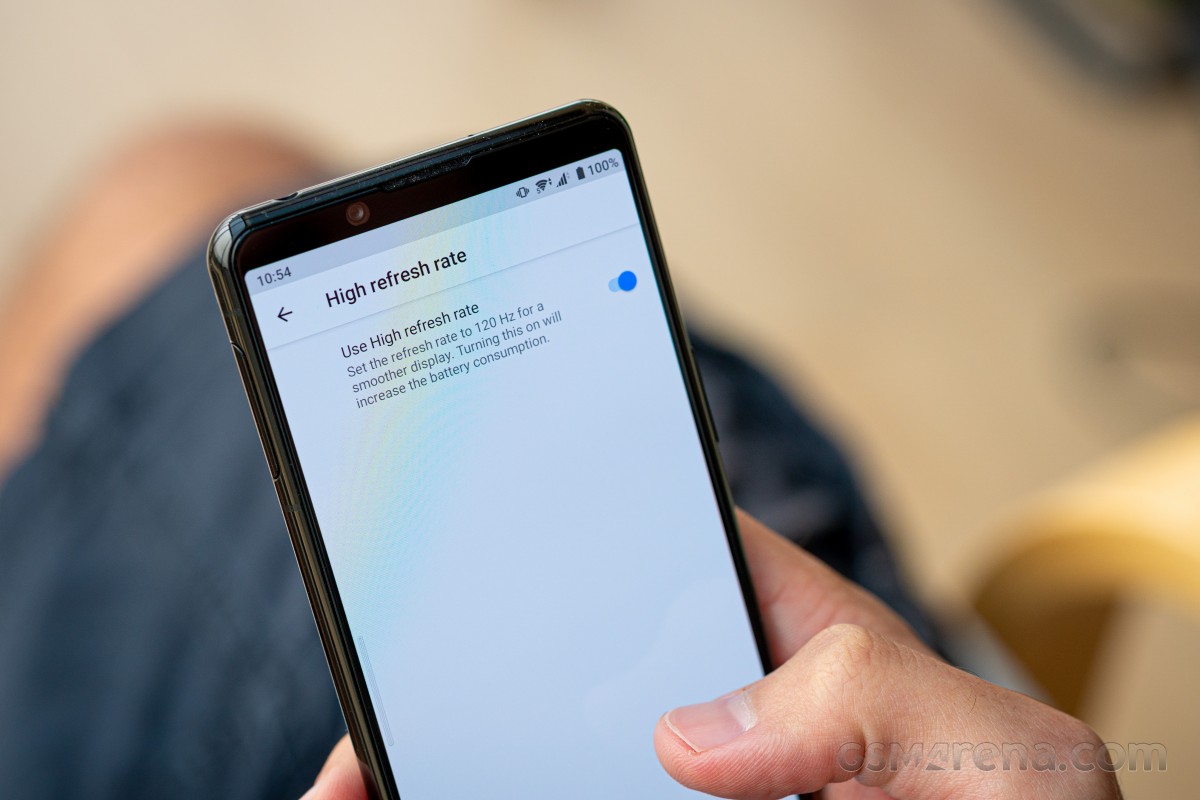 As for brightness, the Xperia 5 II returned virtually the same results as the 1 II. Operating the slider manually, we measured a max of 336nits. A noticeable boost to 532nits is possible in bright ambient conditions when the adaptive brightness is enabled. Neither number is particularly impressive - current high-end phones can typically go beyond 800nits in auto mode, and most can be pushed higher than the Xperia even in manual mode.
Update: Creator mode allows a slightly higher maximum brightness of 600nits in a selection of whitelisted apps - we tested Google Photos and Chrome and Firefox. This has been the case on previous Xperia phones, too. To better reflect this behavior, we've updated the brightness table with these new max numbers.
Display test
100% brightness
Black,cd/m2
White,cd/m2
Contrast ratio
Sony Xperia 5 II
0
336
∞
Sony Xperia 5 II (Max Auto, Creator mode)
0
600
∞
Sony Xperia 1 II
0
333
∞
Sony Xperia 1 II (Max Auto, Creator mode)
0
611
∞
Sony Xperia 5
0
353
∞
Sony Xperia 5 (Max Auto)
0
574
∞
Samsung Galaxy S20
0
397
∞
Samsung Galaxy S20 (Max Auto)
0
814
∞
Apple iPhone 11 Pro
0
805
∞
OnePlus 8 Pro
0
538
∞
OnePlus 8 Pro (Max Auto)
0
888
∞
OnePlus 8
0
496
∞
OnePlus 8 (Max Auto)
0
803
∞
Xiaomi Mi 10 5G
0
522
∞
Xiaomi Mi 10 5G (Max Auto)
0
854
∞
Motorola Edge+
0
422
∞
Motorola Edge+ (Max Auto)
0
607
∞
LG Velvet
0
405
∞
LG Velvet (Max Auto)
0
617
∞
Google Pixel 4a
0
456
∞
Google Pixel 4a (Max Auto)
0
803
∞
Asus Zenfone 7 Pro
0
529
∞
Asus Zenfone 7 Pro (Max Auto)
0
741
∞
Color reproduction is handled in a fairly standard Sony fashion. There's Creator mode, which adjusts the colors to match the content, and Standard mode, which gives colors a boost but has a provision for auto-switching to Creator mode for a selection of apps. There's also a comprehensive set of custom white balance adjustment options with warm/medium/cool presets, different white point settings, as well as RGB sliders.
Creator mode, when it recognizes sRGB content, is capable of rendering it super accurately - we measured an average dE2000 of 0.8 for our set of sRGB test swatches. That's with the white balance in the 'warm' position though, which isn't the default state ('medium' is, and we got an average dE2000 of 2.9 in that state).
As for the DCI-P3 color space, the software we use for testing doesn't trigger the Creator mode to make the switch to wide color gamut, so the test results we'd get won't be representative. The apps where you want it, however, do trigger it, and you can clearly see the phone adjusting colors when you open Netflix, for example.
Speaking of Netflix, the Xperia 5 II in its current state does not support HDR playback on the popular streaming platform. We're guessing it's just a matter of time - the phone isn't even released yet. YouTube and Amazon Prime Video do play in HDR on the Xperia.
Sony's implementation of 120Hz is one of the more straightforward ones. You flip the toggle to 120Hz, and it stays in 120Hz mode no matter what you're doing on it, except for games that have a special status of sorts. There's no 'adaptive' refresh rate control. While that may be more taxing on the battery (more on that below), after our recent experience with adaptive HRR modes, we're not exactly hating the honesty of Sony's approach.
As for games, from the Game Enhancer utility settings, you can switch the refresh rate for the display to 120Hz for titles that can go above 60fps - it's at 60Hz by default. You can also force it to 120Hz regardless of whether you know for a fact that the game itself supports a higher frame rate - just to be sure. That's done on a per-game basis and is buried several levels in the Game Enhancer, so it's not the most intuitive implementation.
Sony Xperia 5 II battery life
The Xperia 5 II comes with a 4,000mAh battery inside - that's quite the upgrade over the old model's 3140mAh and the same capacity as the larger, 6.5-inch Xperia 1 II. Coincidentally, that's the capacity of the closest thing to a rival the Xperia 5 II has in terms of size - the Galaxy S20.
Well, the Xperia beats that Galaxy in the endurance race, comfortably so. With the screen set to 120Hz, we clocked 13:19h in Wi-Fi web browsing and 17:36h in video playback on the small Sony. Compare that to the S20's 10:48h and 9:09h respective scores. The 5 II also significantly outlasts the 1 II - by 3:27h on the web and 5:01h in looping videos.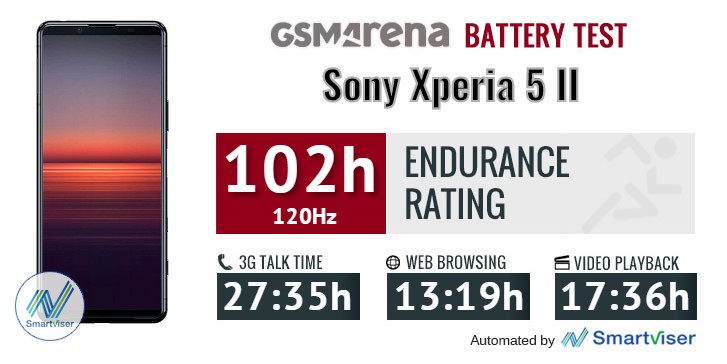 Switch the Xperia 5 II to 60Hz (unnecessary as it may be given the already excellent 120Hz results) and you stand to gain even more operating hours. The web browsing result goes up to 15:07h, while offline video playback capability increases to nearly 21 hours.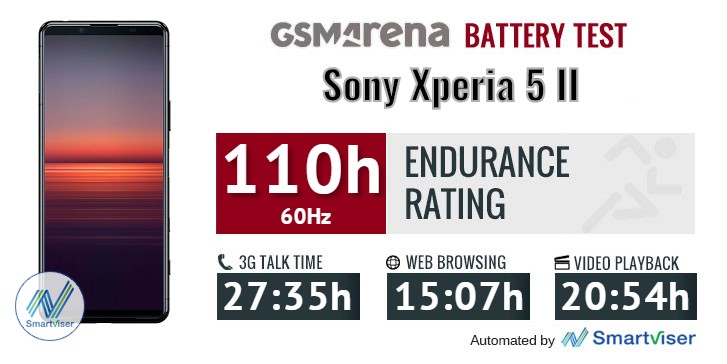 For one reason or another, the Xperia 5 II couldn't quite match the 1 II's 31-hour voice call result, though the 27:35h figure is hardly bad. Conversely, the 5 II managed slightly better standby performance.
In the end, the Xperia 5 II's Endurance rating works out to 102h with the screen set to 120Hz and 110h when you have it at 60Hz. Just as last year, the small high-end Xperia has a much better battery life than the big high-end Xperia.
Our battery tests were automated thanks to SmartViser, using its viSer App. The endurance rating above denotes how long a single battery charge will last you if you use the Sony Xperia 5 II for an hour each of telephony, web browsing, and video playback daily. We've established this usage pattern so that our battery results are comparable across devices in the most common day-to-day tasks. The battery testing procedure is described in detail in case you're interested in the nitty-gritty. You can check out our complete battery test table, where you can see how all of the smartphones we've tested will compare under your own typical use.
Battery charging
The Xperia 5 II, much like the 1 II, supports charging over USB PowerDelivery 3.0 at up to 21W. However, Sony doesn't make a 21W charger, but it does make an 18W one and that's what you're getting in the box. Charging times were relatively slow - the 45% we had after a 30-minute charging session and the 1:49h time for a full charge are nowhere near what industry leaders are capable of.
The numbers are nearly identical to the ones we got out of the Xperia 1 II, which is no surprise given the same battery capacity and charger used. As we noted while testing the bigger model, going for a more powerful adapter will hardly result in a night-and-day type of difference either - it will shave a few minutes off the full charge number and get you around 52% at the half-hour mark.
30min charging test (from 0%)
Huawei P40 Pro
80%
Xiaomi Mi 10 Pro 5G
77%
OnePlus 8
69%
OnePlus 8 Pro
63%
Samsung Galaxy S20+
62%
Huawei P40
60%
Apple iPhone 11 Pro
58%
Asus Zenfone 7 Pro
56%
Sony Xperia 5
53%
Xiaomi Mi 10 5G
53%
Sony Xperia 1 II
46%
Sony Xperia 5 II
45%
LG V60 ThinQ 5G
42%
LG Velvet
36%
Motorola Edge+
30%
Time to full charge (from 0%)
Huawei P40 Pro
0:50h
Xiaomi Mi 10 Pro 5G
0:50h
OnePlus 8
0:53h
Samsung Galaxy S20+
0:57h
Xiaomi Mi 10 5G
1:12h
Huawei P40
1:15h
Asus Zenfone 7 Pro
1:32h
Sony Xperia 5 II
1:49h
Sony Xperia 5
1:50h
Apple iPhone 11 Pro
1:50h
Sony Xperia 1 II
1:51h
LG Velvet
1:52h
Motorola Edge+
2:37h
One notable downgrade on the 5 II when comparing to the 1 II is the lack of wireless charging. While its omission here is worth mentioning and some will find it a dealbreaker, others couldn't care less. It would have meant a thicker phone, and we can see how compactness was a priority on the 5 II.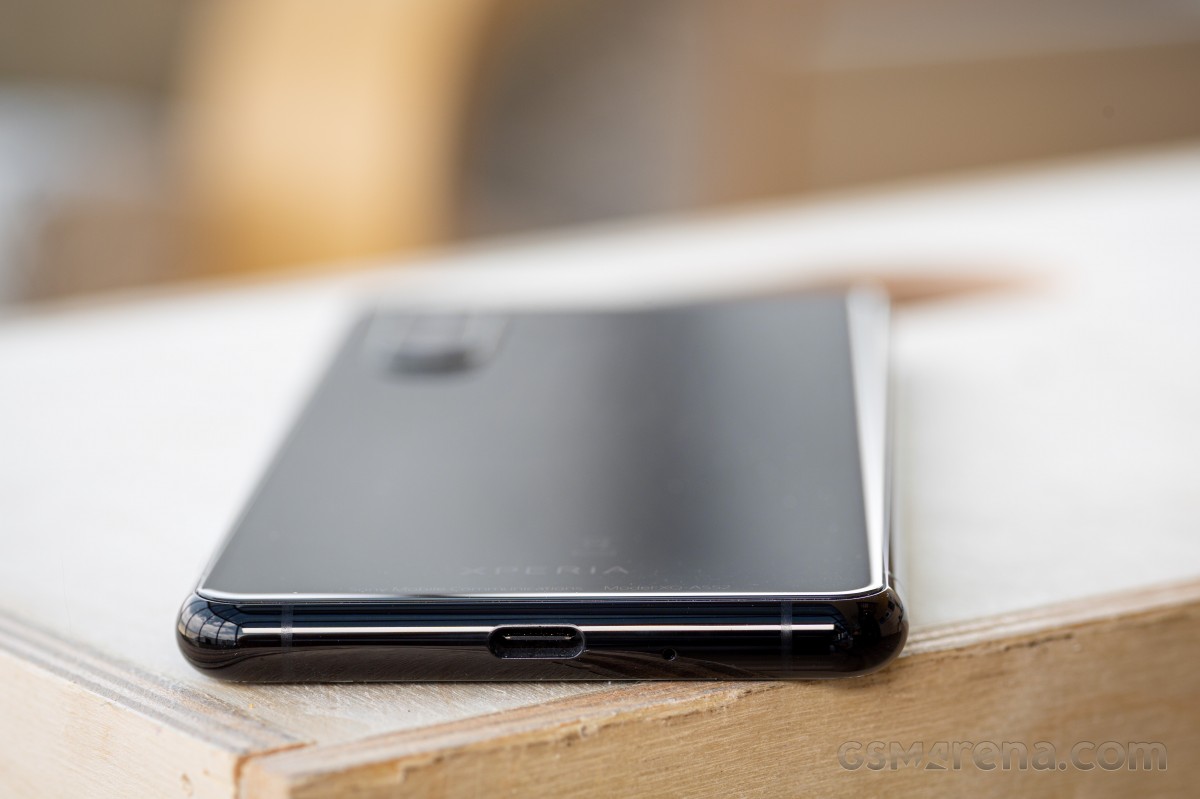 The Xperia 5 II may be slow to charge, but it makes up for it with features to make the process even slower. Ahem... that is to say, it comes with a comprehensive set of Battery care options that will help preserve your battery's health in the long run.
A new addition this time around is the ability to set a hard limit to the charging - you can have it cut off at 80% or 90% and never go above. Since Li-Ion batteries are known to dislike being charged all the way up, treating the Xperia this way would likely indeed prolong its battery's life. We have a colleague or two at the office who'd be all over that.
The other options are still here - if you set the Xperia to the Auto mode in the Battery care menu, it will learn your charging habits and will only top up the battery immediately before you need the device, to avoid extended periods of full charge. It works best with overnight charging and a well-established daily (nightly) routine though there's another option where you could set a custom time frame yourself. Still, Asus is one step ahead of Sony on this one with the Zenfone 7, offering to tie the top up to the time set in your wake-up alarm for the day.
Speaker test
The Xperia 5 II adopts the speaker setup of the 1 II - both units of the stereo pair fire forward, unlike on the Xperia 5, where the bottom one fired away from the viewer, wasting precious decibels. As usual, the earpiece doubles as the left channel, and that's that - there's no switching going on if you happen to hold the device in a landscape orientation with the earpiece to the right. There's a good explanation for that - Sony handsets, thanks to their control placement, camera shutter button, in particular, have a 'correct and intended' side up, and that places the earpiece on the left.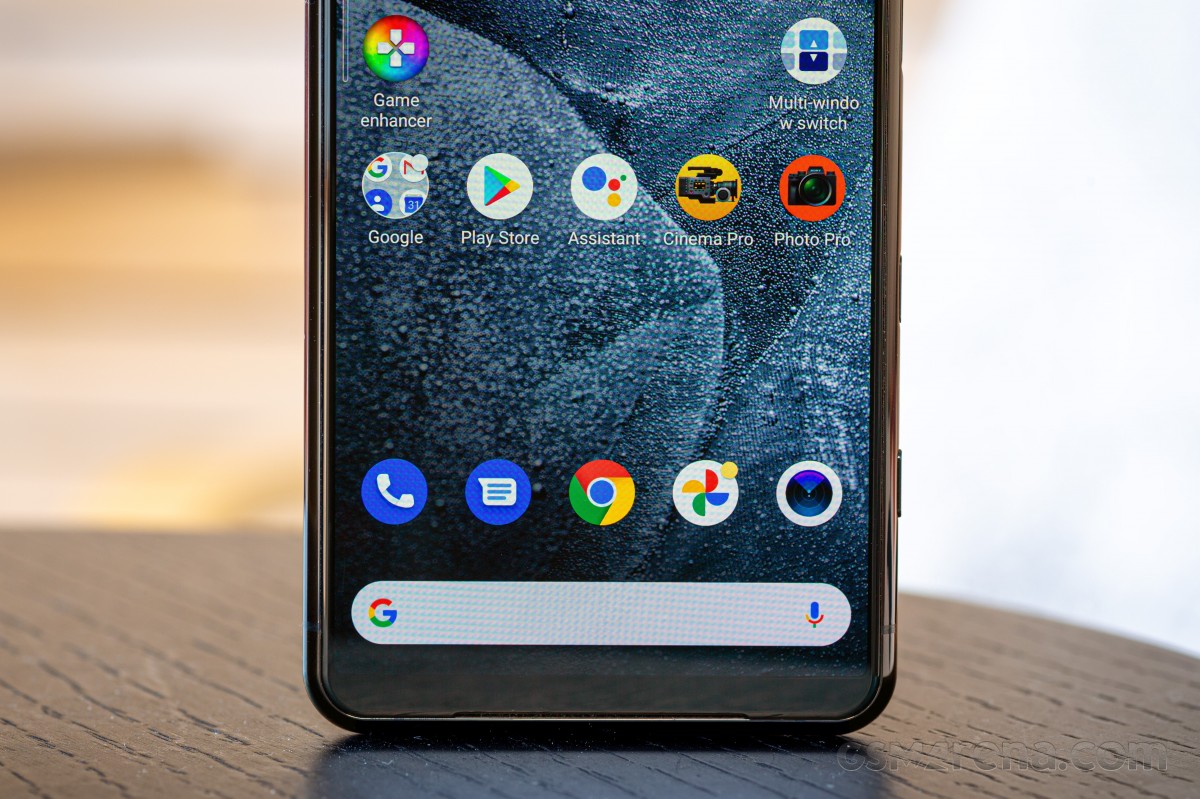 Bottom speaker has been moved to the front
Out of the box, with no sound enhancements turned on, the Xperia 5 II missed the 'Good' mark for loudness just barely and placed in the 'Average' bowl, a notch below the 1 II. Sound quality is about identical between the two; it's just that the smaller phone is marginally quieter.
Turn on the Dolby Atmos toggle (in its Dynamic mode) and loudness goes up, scoring a 'Good' mark for the Xperia 5 II. A similar effect was observed on the 1 II, however, and with Dolby enabled, it went into 'Very Good' territory for loudness, so the smaller phone is still behind.
Dolby-ing the Xperia 5 II, as we observed on the 1 II too, means boosting vocals and treble response, which is undoubtedly contributing to the perception of loudness. It does sound better that way, though low-frequency punch remains nowhere to be found.
Use the Playback controls to listen to the phone sample recordings (best use headphones). We measure the average loudness of the speakers in LUFS. A lower absolute value means a louder sound. A look at the frequency response chart will tell you how far off the ideal "0db" flat line is the reproduction of the bass, treble, and mid frequencies. You can add more phones to compare how they differ. The scores and ratings are not comparable with our older loudspeaker test. Learn more about how we test here.
Audio output quality
We've recently discontinued our audio output quality test.
The reason for that is that most phones that arrived for testing were already excellent in this regard, and whatever difference there was, it was marginal and probably indistinguishable to anything but our lab equipment.