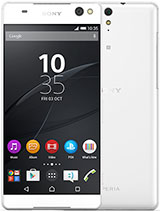 l
No gorilla glass on a display this size and small battery .. yup, Sony messed up good again.
Sony design team should be scrapped and they can read GSM forum instead to find out what users who purchase devices actually want. That way Sony may get more sales.
?
this is a very beautiful device. i hope it will not cost more and have the ability to take split-second photos. simply, i want one .
E
Scratch-resistant ??? what is that ?

no IP56, no IP68 ?? no waterproof ?
bleah...

Same like Moto X style who lose waterproof from previous, same like Samsung S6 who lose waterproof from previous !

So disapointing !

Total of 1252 user reviews and opinions for Sony Xperia C5 Ultra.