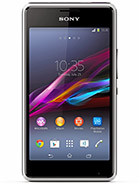 s
i am waiting this phone, if specifications will remain same, as written. and this is best phone, if it comes.
n
make the display size at least 4.3", then it will be most attractive phone of its category.
m
make the hight less than 130 and 4.5 inch screen just like lg l70 dual
D
It is very difficult for any manufacturer to produce a 4 inch phone with 'basic proper' specs like 8mb camera with flash, 1/2 gig ram, 8/16 gig rom with so so many 5 inches phone out there??!! Hardly find 1 nowadays, frankly i'am more willing to buy a 4 inch phone even paying the same price as the 5 inch with same specs. 5 inches phone can't fit into my shirt pocket properly and not single handed friendly. Left only choices like iphone 4/5 or sony z1 compact which is very pricey.
A
Please let this device be true.
It looks like a real neat device, loving the 4" screen.

Hopefully it doesn't end up being another 4.5".
Total of 31 user reviews and opinions for Sony Xperia E1 II.