5MP camera is nothing worth writing home about
The Sony Xperia E3 has a modest 5MP camera on the back accompanied by a single LED flash. The video capture stands at 1080p at 30fps - nothing to get overly excited about but also nothing to be ashamed of. In fact the Moto G only manages 720p video recording, so the Xperia E3 has the upper hand here.
The camera interface consists of two panes and is unified with the camcorder one - you can snap a photo or shoot a video without changing modes most of the time. In some shooting modes, though, the video shutter key may be replaced by a still/video mode toggle.
In the full resolution Manual mode you also get access to "manual controls" on the viewfinder, which sounds more impressive than it really is. There's an exposure compensation slider and a white balance selector. You can also control the ISO, metering and focus modes, turn on/off image stabilization, but those are buried in the settings menu.
Then, there are the Augmented Reality effects, which stamp one of several virtual worlds over your scene and you can even move around in this world thanks to some intriguing motion tracking effect (note that it needs real-life visual cues in the scene to track your motion). Children might love this mode, but us bitter adults are unimpressed.
Creative effects features a number of effects that you can apply to images. Each effect is showcased in real time so you can see it in action before you press the shutter. There are 17 effects in total among which are Comic, Kaleidoscope, Harris shutter, Comic, Fisheye and Mosaic.
Social live lets you share a live feed over Facebook, Timeshift burst captures a burst of photos and starts even before you're pressed the shutter and finally Sweep Panorama. You can also download additional camera apps from Sony.
The Sony Xperia E3 might have an ample software package but it's hardly the most impressive around in terms of quality. Images captured with its 5MP shooter have only average amount of detail, but at least noise is kept under control and there are no sharpening halos. We did notice a lot of soft patches on many of the images suggesting less than perfect lens.
Colors are okay if a bit dull and the exposure was mostly spot on, but the dynamic range is very limited. The Xperia E3 was quick to focus and capture images, at least.
Macro samples do better in terms of detail - the lens issues aren't visible when the focus is set to so close. However, the phone is unable to go very close to the subject and you can really capture really fine detail or achieve significant background blur.
The Xperia E3 offers an HDR mode in which it aims to expose the scene's shadows better and not allow the highlight to clip. While Superior Auto would occasionally activate it, if you really want to force it, you'd have to go to Manual mode. The shooting mode brings back a fair amount of shadow detail back, but really ruins the contrast of the shots and the final result is barely usable.
Panorama samples weren't impressive either. The Sweep panorama software was able to stitch the different images into an up to 5MP image - hardly great resolution and while its per-pixel detail isn't too bad, the limited dynamic range is an even more obvious issue here.


Sony Xperia E3 panorama sample
Finally, you can check out our photo quality comparison tool for more pixel peeping. Sadly the flawed camera performance of the Sony Xperia E3 is magnified in the charts we have in the tool as they showcase the resolving abilities of the sensor as well as how it deals with color rendition and more.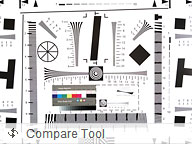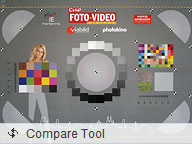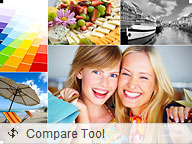 Sony Xperia E3 in our photo compare tool
1080p video is better than what competitors over
In the grand scheme of the Xperia E3 the still shots do better in their own 5MP league than the 1080p videos compare to their peers. Videos look very poor for FullHD and actually appear more akin to 720p (or perhaps even lower) upscaled to 1080p. Then again given that most of the competition does 720p clips (and not very good ones at that), it's not all bad for the Xperia E3.
Detail is scarce and there are blotches and artifacts all over the scene of the videos. The framerate is a less than perfectly smooth, fluctating between 24fps and 22-23fps at any given moment during recording. This results in a somewhat choppy video at times.
Interestingly, the bitrate is high for the result you're getting - 21Mbps. Perhaps the Sony Xperia E3 unit we have for review has issues with its optics that won't be present on all units. Still take a look at a sample below and consider yourselves warned.
Here goes a 1080p@24fps sample directly from the Sony Xperia E3.
And finally you can compare the footage of the Xperia E3 in our studio to other smartphones we've tested.