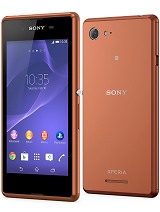 J201
[deleted post]agree with you man... and all features are good but where is flash man?? sony gives all feature but forget for flash.
H14
What's wrong with that SONY company?
Where is E2 so they announce E3?
Same like C series; no C2. Only C and C3. I think the people at SONY don't know numbers order!!! And about the voting how could all be 10!!!
3790
229
What's going on with Sony? This phone could have a 4.7 inch screen with the same body. It has too much bezels.
Total of 1703 user reviews and opinions for Sony Xperia E3.