Android Ice Cream Sandwich ticks inside
The Sony Xperia E dual runs Android 4.0.4 Ice Cream Sandwich out of box and Sony has yet to make any announcement about a possible Jelly Bean update. That being said, the Xperia E single-SIM variant runs on Jelly Bean out of box, so it seems likely that Sony will bring that to the dual-SIM version as well. If you are not familiar with the features specific to the various Android versions, make sure you check out our dedicated Android version scoop.
If you're familiar with Sony's latest droid smartphones, the Xperia E dual shouldn't hold many surprises for yoy. Sony has added its custom launcher on top of the Android 4.0.4 OS, modifying almost every part of the UI. In fact the launcher has seen some updates since the last time we saw it on an entry level Sony smartphone and it has received the notification area toggles that we saw on the Xperia V.
Here's a brief video rundown of the Xperia E dual user interface:
The Xperia E dual has the usual five-pane homescreen configuration, but there is no option to add or remove panes. Along the bottom, there are five docked shortcuts (the app drawer shortcut and two on each of its sides). These are visible across all five homescreen panes and are user configurable: they can be either single icons or folders with multiple items in them. For folders, you get smaller icons of the first four items inside.
As with older Sony smartphones, you can change the color theme of the launcher according to your preferences. Depending on the color you've chosen the hidden LED light below the screen will light up with the same color tone.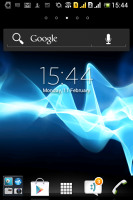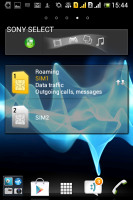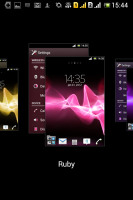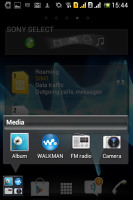 The Sony Xperia V UI • Choosing theme • Folders
The homescreen does a neat trick called Overview mode, which lets you quickly find a widget across any of your homescreen panes. Pinch to zoom out on any of the 5 homescreen panes and a new screen opens up showing all active widgets for easy viewing and selection. Tapping on a widget takes you directly to the homescreen that it is on.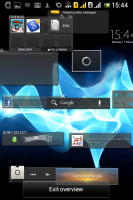 Overview mode helps you find the widget you are looking for
The Xperia E dual has some custom-made Sony widgets in addition to the standard set. Those include the Timescape widgets (stream and friends) and a Mediascape-like widget for photos and videos (the actual app isn't there anymore, but the Album gallery is).
There is a dedicated widget (in two different sizes) for the dual-SIM options, where you can quickly switch between the SIM cards (for voice calls and messages only). To choose a different SIM for data traffic you'll still need to go to the settings menu.
Pressing on an empty area of a homescreen opens up a contextual menu. It gives you the customization options - choose a widget, a wallpaper, a theme, an app shortcut and create a new folder.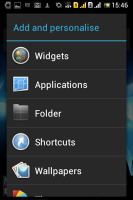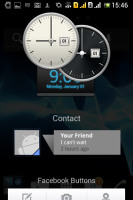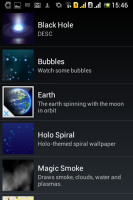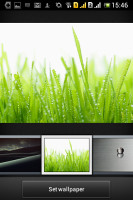 The new personalize menu is a lot less obtrusive • Choosing a widget • The wallpaper menu
Moving and removing widgets hasn't changed and is as simple as on droids of old - hold a finger over a desired widget and move it around. The action has a cool wobble animation to it. Sadly, since this is not a Jelly Bean smartphone, widgets that have already been positioned will not move out of the way of the new ones you are trying to place.
A cool addition to the lockscreen, missing from some Xperia phones of old, is the Walkman widget which lets you control music playback without unlocking the phone. You can also enable Face, Pattern, PIN or Password unlock, in ascending order of security.
The standard notification area is also present, and features a couple of connectivity toggles (Bluetooth and Wi-Fi), a sound toggle, a dedicated SIM card switch (for calls and messages only, not data) and a settings shortcut. The notification area is also accessible from the lockscreen.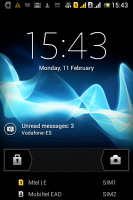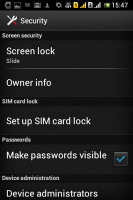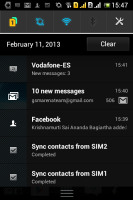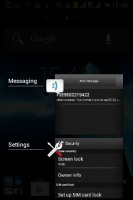 The lockscreen • Lockscreen options • The notification area • The task switcher
The usual task switcher, part of vanilla ICS, is also on board. You can access it with a tap and hold on the Home key.
As a part of the ICS package, you get the Data usage app. It is able to track the usage of your two SIMs individually and you will be asked every time to choose a SIM card should you try to open it. There is an SMS counter as well. It works exactly like the data counter, but instead of bytes, it counts the text messages sent from each SIM. Warnings and limits, as well as history log are also available.