Yet another Xperia stuck in the past
The Sony Xperia go, like the entire NXT line of Xperias, has a highly revamped custom skin, but it's still Gingerbread underneath (2.3.7). Hopefully the Xperia go will be among the devices, scheduled to receive Ice Cream Sandwich later this year.
Check out a short video of the Xperia go interface below.
The Xperia go has the usual five-pane homescreen (you can't add or delete panes), with four docked shortcuts (two on either side of the launcher shortcut). These are visible on all five homescreen panes and are user configurable: they can be either single icons or folders with multiple items in them.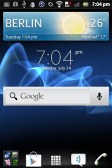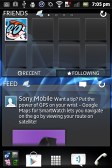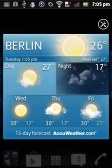 The Sony Xperia go UI
The homescreen does a neat trick called Overview mode. Pinch to zoom out on any of the 5 homescreen panes and a new screen opens up with a cool transition. All active widgets gather there for easy viewing and selection.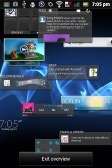 The Overview mode helps you find the widget you are looking for
The Xperia go has some custom-made Sony widgets in addition to the standard set. Those include the Timescape widget (there's a dedicated app too) and a Mediascape-like widget for photos and videos (the actual app isn't there anymore, the standard gallery is back).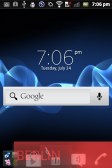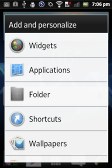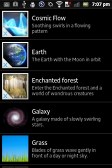 Widgets menu • Removing widget • Wallpapers menu
The lockscreen shows notifications for Facebook events too, courtesy of Sony Facebook integration. A cool new addition to the lockscreen, unseen in the old Xperia line, is the music player widget, which lets you control music playback without unlocking the phone - we'll get back to this further on.
The standard notification area and task switcher are of course present and accounted for - no custom touches to them.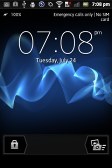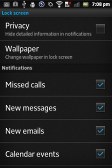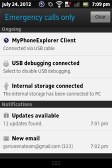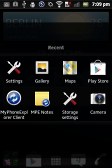 The lockscreen • Lockscreen notifications • The standard notification area and task switcher
Synthetic benchmarks
The Sony Xperia go is powered by a dual-core NovaThor U8500 chipset with two cores clocked at 1 GHz and 512 MB of RAM. You shouldn't expect miracles out of the two Cortex-A9 cores as even 1080p is sometimes beyond their reach.
We ran our usual round of benchmarks and compared the Xperia go to Sony's current flagship, the Xperia S, as well as a selection of upper-midrange competitors. The Samsung Galaxy S Advance is among them, powered by the same ST-Ericsson NovaThor chipset, with a slight advantage in terms of RAM - 768MB over 512MB.
We begin with BenchmarkPi, which measures the CPU computing power of the NovaThor U8500 chipset.
Benchmark Pi
Lower is better
Samsung Galaxy S Advance
530
HTC One S
306
Samsung Galaxy S II
452
HTC Sensation XE
536
Sony Xperia S
536
Sony Xperia go
543
Sony Xperia sola
551
In Linpack the Xperia go got almost twice as the HTC One V due to the higher processing power and outdid the Samsung Galaxy S Advance, which is commendable.
Linpack
Higher is better
Samsung Galaxy S Advance
64.74
HTC One S
210
Samsung Galaxy S II
77.6
HTC One V
34.4
Sony Xperia S
86.4
Sony Xperia go
69.95
Sony Xperia sola
68.1
SunSpider favors the superior JavaScript performance of Ice Cream Sandwich so the Xperia go is at an obvious disadvantage here. It still did an ounce better than the ICS-ready One V though.
SunSpider
Lower is better
Samsung Galaxy S Advance
2663
HTC One S
1708
Samsung Galaxy S II
1849
HTC One V
3299
HTC Sensation XE
4404
Sony Xperia S
2587
Sony Xperia go
3228
Sony Xperia sola
2837
Apple iPhone 4S
2217
BrowserMark adds HTML5 to the equation and sees the Xperia go drop down the ranks. It still comfortably beats the One V, again.
BrowserMark
Higher is better
Samsung Galaxy S Advance
81557
HTC One S
98435
Samsung Galaxy S II
111853
HTC One V
42342
Sony Xperia S
74990
Sony Xperia go
76820
Sony Xperia sola
73840
Apple iPhone 4S
88725
NenaMark 2 is where the GPU gets to show its worth. The Xperia go got a solid 42.8 frames per second, easily beating the likes of the Xperia Sola and even the Xperia S. This is because the Mali-400 GPU pushes fewer pixels due to the HVGA resolution of the Xperia go.
NenaMark 2
Higher is better
HTC One S
60.5
Sony Xperia go
42.8
Sony Xperia sola
27.7
Samsung Galaxy S II
51.6
Samsung Galaxy Note 10.1
43.6
Sony Xperia S
37.5
Samsung Galaxy Nexus
24
HTC Sensation XE
23
GLBenchmark is a GPU-heavy test, while the off-screen 720p benchmark tests the raw performance of the Mali-400 GPU inside the Xperia go. Even with a Mali on board it finished at the bottom of the barrel.
GLBenchmark Egypt (off-screen 720p)
Higher is better
Samsung Galaxy S III
103
HTC One S
56
HTC One X
55.7
Sony Xperia P
19.6
Sony Xperia U
19.3
Samsung Galaxy S Advance
19.2
Sony Xperia go
19.1
Samsung Galaxy Beam
19
Samsung Galaxy Ace 2
16.3
While you shouldn't expect miracles from the dual-core Xperia go it is fair to say that in day-to-day tasks it will rarely skip a beat. The Sony-made launcher that runs on top of Android isn't the lightest around and Gingerbread isn't the most speed-optimized OS for some time now but overall the normal user will enjoy working with the Xperia go.