Standard gallery
The Xperia go uses the traditional vanilla 3D Gallery, which hasn't really seen much change since Android 2.2. It still has good functionality, cool 3D looks and nice transition effects, and thankfully shows full resolution images.
The different albums and folders appear as piles of photos, which fall into neat grids once selected. If you have online albums over at Picasa those show up as separate stacks as well.
You should have noticed the two switches at the top by now. The first opens a different gallery section that stores your 3D panorama shots, while the second opens the Sweep Multi Angle shots section.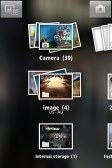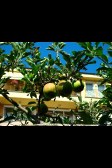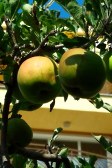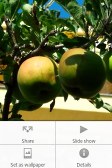 The standard gallery • The 3D and Multi Angle views
To view the 3D panoramas in 3D, you need to connect your phone to a compatible 3DTV. Multi Angle shots are harder to view outside the device as you need something with an accelerometer and the proper app - you best bet is another Xperia.
Facebook and Picasa albums are distinguished by the small logo of the corresponding service. Facebook pictures can be "liked" with the thumbs up button in the upper right corner and commented upon at the bottom bar.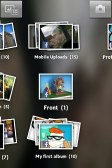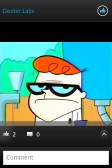 Liking photos is enabled for Facebook albums
Photos can be sorted by date with the help of a button in the top right corner, which switches between grid and timeline view.
You can use pinch zoom or the old-fashioned +/- buttons. If you pan past the edge of a photo, the gallery will load up the next (or previous) image.
Images can be cropped or rotated directly in the gallery. Quick sharing via Picasa, Email apps, Facebook, Bluetooth, MMS, etc. is also enabled.
The BRAVIA engine enhances contrast and colors by sharpening the image and reducing noise. These steps would normally lead to artifacts, but you'll have to look from really up close to notice. You can switch BRAVIA off, but we recommend keeping it on - it really improves the image quality.
Video player
There is no dedicated video player app on the Xperia go as in most of the droids out there. DivX and XviD videos are supported but the Xperia go has a rather selective filtering and not all videos got through.
The Xperia go's NovaThor processor refused to play any of our test 1080p videos, while 720p videos worked fine.
You can, of course, download a third-party video player off the Android Market like the MX Player with the corresponding codecs - it ran everything, up to 720p, with subtitles.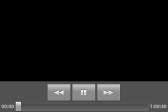 Watching a video on the Xperia go
Excellent music player
The Xperia go shares the same music player as the Xperia U, P, S, sola, etc. You're welcomed to a Cover Flow-like interface and you can swipe left and right to skip tracks (complete with a smooth 3D effect).
This is the Playing tab, the second tab available is called My Music and it's where your music library is organized. Tracks are sorted by album, artist, playlist, all tracks, SensMe channel, favorites. There's also a link to Sony's Music Unlimited service.
In the Now playing interface, there's the familiar Infinite button - it gives you quick options to find the music or karaoke videos on YouTube for the current song, look for similar tracks on PlayNow, search Wikipedia for info on the artist or look up the lyrics on Google. New features can be added to this menu with extensions available in the Play Store.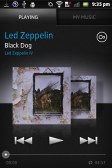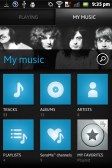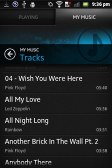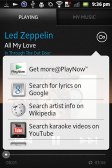 The revamped music player • Music library • The Infinite button
SensMe should be familiar from those old Sony Ericsson Walkman phones. In case you've missed it, SensMe filters songs by mood. By default, there are nine "channels" - daytime, energetic, relax, upbeat, mellow, lounge, emotional, dance and extreme.
You need to download SensMe data before you can use this feature. Luckily, you no longer have to use a PC Suite to tag songs - you just need an Internet connection, the phone will handle the rest.
Audiophiles will appreciate the rich selection of equalizer presets. There's a custom preset too - it lets you adjust five frequency bands and there's a Clear Bass slider too.
The More tab offers a Headphone surround option, which can be set to Studio, Club or Concert hall.
If you're not using the headphones, you can turn the xLOUD feature on, which optimizes the sound for the device's loudspeaker.
A new feature is the track info and playback controls available on the lockscreen, which let you control the player without having to unlock the phone. The music controls replace the clock, which might be annoying if you just want to check the time. Still, the clock slides out of view, so you have about a second to see what time it is (or just look at the small clock in the upper right corner).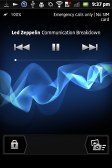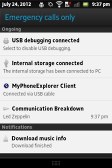 Music player controls on the lockscreen and notification area
FM radio with RDS, there is TrackID too
The Sony Xperia go is equipped with an FM radio, which has a really neat and simple interface. It automatically scans the area for the available stations and places "notches" on the frequency dial for easier scrolling to the next station. There's a Force mono option to use in case of poor reception.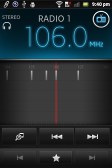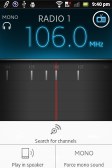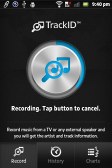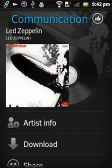 The FM radio app • TrackID • Licking a radio track on facebook
The TrackID service is also available and works within the radio app. You can even like a song on Facebook.
Decent audio quality
The Sony Xperia go did really well in the first part of our audio quality test. When connected to an active external amplifier the smartphone got some excellent scores , showed no weak points and had just above average volume levels.
The degradation when headphones come into play consists of a rather small hike in stereo crosstalk, but quite a large increase in distortion levels. It's not too bad, but extremely demanding audiophiles might be left slightly disappointed by the Xperia go on this occasion.
And here come the full results so you can see them for yourselves:
| | | | | | | |
| --- | --- | --- | --- | --- | --- | --- |
| Test | Frequency response | Noise level | Dynamic range | THD | IMD + Noise | Stereo crosstalk |
| Sony Xperia go | +0.03, -0.05 | -86.7 | 87.0 | 0.0084 | 0.019 | -87.3 |
| Sony Xperia go (headphones attached) | +0.44, -0.10 | -84.8 | 85.3 | 0.421 | 0.364 | -71.7 |
| Sony Xperia U | +0.03, -0.04 | -87.3 | 87.5 | 0.0091 | 0.020 | -87.7 |
| Sony Xperia sola | +0.03, -0.04 | -81.6 | 82.2 | 0.085 | 0.185 | -83.5 |
| Sony Xperia sola (headphones attached) | +0.45, -0.10 | -81.8 | 81.8 | 0.189 | 0.416 | -52.8 |
| Sony Xperia U (headphones attached) | +0.45, -0.10 | -86.4 | 86.6 | 0.393 | 0.352 | -66.5 |
| Samsung Galaxy Ace 2 I8160 | +0.20, -0.27 | -88.7 | 87.6 | 0.0086 | 0.018 | -88.9 |
| Samsung Galaxy Ace 2 I8160 (headphones attached) | +0.37, -0.08 | -88.6 | 87.6 | 0.044 | 0.221 | -57.9 |
| Samsung S7500 Galaxy Ace Plus | +0.14, -1.30 | -88.2 | 88.1 | 0.010 | 0.065 | -84.1 |
| Samsung S7500 Galaxy Ace Plus (headphones attached) | +0.12, -1.12 | -86.0 | 88.1 | 0.018 | 0.186 | -43.1 |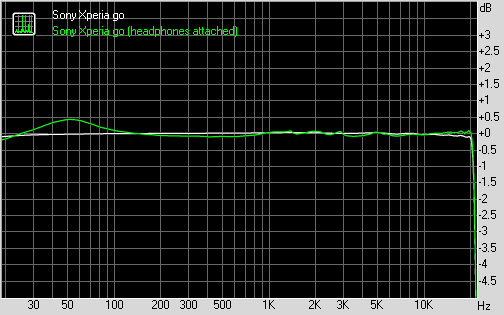 Sony Xperia go frequency response
You can learn more about the whole testing process here.