User interface
The Sony Xperia J runs Android 4.0.4 Ice Cream Sandwich out of the box and, as usual, it's covered head to toe by the custom skin that Sony uses. The smartphone is one of the lucky ones to get the Jelly Bean promotion next year.
As usual, we've shot the user interface on video for your viewing pleasure.
The Xperia J has the usual five-pane homescreen configuration, but there is no option to add or remove panes. There are four docked shortcuts (two on either side of the launcher shortcut). These are visible on all five homescreen panes and are user configurable: they can be either single icons or folders with multiple items in them.
The folders show thumbnails of the first four items in them.
The homescreen does a neat trick called Overview mode. Pinch to zoom out on any of the 5 homescreen panes and a new screen opens up with a cool transition. All active widgets gather there for easy viewing and selection.

The Overview mode helps you find the widget you are looking for
The Xperia J has some custom-made Sony widgets in addition to the standard set. Those include the Timescape widget (there's a dedicated app too) and a Mediascape-like widget for photos and videos (the actual app isn't there anymore, the standard gallery is back).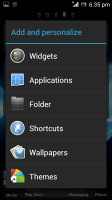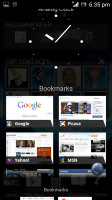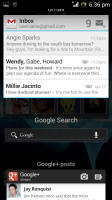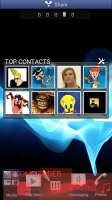 Widgets menu • Removing widget
A cool new addition to the lockscreen, missing from the Xperia phones of old, is the music player widget, which lets you control music playback without unlocking the phone. You can also enable Face, Pattern, PIN or Password unlock, in ascending order of security.
The standard notification area and task switcher are of course present and accounted for - no custom touches to them. For some reason the notification area isn't accessible from the lockscreen as it usually is on ICS (and on other ICS-running Xperia phones).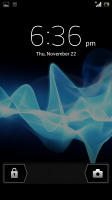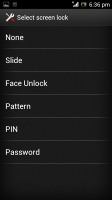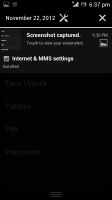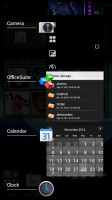 The lockscreen • Lockscreen options • The standard notification area and task switcher
The app drawer is very familiar and hasn't changed much through the years. Here are a few snapshots.