Software
The Xperia L2 runs Android 7.1.1 Nougat - that's 0.1.1 more than what the L1 got, but nowhere near the 8.0 Oreo of the current times which is to be found on the higher-end Xperia XA2s. As is usually the case with Sony handsets, the build is very close to stock Android, with only the subtlest in-house touches.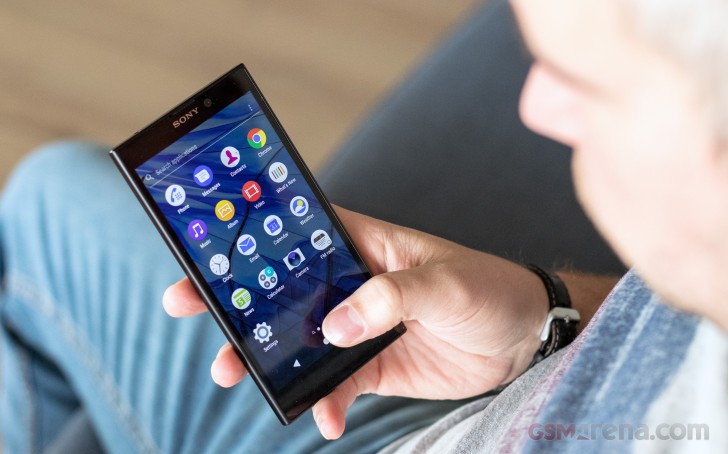 Oreo or Nougat, an Xperia's UI will look almost identical regardless of OS version. The lockscreen and homescreen, for example, have remained unchanged for quite a while. This includes the swipe down gesture on the homescreen, which shows a screen of the apps you use most along with recommendations for new apps to install. The search field is highlighted so you can start typing the app's name immediately.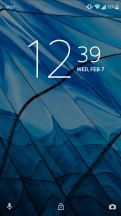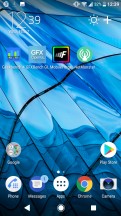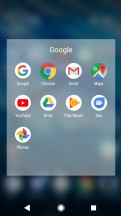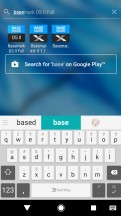 Xperia launcher: Lockscreen • Homescreen • Folder view • App search
The traditional app drawer is present on the Xperia L2, and you'll find a number of proprietary apps pre-installed - business as usual. Sony takes great pride in the A/V prowess of its devices, and the multimedia apps are all custom and feature-rich - Album, Music, and the Video app. There's also an FM radio app that is as stylish as is it full-featured.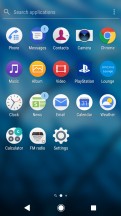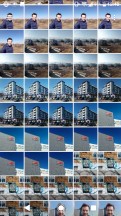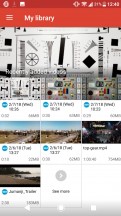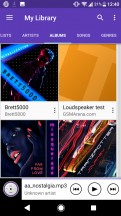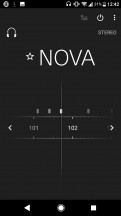 App drawer • Album • Video • Music • FM Radio
Themes are available (both free and paid) that can customize the look and sound of the Xperia L2. Some themes are even interactive, with their wallpapers reacting to your touches. Besides themes, the Xperia launcher also offers wallpapers, grid settings and various transition animation options.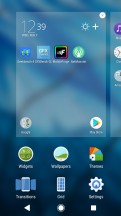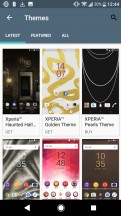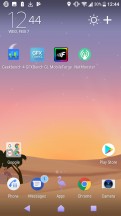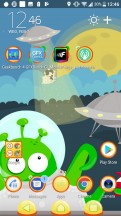 Homescreen customization • Themes
The notification drawer and the task switcher are very similar to the vanilla Android ones. There is also a Split Screen feature available to a limited number of apps - quite a feat given the modest processing power of the L2, but the 3 gigs of RAM sure help.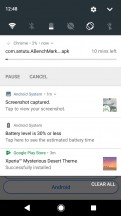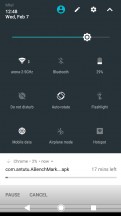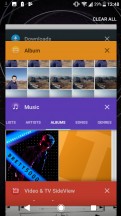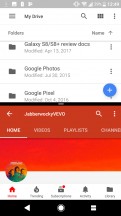 Notifications • Toggles • Task Switcher • Split Screen
Fingerprint recognition has made it into Sony's entry-level L-series with the L2. The setup is the the usual drill of multiple taps on the sensor after you've dialed in a PIN or a pattern for backup. In addition to the fingerprint unlock, you can setup Smart Lock. It gives you conditional security - trusted nearby devices, locations, faces, or voices can allow you to skip the security protocol that you may have set up on the phone.
Performance
The Xperia L2 is powered by a rather low-end Mediatek MT6737T chipset - at least the 'T' stands for the higher clocked version. It's a 28nm chipset (so far from state-of-the-art) and features a quad-core Cortex-A53 CPU ticking at 1.45GHz (up to 1.3GHz for the non-T version). The GPU is a Mali-T720 MP2 clocked at 600MHz (50MHz less on the non-T). The notable upgrade here is the 3GB of RAM, up from last year's 2GB.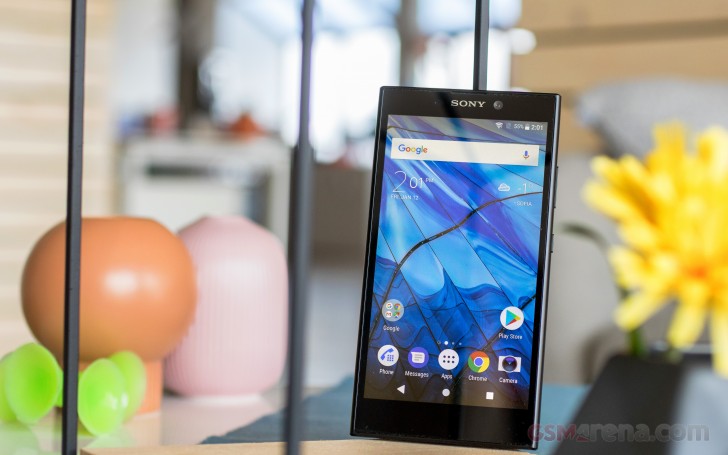 An extra gig of RAM won't make any miracles, though the Xperia L2 does put up a reasonably decent performance. The single-core numbers provided by GeekBench put the L2 on the same level as the rest of the devices packing low-clocked Cortex-A53s - those would be all Snapdragon 425, 430, and 435 phones. It's easy to see how clock frequency directly affects single-core performance - the 1.6GHz A53 in the Galaxy J7 Pro gives it a distinct edge, then it's the 1.8GHz vivo V7 and Redmi 5, with the 2.0GHz+ units easily at the top.
GeekBench 4.1 (single-core)
Higher is better
Xiaomi Mi A1
877
Sony Xperia XA2
865
Motorola Moto G5S Plus
848
vivo V7
775
Xiaomi Redmi 5
766
Samsung Galaxy J7 Pro
735
Sony Xperia L2
679
Xiaomi Redmi Note 5A (Y1)
678
Xiaomi Redmi 4a
677
Sony Xperia L1
673
Nokia 5
672
Nokia 6 (Global version)
665
LG Q6
652
Motorola Moto G5S
635
Nokia 3
551
The picture changes drastically in the multi-core test, where 8>>4. Okay, maybe not so drastically in the case of the Moto G5S and the LG Q6, but the point is that the L2 is trailing in this rather broad range of potential competitors. On a positive note, this test shows that the 'T' means something - the Nokia 3 with an MT6737 chip can't keep up with the Xperia L2 and its MT6737T.
GeekBench 4.1 (multi-core)
Higher is better
Motorola Moto G5S Plus
4331
Xiaomi Mi A1
4292
Sony Xperia XA2
4215
Xiaomi Redmi 5
4018
vivo V7
3935
Samsung Galaxy J7 Pro
3768
Nokia 5
2851
Nokia 6 (Global version)
2841
Xiaomi Redmi Note 5A (Y1)
2610
Motorola Moto G5S
2277
LG Q6
2244
Sony Xperia L2
1932
Sony Xperia L1
1890
Xiaomi Redmi 4a
1781
Nokia 3
1529
In the graphics department, the Xperia L2 does an okay job, more or less on par with the Xiaomi Mi A1... in the onscreen tests in GFXBench, that is. You know, an underpowered GPU mated to a 720p display can still offer half-decent performance.
GFX 3.1 Manhattan (1080p offscreen)
Higher is better
Sony Xperia XA2
9.6
Xiaomi Mi A1
6.4
Motorola Moto G5S Plus
6.4
Xiaomi Redmi 5
6.1
vivo V7
6.1
Xiaomi Redmi Note 5A (Y1)
4.9
Nokia 6 (Global version)
4.6
Motorola Moto G5S
4.6
Nokia 5
4.6
LG Q6
3.8
Samsung Galaxy J7 Pro
3.3
Sony Xperia L1
2.6
Sony Xperia L2
2.6
Nokia 3
1.4
GFX 3.1 Manhattan (onscreen)
Higher is better
Xiaomi Redmi 5
13
vivo V7
13
Xiaomi Redmi Note 5A (Y1)
11
Sony Xperia XA2
10
Nokia 5
10
Motorola Moto G5S Plus
6.9
Sony Xperia L2
6.3
Xiaomi Mi A1
6.3
Sony Xperia L1
6.1
Motorola Moto G5S
5
Nokia 6 (Global version)
4.5
LG Q6
3.6
Samsung Galaxy J7 Pro
3.3
Nokia 3
3.2
To compare overall performance, we look to Basemark OS II 2.0 for a numerical representation. Here the Xperia L2 shows an improvement over the L1 (the extra gig of RAM, maybe?), but it can't really keep up with more powerful offerings.
Basemark OS 2.0
Higher is better
Sony Xperia XA2
1545
vivo V7
1310
Xiaomi Mi A1
1262
Xiaomi Redmi 5
1222
Samsung Galaxy J7 Pro
1038
Nokia 5
982
Xiaomi Redmi Note 5A (Y1)
942
Motorola Moto G5S
899
Sony Xperia L2
816
Sony Xperia L1
767
Xiaomi Redmi 4a
707
Nokia 3
568
Motorola Moto G5S Plus
389
Satisfactory, is what you could call the Xperia L2's performance if you needed to sum it up in one word. It's no powerhouse but delivers acceptable results in day-to-day tasks. Performance is definitely more fluid than the L1 which has the same CPU but a bit less RAM.