The lookalike
Sony Xperia M4 Aqua review: The lookalike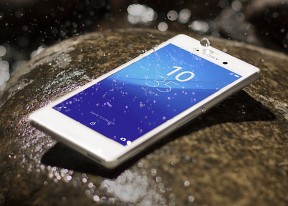 Final words
The Sony Xperia M4 Aqua has a lot going for it. It looks and feels good, has solid future-proof mid-ranger specs, it comes with LTE and a dual-SIM option and is also IP68 certified. To top it all off, it is quite reasonably priced at less than €300 (according to pre-order prices).
The mid-range market however is what must reel in the big money as manufacturers have really started spoiling users for choice.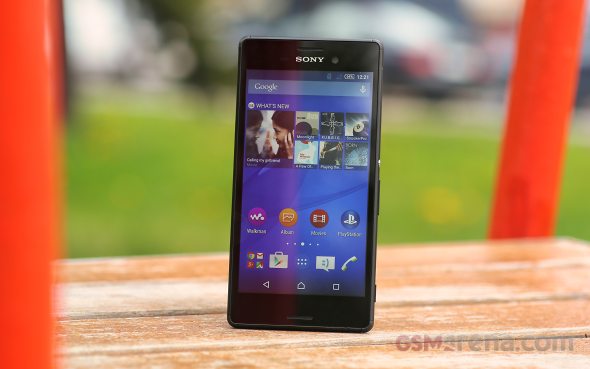 When we also take into consideration that ex-flagship devices often end up it the same price range after a year or so, it becomes clear that the Xperia M4 is entering into a really tough crowd and simply being a good device, might not be enough to impress users.
And, frankly, the M4 Aqua is far from perfect in a few areas.
Sony Xperia M4 Aqua key test findings
The M4 Aqua is very well-made and durable. Build-quality is superb and even though compromises have been made with materials, the phone looks quite premium and resembles the flagship Xperia Z3 from design down to the very dimensions.
The display is far from high-end with a resolution of 720 x 1280px. However, the IPS LCD is very bright and offers above-average contrast and sunlight legibility.
Battery endurance is superb. At 81 hours the unit will happily get you through two days on a charge. Perhaps even more.
The Xperia launcher runs quite nicely on the M4 Aqua and is packed with a lot of interesting features. The phone is definitely not lacking on the software side and it is astounding how well Sony has managed to transition to Lollipop, without compromising the user experience.
Performance-wise, the Xperia M4 Aqua is a solid mid-ranger. It runs great and has enough oomph to handle most everyday tasks and then some.
The speaker on the Xperia M4 Aqua scored Below Average in out rests. It is really on the quiet side.
The camera is not impressive as things stand right now. 13MP might look formidable on paper, but Sony hasn't managed to make much use of the hardware. Quality and detail are poor, photos often come out with a lot of noise and underwhelming sharpness.
The fact is that you don't really need to look far for a viable competitor. In fact, one is hiding in the company's own back yard. We have mentioned the Sony Xperia Z3 Compact on multiple occasions throughout this review and there is a good reason why. The smaller version of Sony's current flagship now goes for just a few bucks more, if not the same.
For that, you get a clearly superior Snapdragon 801 chipset, not to mention a 20.7MP camera. You do sacrifice same on looks and a little bit of screen size, but overall, we can see why the Z3 Compact is so vastly popular among Sony fans and we highly doubt that the M4 Aqua will do nearly as good in sales.
If you don't really feel the need for owning a very recent device, the highly successful Samsung Galaxy S4 I9505 can still be picked up brand new and for about as much the M4 Aqua will cost.
The two-year-old flagship still packs some serious performance power with its Snapdragon 800. The display on the Galaxy S4, for instance, is exactly the same size at 5.0-inches, but it is better in every way. It has FullHD resolution and uses Super AMOLED technology for superior contrast and colors.
Over at Camp HTC we can also find a few interesting alternatives to the Xperia M4 Aqua. The HTC Desire 820 is almost identical to the Xperia in terms of specs, as well as price. The choice between the two might actually boil down to whether you find the Xperia launcher or HTC Sense more convenient. Out test do, however show that the HTC has a slight edge in camera quality and it does also offer a tiny bit more than the Sony, like an 8MP front-facing camera and 16GB of onboard storage. The HTC One (M8s) might also be a viable choice, but it is kind of exotic and has only now started selling.
The LG G2, another aging flagship, is also, currently priced under the €300 mark. The device offers a slightly bigger screen with FullHD resolution and a more-capable Snapdragon 800 processor. Android Lollipop is already seeding as well. So, picking up a former flagship, like the G2 is definitely not a bad choice. The LG G3 has also had its share of price cuts so it will run you some €350, which is not so far from the M4 Aqua price. Of course, neither of those offers water-proofing.
Overall, the Xperia M4 Aqua is a good phone or even the best Sony mid-ranger we have seen recently. And for under €300 (pre-order price), it's a pretty good deal as well. We definitely have to give Sony credit for what it has achieved with the M4 Aqua and even though we singled a few possible competitors, it's really hard to find a 2015 phone from a major brand that would surpass what it offers for this budget - with waterproofing definitely standing out as a key differentiating feature.